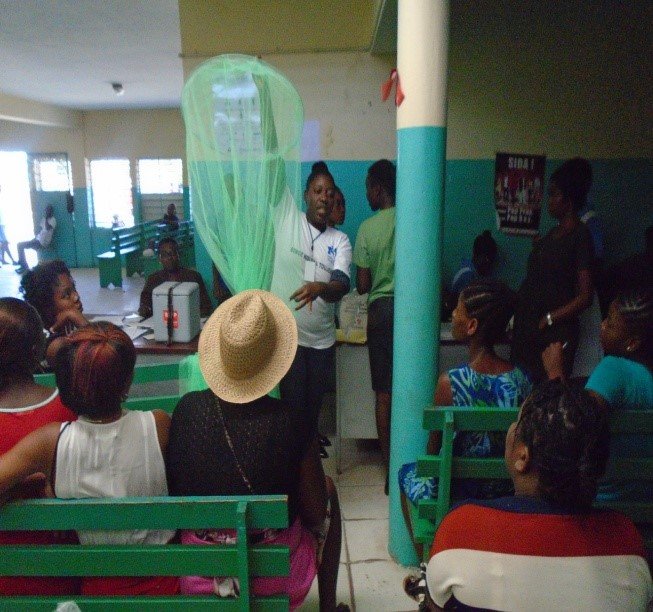 The mosquito-borne virus, Zika, has infected more than 700 people in Haiti, and with the babies of infected pregnant women at risk for birth defects, such as microcephaly and other severe fetal brain defects, prevention is critical.
International Medical Corps has been working in Haiti since the 2010 earthquake—first, to respond to the emergency medical needs, and, in succeeding years, to the cholera outbreaks in the North and Northeast departments.
We have extensive experience implementing infection prevention and control measures. We responded to the Ebola outbreak and continue to work with governments in the West Africa region to help them build their health systems back up and prepare for the next outbreak. We provided polio and other vaccines for children, training health workers to watch for early symptoms in several countries in Asia and Africa. And, our teams responded to cholera outbreaks in Nigeria, Cameroon, and other affected countries, in addition to Haiti.
Zika is an emerging virus first identified in Uganda in 1947 in rhesus monkeys while monitoring for Yellow Fever. In 1952, the virus emerged in humans in Uganda and the United Republic of Tanzania. Now, officials recorded outbreaks of the Zika virus in Africa, the Americas, Asia and the Pacific. The first 5 Haitian cases of Zika were identified on January 18, 2016.
To address Zika, we targeted two health facilities located in flood zones in Cap Haïtien: the Fort St Michel Hospital and the Complexe Médico-Social of Lafossette. Our teams trained 30 nurses and other health care personnel to go on and educate pregnant women to increase Zika awareness and prevention during pre-natal visits, with a special focus to women in their first trimester.
To date, we reached 650 pregnant women with education on Zika prevention. Our teams provided information to communicate what Zika is, its symptoms, and preventative actions, including information on how to avoid mosquito bites. We also distributed pamphlets in the commonly-spoken language, Creole, to further increase awareness. In addition, our teams disseminated 100 insecticide-treated nets and 100 mosquito repellent sprays, along with information about how to use them and their importance, to further reduce the risk of the virus.
Alongside these interventions, our mobile medical teams are educating communities about the importance of preventing mosquito bites to limit Zika, while speaking about cholera prevention—which is also linked to poor drainage and sanitation. These teams reached 650 women with awareness activities.
Staff from the two health facilities, government officials and the women we educated, were appreciative of International Medical Corps' efforts to prevent the terrible potential effects of Zika on babies, and would like more women to benefit from our work in the future.
We thank you and the GlobalGiving community for your support as we work with the local populations to provide medical care and help prevent the spread of infection and disease in places like Haiti and across the world.