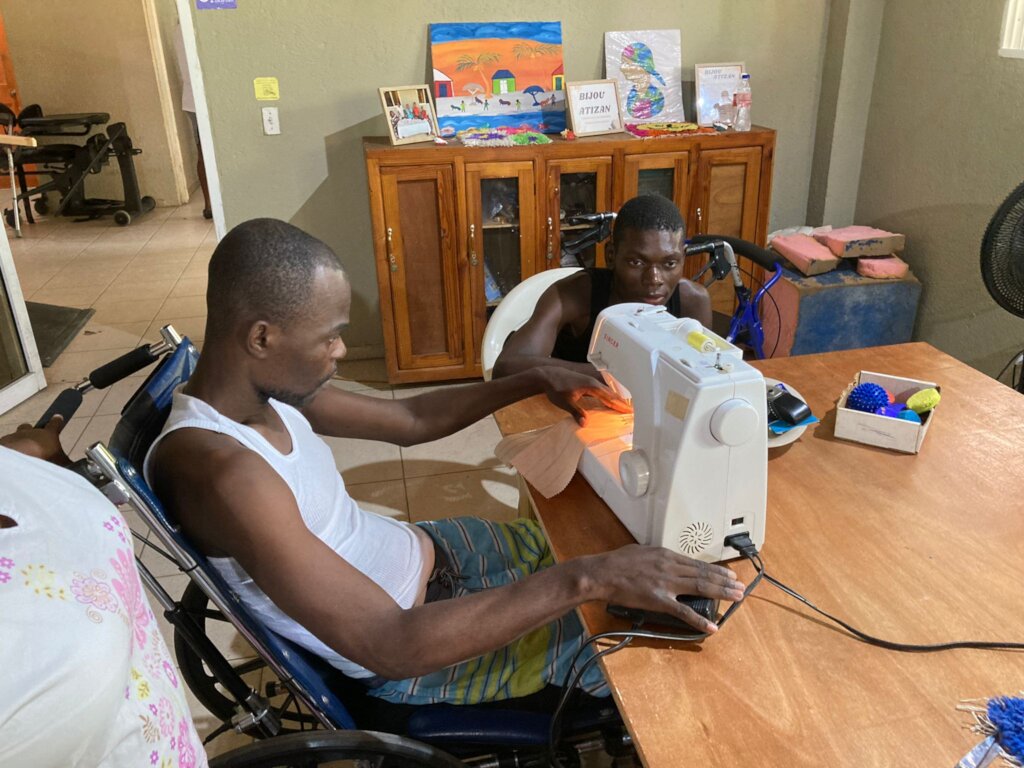 The Rehabilitation Centre at our partner hospital in Haiti provides services for individuals with spinal cord injuries (SCI), strokes and other disabilities, empowering them to participate in activities and tasks that are vital in life.
The goal for all our rehab patients is for them to become independent and re-join society.
As part of this goal, we provide Vocational Training for our patients. Not only is this a vital part of their rehabilitation and recovery, it also provides them with a practical skill, allowing them to earn an income when they are discharged.
Training has been in full swing recently, with a number of patients busy taking part;
Moleon suffered a spinal cord injury and lost movement in his legs. He has been learning to sew using a machine that has been adapted so he can use the pedal with his hand. Another patient, Jamano, has been learning woodwork skills and is making canes for other rehab patients.
Just last week, our wheelchair distribution co-ordinator Mario delivered training to a further 5 rehab patients who have all suffered spinal cord injuries. They learnt to assemble wheelchairs, allowing them to receive an income for each chair they build. This also helps the staff at the rehab ward who now have more of their time for treating patients and fitting receiptients in the wheelchairs, rather than building them.
Alongside their daily responsibilities, our team continue with their outreach visits to local hospital facilities in North Haiti, introducing the specialist services available at our Rehabilitation Centre to medical teams, with the goal of helping more individuals with Spinal Cord Injuries (SCI) and other conditions.
We continue to be inspired by the determination of these individuals and hope that their stories bring joy to you. The entire team at HHA and HCBH thank you so much for your continued support of our rehabilitation care at our hospital. Lives are change every day thanks to your support and we are so grateful.