Our new center in Guinea has now been in operation for several months serving 44 vulnerable youth from Conakry. The students come to this safe space to receive MindLeaps' dance curriculum (2 hours of dance class per day, 3 days per week), English lessons (2 hours per day, 3 days per week), and a daily meal.
October marked a big month for two of our students in Guinea: Aissatou and Kerfala were welcomed by a wonderful team of teachers at Hamdallaye Secondary School. The students were both overjoyed, captured by Kerfala who said, "I never dreamed that one day I would be going to this school!" Our Country Director in Guinea, Ansoumane Conde, recently wrote a blog post about their return to school. For each MindLeaps student, our job is to match his/her educational level and their desires to create a successful and happy future with the right next step, whether that is through formal schooling or vocational training. Ansoumane wrote, "When we see these children going to school, it inspires me to do this work. It is extraordinary to see a child who has never laughed or played transform into a 'regular child'. When new children enter our program, you might not see any smiles for the first week. But, after a little encouragement, it changes. The children feel their skills and life improving day by day, and their smiles shine brighter and brighter. MindLeaps is opening their eyes to their own talents and means to have a better life."
Another possible career path is through success in dancing at MindLeaps. In both our Rwanda and Guinea locations, some of our teachers were former MindLeaps students themselves, who excelled in their skills and dancing, and became great teachers to other students. Starting today, we will be training 10 new local Guinean teachers in MindLeaps' methodology. The teachers are receiving instruction from MindLeaps Rwanda dance teacher Ssali Eugene, and American dancer, Cassidy Giordano, who will be traveling to Conakry, Guinea, for one month to run this training program. After completing the program, these teachers will be able to teach the full MindLeaps curriculum to youth. They will be an essential part of MindLeaps' ability to provide its services to new populations of youth.
Thank you for your continued support to make this work possible!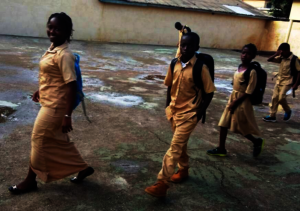 Links: