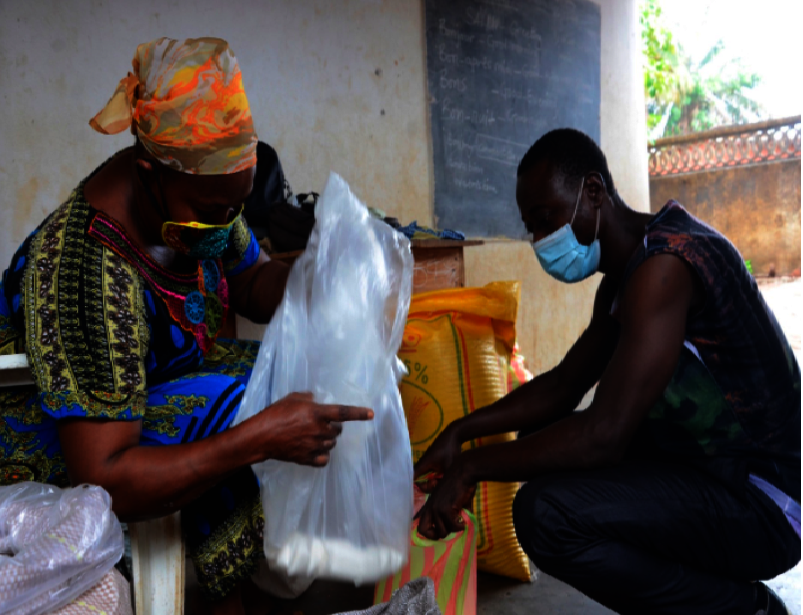 MindLeaps is continuing its mission to provide education and support to vulnerable youth in Guinea, helping them move forward despite the added challenges of Covid-19.
Homework Distribution
MindLeaps works with kids who have had to drop out of school due to poverty or conflict. Following completion of the MindLeaps program, MindLeaps sponsors these students to attend formal education. Due to Covid-19, schools have been shutdown and the children's educations have been interrupted yet again. To help these students continue their studies and stay on the path towards graduation, MindLeaps has initiated a system of homework distribution. Our teachers create lesson plans in primary and secondary school levels, hand deliver them to each student's household, and pick up and review the previous week's assignments.
MindLeaps Virtual Academy
MindLeaps has launched a Virtual Academy to continue the education and skill development of our trainers and students during the pandemic. To accommodate low bandwidth locations, minimal electricity and poor living conditions, the classes are delivered through WhatsApp classes and by low-resolution videos on smartphones. Through this format, the Academy enables international experts to deliver culturally modified curricula in five core subjects: Business Entrepreneurship, Project Management & Budgeting, Child Development, Communications, and Inclusion. In August, MindLeaps Guinea began the module on Child Development taught by creative arts therapist and researcher Dr. Janelle Junkin.
Family Strengthening and Business Support
The families of those at MindLeaps are already facing extreme poverty and food insecurity. The shutdowns and economic fallout from the pandemic has caused many work activities – which were the source of survival for poor families – to stop suddenly, which has greatly worsened the poverty these families are facing. Since March, MindLeaps has been providing distributions of food and sanitation supplies to 130 local families in Conakry. MindLeaps staff delivers the food to each family ensuring that all families are cared for and safe. In addition, MindLeaps has begun a new microgrant program towards family strengthening in Guinea: we are funding 20 mothers of MindLeaps students to start new businesses with the aim of improving these families' economic recovery from Covid-19.
Health & Safety of our Girls
MindLeaps Guinea has launched a Sexual and Reproductive Health Program, following the success of the SRH program implemented at MindLeaps Rwanda in 2018. In Guinea, after an intial meeting with their parents on the class, we have enrolled 29 of our girls ages 13 and older in this new program. Two female staff members are running the classes, teaching sex education, reproductive health, as well as distributing sanitary napkins to the girls, who would otherwise not be able to afford them.
We are so grateful for your support in providing our children and their families with the food and resources, healthy habits, and education that enables them to keep reaching for their dreams.