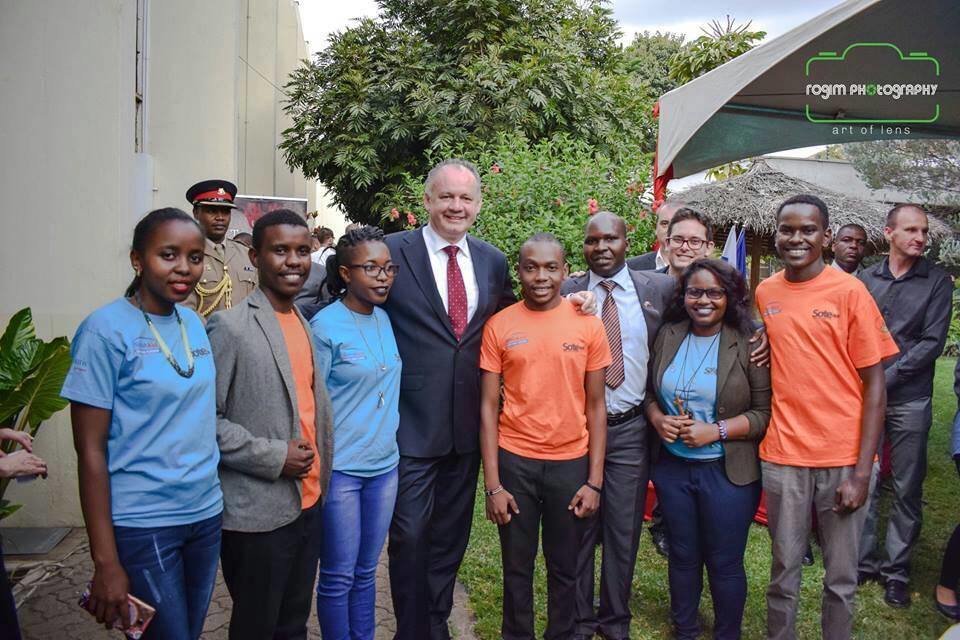 In December 2016, we celebrated the first anniversary of our Sote Hubu in Ken town of Voi with intense and practical startup training led by Matthew Korinek from the well-known Funding Circle launch in London. Our members have learned what it all means to succeed with an innovative idea of what technologies and workflows are used in the current startups and how to face different challenges and uncertainties.
Our volunteer Jan Desiatnik arrived in Kenya in January 2017 and stayed until April. She trained pupils in our Sote ICT clubs and prepared them for our new business ideas competition and also mentored our start-ups and Sote Hub members.
In February 2017, we started the second year of Sote Hubu in style when our two ReAfrica members and founders introduced a prototype of motorcycle trackers in Nairobi at iHube during the official visit of the President of the SR Andrej Kisk.
During the spring season, we continued to incubate the four startups we chose in our first year's competition. Companies went through registration at the Kenyan authorities, opened bank accounts and received initial funding. Three of them are the graduates of our Sote ICT clubs at secondary schools in Taita Taveta: the creative and digital agency Rogim Designs, interior designers and fashion designers from Redecor, and ReAfrica, which focuses on hardware and the economy. The fourth company, Cladica, focuses on fashion recycling and on-line tailor-made clothing and accessories, founded by university students now working in Nairobi.
In May, the two co-founders of Cholacs Systems, the companies we supported in the second round of incubation, won a trip to an international conference on social business in Kigali, Rwanda, from the Digital Opportunities Trust after success in regional and national competition with their intelligent water management system. Cholaks Systems are already testing their sensors and service with potential customers - the hotel and the waterworks.
CloudFactory, in collaboration with us, found work for five girls, former students and Sote ICT club members who succeeded in the interview. We plan to continue to work with CloudFactory and continue to prepare other groups of future job seekers.
During the year we organize regular training sessions in Sote Hube and our program at 12 schools. For example, in June, John Paul Karijo, who worked at iHube and is now working with Swahilibox in Mombasa, has trained our students in design.
In July, we organized a third fair of training companies with honored guests - Taita Tavet Governor and Delegation from Kwale County where we plan to open another Sote Hub. Together, 22 training companies from 11 schools competed in different categories and rewarded the top ten teams in our school business ideas competition.
Our Slovak Sote ICT team has helped to prepare the fair and has been training newcomers in financial management and conceptual thinking for effective social innovation. We also visited gay schools in July and monitored the equipment, activities and progress of Sote ICT clubs.
We are currently working on the incubation of four more startups that we have supported in the second contest. Together, we have so far supported directly eight of the start-ups of 18 business ideas presented by Sote Hubu members and having them developed at different stages. These four companies are: 1) the already mentioned Cholaks Systems which addresses water scarcity problems through smart sensors and the Internet of Things (IoT); 2) Elimu Pi, who wants to fill a gap in the skills of young people through available computers and effective programming courses; 3) Ticket Soko, a company that strives to simplify public transport and logistics for farmers; and 4) Sweet Kiazi, which produces high-quality chips, flour and sweet potato cakes.
In addition to supporting high school students in our Sote ICT clubs and young entrepreneurs at Sote Hub, we are also working to find ways to expand and improve our direct services. We wanted to expand to Kwale County to open the second Sote Hub this year, but we had to postpone the plans for 2018. We decided to invest in our own Sote Talent platform, which would make it easier for talented young people from Ken to improve their skills, to find work or customers and investors for your business ideas. We are thinking of cheaper and more efficient expansion (scaling up) of our comprehensive services that help to develop innovative businesses from high schools in Kenya, with emphasis on countryside, small towns, responsible entrepreneurship and clean technology.
Our portfolio and activities are proof of our philosophy of Sote, which means after Swahili Everyone.