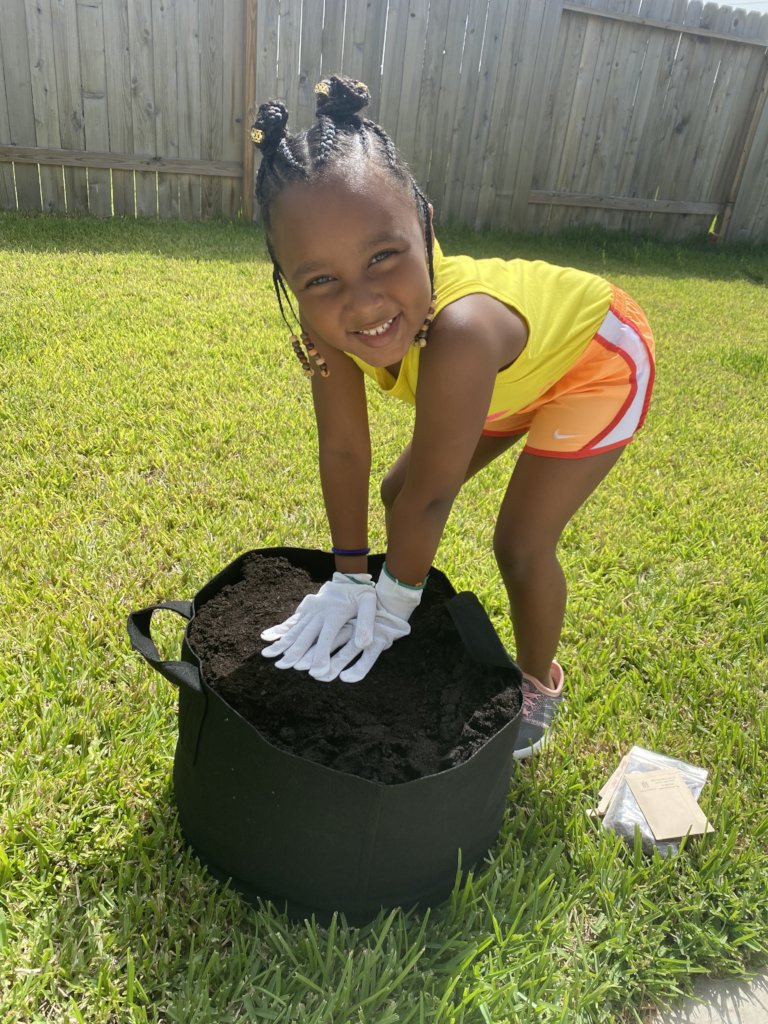 Our August 2020 Report presented the results from our recently launched Urban Harvest's Mobile Market. Our December 2020 Report highlights our new "Grow Kits" Program. We hope you enjoy it and support our mission of cultivating thriving communities through gardening and access to healthy, local food in Houston, Texas.
Access to affordable, healthy food; reliable economic opportunities; and safe, outdoor green space has never been more important. Urban Harvest is committed to doing our part to ensure everyone stays healthy, active, and nutritiously fed. As a result of COVID-19, the city of Houston and Harris County have seen a dramatic rise in unmet food needs. In February 2020 Urban Harvest launched "Grow Resilience," a crisis-response strategy to continue providing resources and education, economic development, and food to those who need it most. In 2020, Urban Harvest is exploring new technologies and adapting existing programming and communication approaches to meet the increased demand for our services, especially those services supporting underserved schools.
Coronavirus has exacerbated food insecurity and socioeconomic disparities across our region. Moreover, under-resourced schools serving economically disadvantaged families have been the most affected, with significantly less funding for enrichment programs. Many of the benefits of garden education are experiential and hands-on, this is why Urban Harvest is exploring how to deliver meaningful learning experiences in a socially distanced world, particularly for students and schools that are chronically under-served.
Under Grow Resilience, our Education program is re-imagining how to continue to support educators and deliver meaningful learning opportunities for school students, while also using this crisis as an opportunity to connect with parents by using new technologies to engage families in household gardening. Since March 2020 all of our traditional in-person classes, are transitioning to a free online format with opensource webinars, remote classes, virtual cooking demos, kids' activities, organic gardening videos, blogs, and recipe cards to make garden and nutrition education accessible to all.
As we learn what is needed to support our schools and communities, we are piloting innovative approaches to increase our connection with students and the general public and creating the appropriate systems to expand our impact, include new partnerships, making sure we are building lasting partnerships based on our community's needs. One of them is the "Grow Kits" program – a hybrid model that is delivering organic and nutrition education (in Spanish and English), along with resources such as transplants, seeds, and soil for students to engage in organic gardening, and encouraging their parents to learn about how to access healthy food options by sharing material about SNAP and Double Up, low-cost and healthy recipes, virtual cooking-demos, and more. Our Grow Kits summer pilot was designed and implemented with 7 schools and community partners including Gallegos Elementary, Lantrip Elementary, Gregory Lincoln Education Center, Trinity Classical School, LosNiñosEarly Childhood Montessori Program, Pin Oak Middle School, and El Centro del Corazon.
Based on our learning from the first pilot, in July Urban Harvest developed a process to expand the "Grow Kits" program to reach another 1,500 households. In August we identified the organizations that best fit the needs of our target population and each of them completed an online application form. In total, we identified 35 organizations with aligned interests to serve economically disadvantaged families, older adults, and children. In September and October 2020, Urban Harvest distributed 1,150 Grow Kits to 25 schools, along with online resources and education to support teachers and encourage them to use Grow Kits as learning tools. Based on the Grow Kits application form, 95% of these organizations plan to use Grow Kits "as learning tools" and half of these organizations "have a good idea on how to make a good use of them." To make sure everyone has access to learning resources, UrbanHarvest has developed a series of YouTube videos and Facebook videos that show how to use Grow Kits and the best plants to start with.
By utilizing "Grow Kits" as a mechanism to create trust and connect with our priority communities, Urban Harvest is creating opportunities for beneficiaries to engage with Urban Harvest in a variety of ways; thereby, creating sustainable pathways for them to participate at our farmers markets, engage in our organic gardening classes, and learn more about the benefits of joining our growing community. In January 2020, Urban Harvest will embark on the evaluation process of Grow Kits as effective learning mechanisms for children and families to engage in healthy eating. To do this, we will receive support from health students that will ensure the reliability and validity of this research project. With this, we expect to identify opportunities to improve this program and better serve these families. As we identify opportunities for improvement, we will also gather educators' feedback to make sure our future programs support their work both virtually and in-person.
Today, Grow Resilience is maximizing local opportunity and Urban Harvest's established relationships to quickly adapt, scale, and promote our interventions that address COVID-19-related needs. Urban Harvest has demonstrated experience in this rapid response marketing, utilizing our well-established scope and reach to engage high numbers of Harris County residents. With over 25 years of leadership in the local food system, Urban Harvest is uniquely poised to lead holistic interventions that target equitable food access, local agricultural production, and healthy food education. We expect that the "Grow Kits" and our recently launched Urban Harvest's Mobile Market pilot initiatives become cross-sector collaborations that build capacity for our organization and food system, and resilience for our city.
We appreciate all your support during these unprecedented times, and we look forward to continuing to collaborate in the future.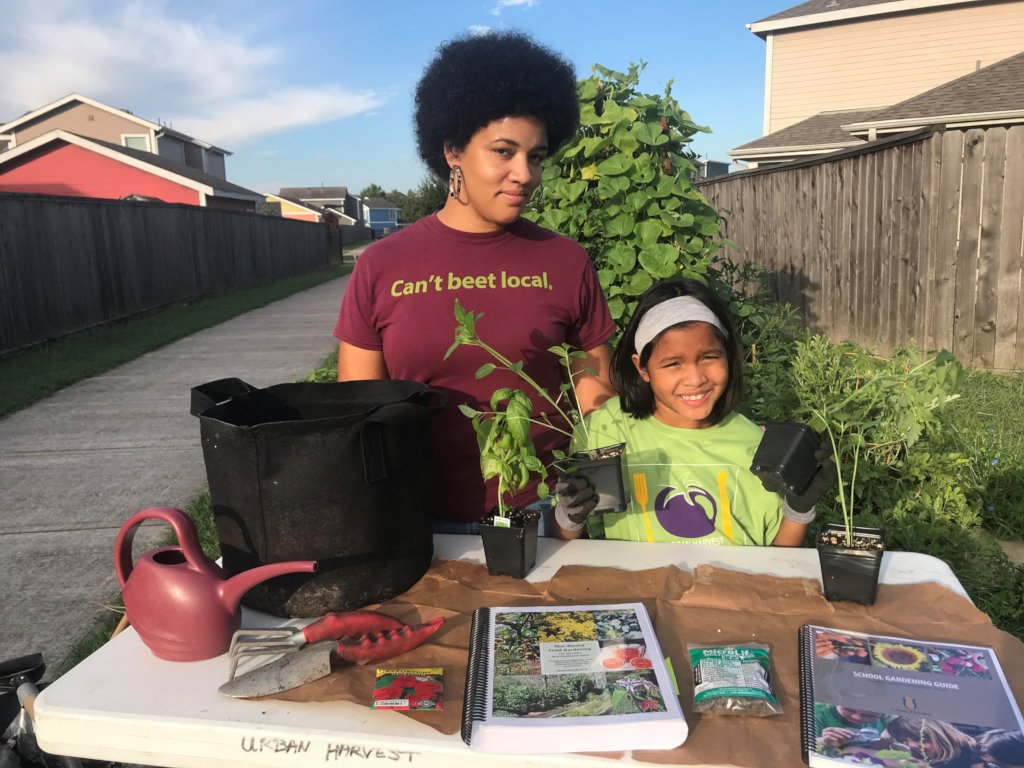 Links: