By Joseph Anthony Narciso Z. Tiangco | Co-founder/Chairman of the Board of Directors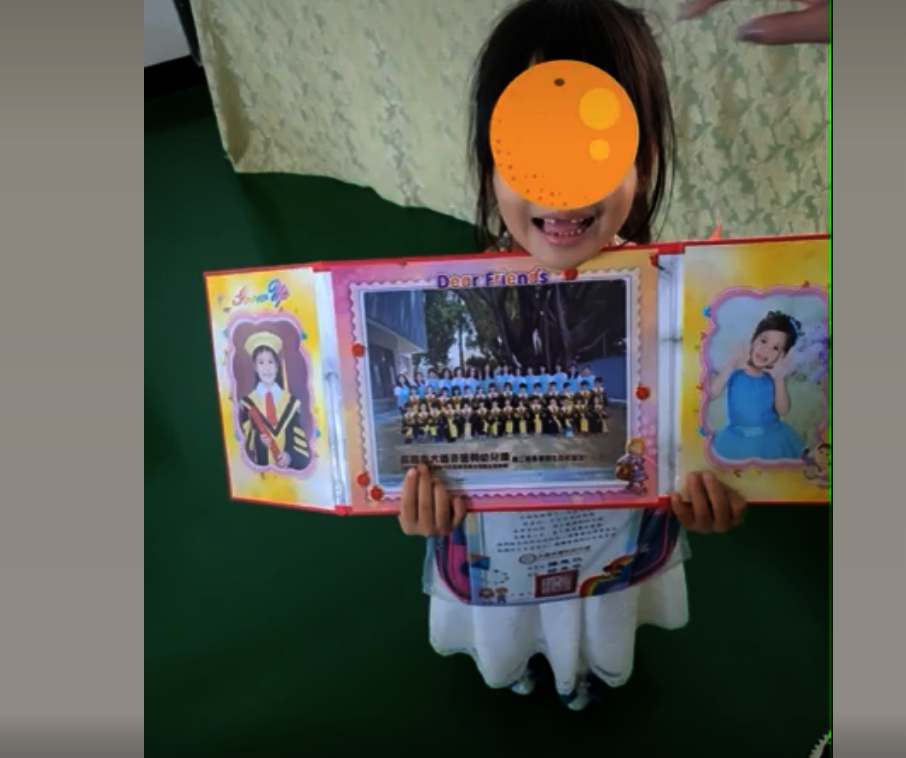 We Are Celebrating a Big Win for Our 6-Year Old Who is Entering Grade 1 in a Regular School!


For many, it is no special feat to enter the 1st grade of elementary school. Shouldn't all kids transition from kindergarten to elementary school. By all means, a 6 year old young girl is supposed to go to a regular elementary school, right?
It is not always the case, especially for young Taiwanese children who have difficulty obeying instructions and have intense tantrums out of the teachers' fear that the kids will be disruptive to other students and pose challenges to them. A very young child who looks very normal but seldom talks, does not follow, and has intense emotional outbursts tend to be rejected in a society that highly values social cohesion and obedience.
The Taiwan Love and Hope International Charity's Children's Home became Yaya's (not real name) new home in 2021 after two failed attempts by the Taiwan Social Welfare Bureau to secure her a home with Taiwanese foster parents. Both of her real parents were drug users. She does not know her father, and her mother was in prison until 2022 for illegal substance abuse. As a toddler, she was given illegal drugs and sexually-abused. Yaya struggled with controlling her impulses and emotions. During her stay in a 2nd foster home, the child was abused by the foster father by stuffing a towel inside her mouth and was scalded with hot water, resulting in her being hospitalized and a criminal case being filed by the government against the foster family.
The Local Government Social Bureau of the county where she resided was originally going to institutionalize her in a nursing home/longterm care facility where it is allowed to give children psychotic medication. Although we are in another faraway city, luckily they received our direct marketing flyer and contacted us.
Social workers and psychologists who attended to her case diagnosed her as being mentally retarded and having an impulse control disorder because she was perceived as a problem child who was not good at speaking, screamed a lot, and easily lost control of her emotions.
For the past two years, under the care of the Taiwan Love and Hope International Charity, she went from being an infant who frequently cried intensely to a ray of sunshine. She did not talk much before, but now she is quite the chatterbug. Also, she was labeled as a slow child or mentally-retarded who loses control of emotions and was unreasonable. Now, she likes pretending to be a little princess who loves singing and dancing. She successfully finished kindergarten and will enter a regular elementary school in September. The Taiwan Love and Hope Children's Home also decided against formally classifying Yaya as having a mental disorder so as to be issued a disabiilty card by the Taiwan Social Welfare Bureau.
We believe that love can change many things, including the seemingly impossible. It is no rocket science. Children, especially those with special needs, simply want to feel that they belong in a loving home environment. Establishing secure relationships can work wonders for children.
Ya Ya's journey began with cautious steps, she was hesitant to trust those around her. However, with patience and unwavering support, we witnessed her transformation into a blossoming flower. Through laughter and tears, we stood by her side, fostering a sense of security and belonging despite those times when she had intense tantrums.
In our care, she found a new family, where love and understanding served as the foundation for her growth. Her resilience shone through the darkest moments, proving that love could heal even the deepest wounds.
We Have Free Training Courses on Special Education and Parenting Open to the Public Starting this August!
Since March of this year, the Taiwan Love and Hope International Charity has been actively implementing the second phase of the experimental plan for families with special children and youth groups. The plan is in cooperation with Social and Family Department of the Ministry of Health and Welfare of the Kaohsiung City Government. The goal is topromote social care and support for children with special needs and strive to create a more inclusive and caring social environment, so that every child can enjoy equal opportunities. In accomplishing this, advocacy and training are important so that we can reach more Taiwanese and help them understand their stereotypes and stigmas of children with special needs, particularly among those with neurodevelopmental disorders. We need more parents especially among those in the lower social and income classes in Taiwan to understand that children with atypical behaviors do not need harsh physical punishment in order to correct their behaviors. By working with the government, we want to ensure that children and teenagers with special needs grow up in a safe, supportive, and loving environment. Through individualized services, we put their needs first, help them overcome difficulties, develop their potential, and let them gain more opportunities and hopes. We want more parents to become empowered in becoming better persons for their children who are neurodivergent.
We have realized that the children we care for possibly experienced severe physical abuse and eventually neglected or abandoned their children because they lacked the training and preparedness to care for their neurodivergent child. They opted to resort to physical abuse because they were unaware of the available services and interventions that can be provided to their child whom they thought was just misbehaving and could be changed through physical, emotional, and verbal punishment.
Although the focus of the Taiwan Love and Hope International Charity is to care for children with special needs, we are thankful for the opportunity to finally work with the government in promoting our advocacy and in being an example of how authentic love and care can have a transformative effect in helping children who were formerly institutionalized in other orphanages or were abandoned by family.
Thank You Very Much Riot Games and GlobalGiving for Your Generous Support!
The Taiwan Love and Hope International Charty received a funding grant of US$10,000 from Riot Games through GlobaGiving. The support was really timely as we carry out training programs for parents and children with special needs. We really need to reach out to as many Taiwanese in the lower social and income classes in promoting and protecting the rights of neurodivergent children.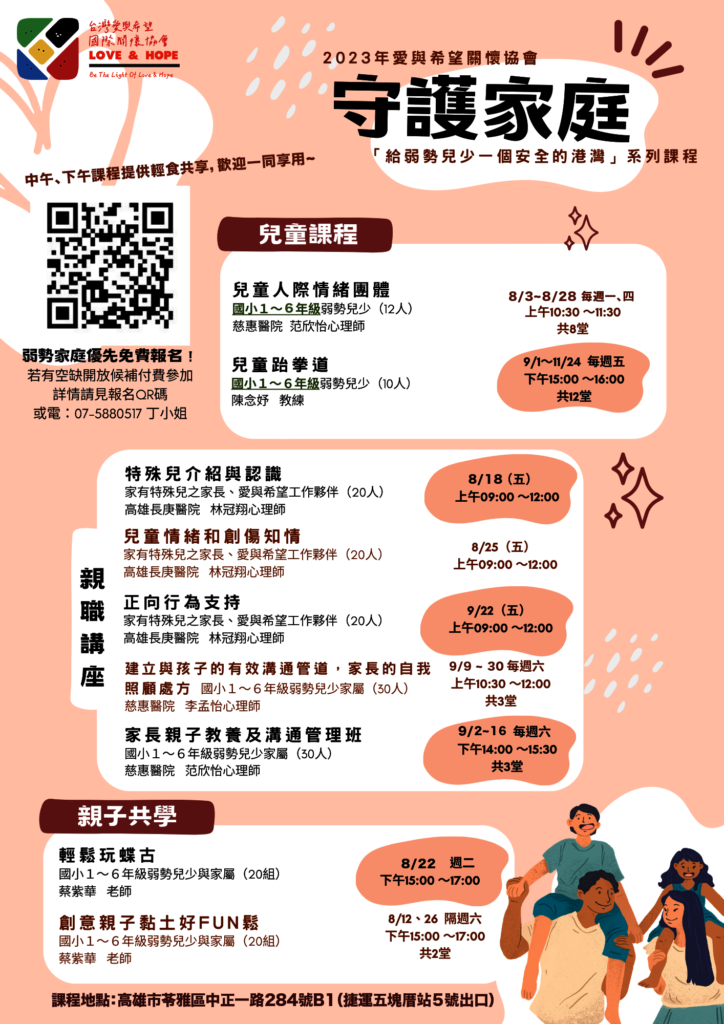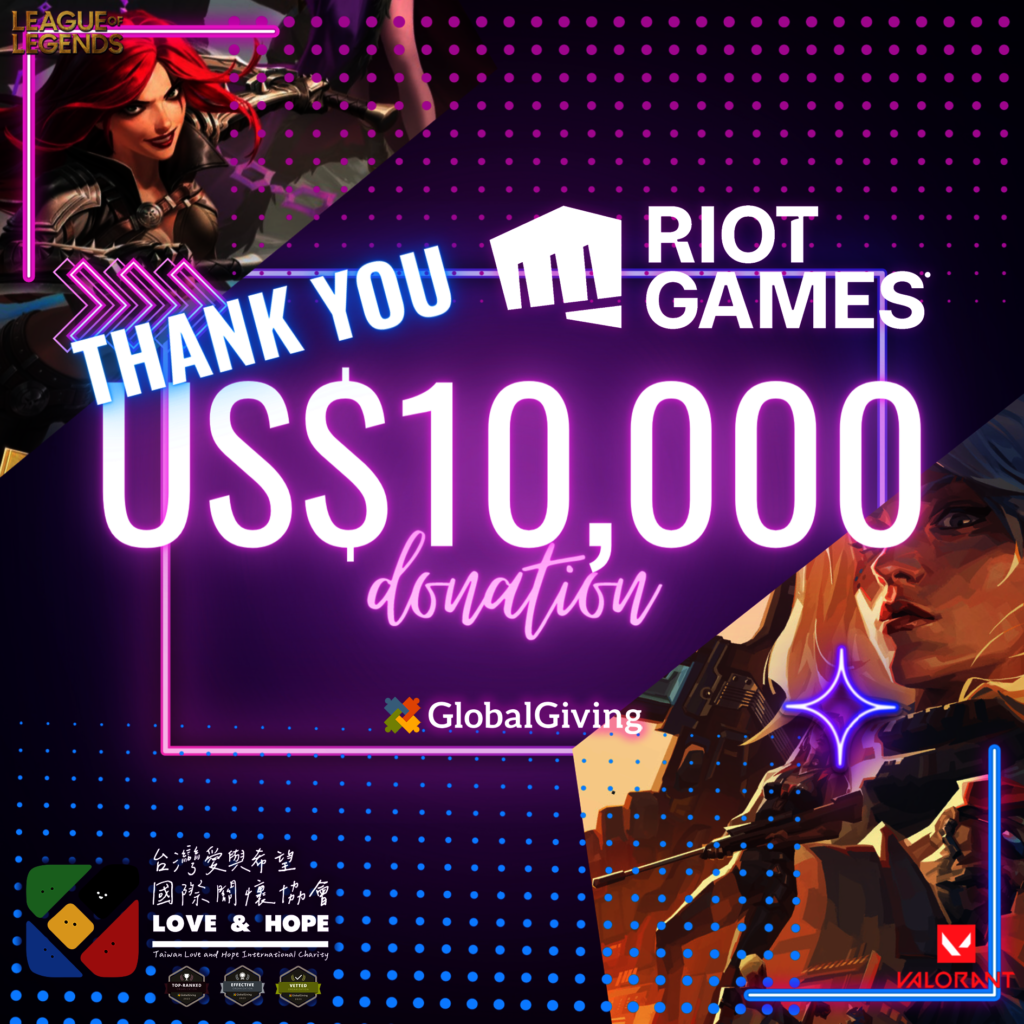 Links: