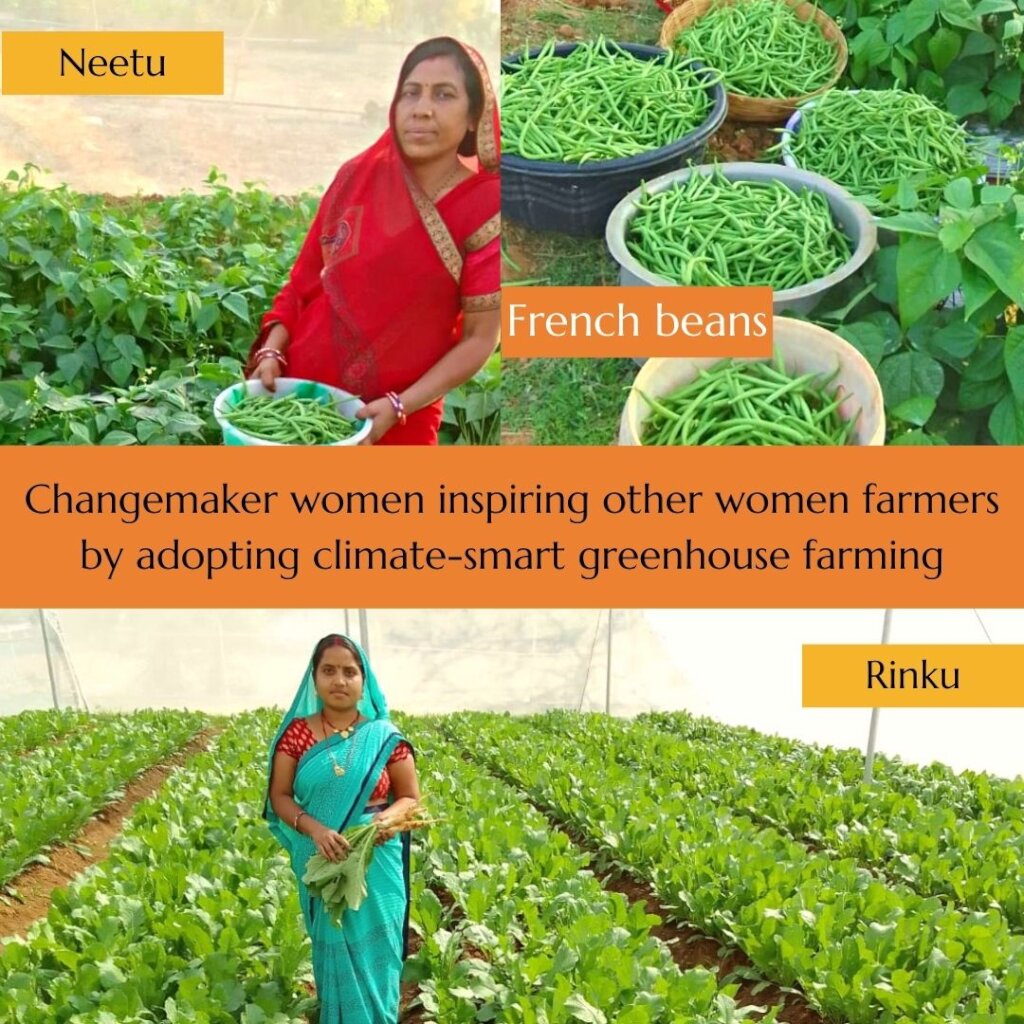 Innovative designs support greater diversity of crops
Through continued enhancements in the design of the climate-smart greenhouses, small-scale, women farmers such as Amba, who previously worked for up to 10-12 hours a day on her 2 acres of open land, are now able to grow a more, diverse range of crops, much more assuredly, efficiently, with considerably less cost while also using much less time nurturing their crops when grown in their greenhouses.
For example, when Amba previously tried to grow cauliflowers on her open land farm, she had to borrow the money to sow the crops, spent many hours nurturing the crop, only to then see her crop devastated due to untimely and heavy rainfall. The resulting threadbare, harvest left her with an annual income of INR 20,000 ($250) per year.
With the help of the enhanced greenhouse design and on-site education for adopting better, sustainable farming practices, Amba and many other women farmers, are now able to grow a greater diversity of crops, including cauliflowers, throughout the year and especially through rainy season.
This enables Amba to make use of her farm throughout the year. Already, after the first successful crop cycle, Amba has harvested 5 tonnes of cauliflower, giving her an income of INR 70,000 ($850) after only 3 months, which when continued through the rest of the year will help realise an annual income of at least INR 2,00,000 ($2900), while only using 1/10th of an acre of her land, leaving the rest of the land still available for other open-land farming.
Other women including Sumita were also growing crops in a similar fashion as Amba. This affected their livelihoods, and continued to degrade the soil fertility and use large amount of water, which for many is already a scarce commodity.
Since, Sumita also learnt about the diversity of crops that she can grow in her greenhouse and throughout the year, Sumita has also benefitted by growing crops such as capsicums. With additional help from the on-site agronomy advisors that our friends at Kheyti organise for these farmers, Sumita is also seeing significant improvements to her farming while also improving the soil fertility, nutritional levels of the food she grows, using 10 times less water and with a much more sustainable level of income.


Introducing a hybrid approach to improving the women farmers' engagement
Our friends at Kheyti have also determined that the women farmers benefit much more from their labours in growing crops in their greenhouses when receiving a combination of both on-site and off-site (using simple WhatsApp based messaging) advisory help and guidance.
This increases the farmers' adoption of better practices, their level of understanding of how to grow healthier, more nutritious crops that they have never had a reason or ability to grow before, how to improve the overall quality of their environment and farming assets as well as improve the overall sustainaibility of their farming livelihoods.


Changemaker farmers inspire others
Through these innovative and evolving efforts, many of our women farmers are naturally becoming role models and changemakers within their village communities. Neetu, for example, has inspired a number of other women from her village to start using the climate-smart greenhouse, learn new, sustainable farming skills and improve their ability to feed and nurture their children. She is one such farmer, who has learnt how to grow French beans in her climate-smart greenhouse and is now able to harvest 5 times more French beans than she did during open-land farming.
We, and our friends at Kheyti are strong believers in fostering greater innovation through adversity. In the case of these women, they are seizing their opportunities and benefiting with improved and more sustainable livelihoods as a result. Please continue to lend your valuable support to their futures.