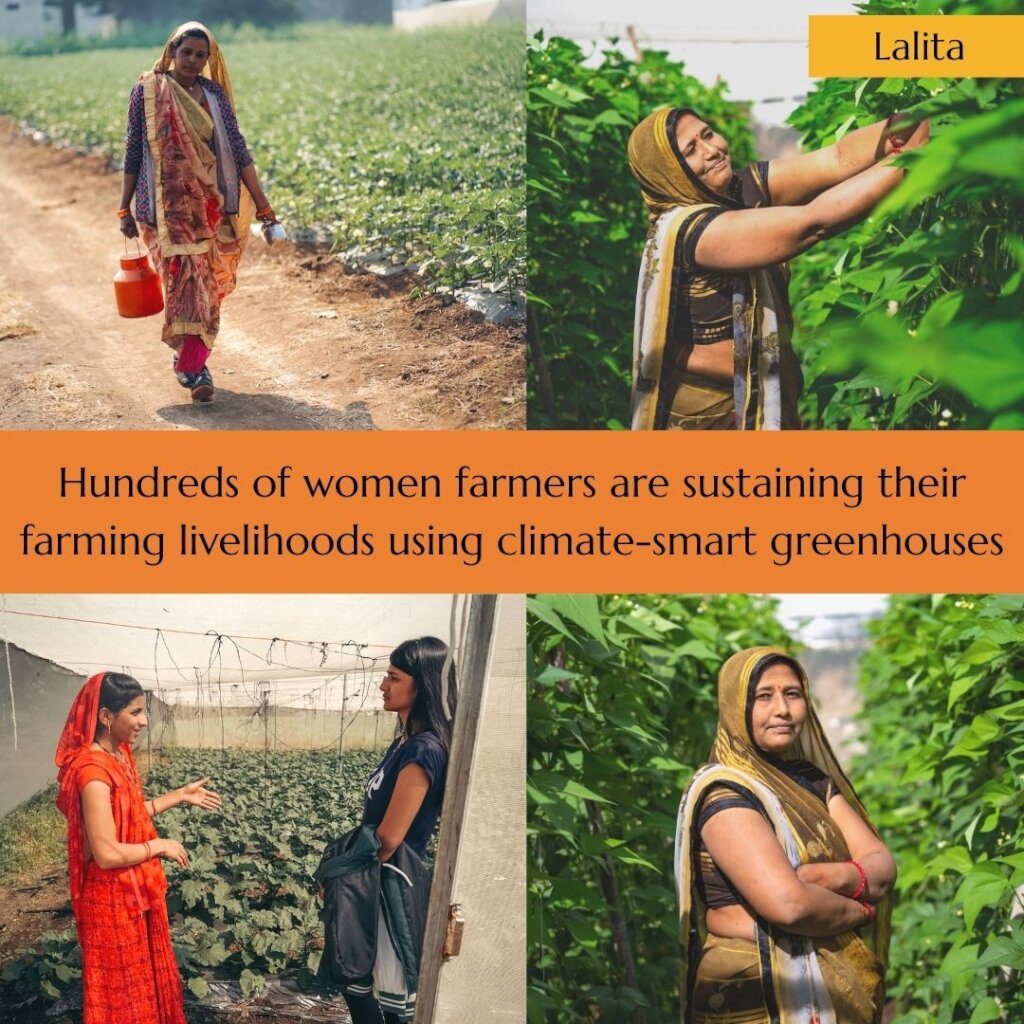 Despite the unseasonal rainfall during the past few months leading to increased flooding across Telangana, hundreds of women farmers are showing greater resilience to extreme weather conditions through the use of their climate-resilient greenhouses.
Using modern, sustainable farming practices, the women are able to sow and harvest crops every season with tangible benefits for their health, their livelihoods and their environments. Their greenhouses provide an ideal, protected environment within which to grow their crops with increased confidence and assured harvests.
More women using Climate-Smart Greenhouses
Despite the increasing severity of the weather conditions, Lalita and her husband, Dinesh are one such farming family who have chosen to invest further in their use of their climate-resilient greenhouse with the aid of your support. They have elected to receive additional training as well as put up extra layers of netting to protect their crops from the increasingly stronger sunlight and excessive periods of heat during the summers, while also protecting their crops against heavy rainfalls.

Increasing soil quality and profits through reducing chemical usage
With your continued support and that of our friends on the ground at Kheyti, the women farmers are also receiving regular education and guidance in the use of modern, sustainable farming practices. This guidance is helping Lalita and other women to understand how to use better quality organic seeds, as well as the correct quantity of fertilisers and proactively monitor for pests.
This in turn is reducing the cost of their farming, reducing their reliance on heavy chemical-based inputs which further pollute their water supplies and becoming generally more educated and confident as modern, sustainable farmers.
Another important development has been the introduction of organic farming practices for preparing their soil before planting their crops. Using organic composting, the women are now also diligently improving the fertility and nutritional composition of their soil, thus increasing the long-term sustainability of their farming, the nutritional contribution to their family's diets while also reducing pollution of their water supplies which has occurred over decades of heavy chemical usage.
By improving the quality of their soil, the women are also learning how their crops are becoming naturally more pest resilient. Together with the use of the double door system, preventative netting and diligent use of their greenhouses, the women farmers have also increased their pest resilience. This further reduces the risk of crop loss, which in turn is improving their income levels as well as the overall food security for their families.