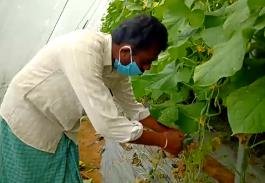 Meet Sridhar, a 48-year-old farmer from Telangana who joined the Climate Smart Greenhouse Program in 2019. More on his inspiring farming journey below…
Continuing Progress
Your generous contributions are helping 244 farmers to grow healthy crops, earn valuable income and provide food security for their families despite the Covid-19 pandemic! On behalf of our farmers we thank you and ask that you please continue lending your support.
Together with our on-the-ground partner, various initiatives have been organised to assist the farmers to overcome the Covid-19 challenges. These include maintaining access to environmentally friendly seeds, fertilisers and pesticides, providing proactive agronomy guidance using WhatsApp and securing the sale of their harvests for the best possible income.
Meet Sridhar, who together with his wife has benefitted from your contributions. Sridhar has been able to keep his farm running and provide for his family throughout the pandemic-related challenges.
Investing in their future
Sridhar and his wife started using the Climate Smart Greenhouse during 2019, designed to protect their crops from adverse weather, pests and climate shocks, all of which had previously destroyed much of their open farming crops.
With the help of your contributions, Sridhar and his family now earn an average disposable income of USD 98 per month throughout the year. This together with the considerably less usage of water, better preservation of their land and soil and an almost zero carbon footprint means that Sridhar is one of hundreds of farmers prospering from their more sustainable farming efforts.
Each day, Sridhar and his wife inspect their plants' health and receive prompt agronomy guidance via WhatsApp. This helps them to deal with any challenges such as pests, lack of nutrients or water or excessive heat. Sridhar and his wife find this form of continual guidance invaluable and actively encourage fellow farmers to adopt the same methods. With the benefit of the additional income, Sridhar is helping his daughter to complete her University education. This will help future generations in Sridhar's family to also continue their progress out of poverty.
Empowering Women Farmers
Following on from our last report, our partner is now busy organising the delivery of the even more affordable Greenhouse Lite for 50 women farmers. This will be the start of an effort over the coming 6-12 months to help educate and assist these women farmers to adopt the use of the Climate Smart greenhouses. When completed, this effort will have helped to improve the food security and livelihoods of these women farmers as well as provide the basis of extending this program.
Please keep following us to learn of their progress through this exciting journey organised with the help of your valuable contributions.