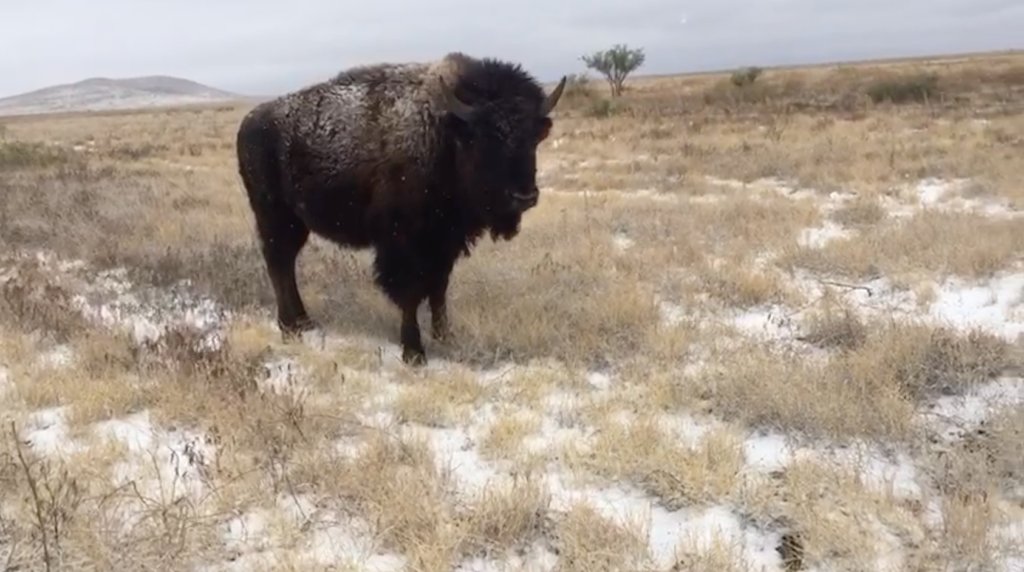 Dear Friends,
We are still in autumn and unexpectedly, a few days ago we had a light snowfall in the grasslands of Janos, Chihuahua, the site of our conservation work. The largest bison conservation herd in Mexico was powdered with snow, offering a beautiful and serene scene. The grassland is also home to colonies of prairie dogs that are recovering from critical past years when they suffered from disease and a decrease in numbers. It is in this place where you can still somewhat frequently see the flight of the majestic golden eagle, and where ranchers are committed to its conservation by acting to protect the areas where we have located their nests.
Thanks to your support, we have been able to work together with government institutions in charge of protecting our natural resources, such as Mexico's Protected Areas Commission (CONANP), which through its Priority Species Department has invited us to form part of three working groups for these species. The groups include a majority of actors committed to conserving grasslands and the species they shelter, and are viewing cattle as a tool that may help us, if done correctly, to regenerate the land while providing economic benefits for the landowners.
We hope you will continue your support in this great effort to conserve Mexico's grasslands and their three emblematic species: the bison, the prairie dog, and the golden eagle.
______
Estimados amigos:
Estamos en pleno otoño e inesperadamente, hace unos días, tuvimos la caída de una nevada ligera en los pastizales de Janos, Chihuahua, nuestro sitio de conservación y de trabajo. La manada de bisontes más grande de México y con más pureza en su sangre fue espolvoreada con la nieve, ofreciendo una escena bella y serena. En el pastizal también habitan las colonias de perritos de la pradera, que se están recuperando después de un periodo crítico en años pasados de enfermedades y pérdida de ejemplares. Es en estos sitios donde todavía es posible observar el vuelo majestuoso del águila real con cierta frecuencia y en donde ganaderos comprometidos con su conservación están haciendo esfuerzos por proteger las zonas donde hemos localizado sus nidos.
Gracias a tu colaboración, podemos trabajar en conjunto con las instituciones de gobierno encargadas de proteger nuestros recursos naturales como la Comisión de Áreas Naturales Protegidas (CONANP), quien por medio de su Direccion de Especies Prioritarias nos ha invitado a formar parte de tres grupos de trabajo para estas especies, donde están la mayoría de los actores comprometidos en trabajar para la conservación de los pastizales y todas las especies que ahí se desarrollan, incluyendo el ganado. Estamos viendo al ganado como una herramienta de trabajo que nos ayudará, si lo hacemos correctamente, a regenerar nuestros pastizales y dar beneficios económicos para los dueños de tierra.
Te invitamos a seguir colaborando con nosotros en este gran esfuerzo de conservación de los pastizales de México y sus tres especies emblemáticas, el bisonte, el perrito de la pradera y el águila real.