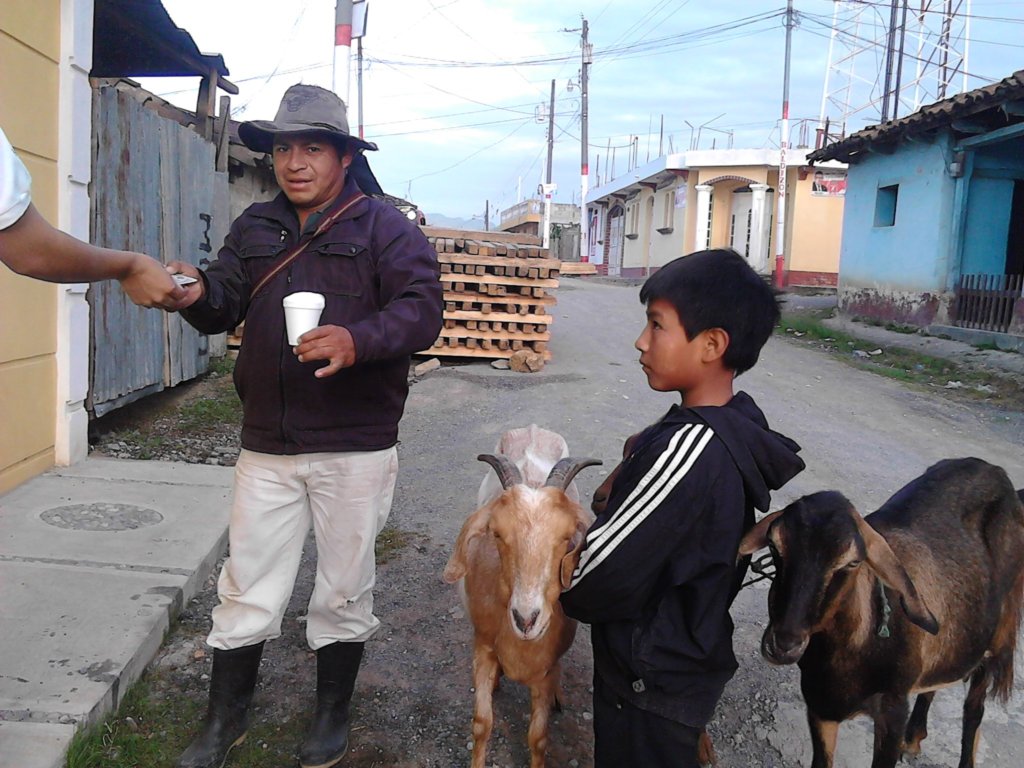 Thanks to support from Global Giving channeled through Save the Children's programs, children's nutritional status and household incomes have improved for the families implementing goat modules in Quiché, Guatemala.
Sisters Margarita and Juana, are an example of this transformation.
Three years ago in Xevitz Nebaj, Margarita's son, Juan, was found to have low weight. Because of this situation, Margarita decided to learn about raising milk goats and to establish a goat module at her house. Every day she gave a glass of goat's milk to her child who began to gain weight and his quick improvement surprised her whole family.
This wasn't the only benefit. The family also increased their income by using the goat's urine and manure for organic fertilizer instead of buying chemical fertilizers. "Now my land is stronger and this year my corn plants are greener than last year."
When she saw the results Margarita was getting, her sister Juana, also set up a goat module at her house with support from Global Giving. This helped her four year old grandson, Edgar, who was suffering from chronic malnutrition to grow and become healthier.
Similar to the sisters, Isaías and his wife, Julia, of the village of La Hacienda, Cunén, decided to implement a household goat module when they were told that their daughter Claudia wasn't gaining weight the way she should.
Isaías and Julia were concerned about their daughter and began giving her a glass of milk every day and 30 days later they were amazed at the results, "My daughter gained weight and isn't sick any more. She has begun to grow the way she is supposed to and plays more. Now I don't have to spend money on medicine all the time," says Isaías as he hugs his daughter.
By implementing the milk goat modules, Gaspar and Jacinta improved their family's life and that of their community in La Pista, Nebaj. When they joined the program implemented by Save the Children, they began managing five milk goats which had been Gaspar and Jacinta improve their goat production genetically improved at the Highlands Goat Production Center (CEPROCAL, for its initials in Spanish).
The family's interest and hard work allowed them to increase their herd to 16 goats and 11 kids. "It is clear that these animals are of better quality and have greater reproductive capacity. I see a significant difference between them the the ones that I had before," explained Gaspar.
Besides increasing his herd, Gaspar sponsored many low weight children with a glass of milk, produced goat cheese, used the organic fertilizer for his crops and he feels that he has improved his farm as well as the nutritional status of his grandchildren.
Learning how to manage milk goats has been an important experience for Gaspar. The training included goat feeding and nutrition, reproductive management, milking, consumption, vaccination, and management and use of manure and urine.
More than 2,400 families in the Guatemala Highlands have received training on goat management. One of these was Apolonio, who already had experience with goats but lacked resources and technical assistance. The program's support helped change his life as he improved his abilities and he now has three goats instead of just one.
When Miguel, the technician from the Western Program of Integrated Food and Nutrition Security Actions (PAISANO) implemented by Save the Children, visited him to provide technical assistance, he suggested marketing the goat's milk in the municipal seat of Uspantán. At the beginning Apolonio was embarrassed and nervous about going out to sell the milk but when he realized how he could earn money from selling the milk he was convinced to keep going.
Now he goes out into the streets of Uspantán with his son Arturo, offering goat's milk, "The first day I sold eight glasses, the next day I sold 10 and this encouraged me to keep going. People know me and when they hear me shout, 'Milk, Milk', they rush out with their containers to buy from me." Apolonio says that people attribute many benefits to drinking goat's milk – they say it cures gastritis, alleviates aching bones and helps with other diseases.
In El Pinal, Uspantán, Elmer and Natalia's family also improved their lives and the nutritional situation in their community with the implementation of goat modules. Every Apolonio lives in San Antonio which is 1.5 kilometers from the municipal seat of Uspantán where he sells his goat's milk every day. day 10 children under five years of age who have low weight come to their house to receive a glass of milk to improve their nutritional status. This is possible thanks to the implementation of five goat modules.
Additionally, Natalia makes cheese every day from the surplus milk and sells it in the community. The demand for her cheese keeps growing and now she earns $ US 6.50 a day from cheese sales. Other benefits are the sale of baby goats for $ US 50 each and the reduction in expenses for buying chemical fertilizers since they use the goat by-products for organic and foliar fertilizer.
This has increased their bean and corn production by 10%. This case study presents various success stories of families that have benefited from milk goats in Quiché. This is just a sample of the value of Global Giving's support for improving children's and families' nutrition channeled through Save the Children.