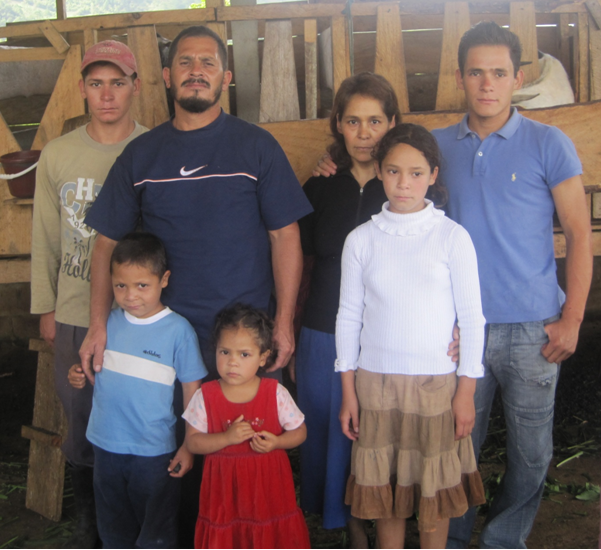 It all starts as a dream, but dreams do come true. This is a well-known saying that has turned real for Elmer and Natalia, entrepreneurs and sponsors of good nutrition in the El Pinal community. With hope, effort, and resolve, they have built a dream: to have their own goat-production business.
However, it was not always like this. According to dwellers' accounts, their community used to be surrounded by pine forests, from which it draws its name: "El Pinal" (the Pine Forest). Years ago, the population grew sugarcane; however, due to the growth of the sugar industry in other areas of the country, they stopped producing sugar and started growing corn and beans, as well as Bourbon-variety coffee, grown in small plots.
In this very picturesque location, as in many others throughout Guatemala, chronic malnutrition still prevails, and consequently, Save the Children has coordinated actions with the community in order to ensure food security for the families of children under 3 years old. As a result, it has been possible to establish improved health and nutrition, livelihood, and risk-management services and practices.
Within this framework, one of the priority actions to improve household milk consumption was to raise goats, but even then, milk production volumes were low. With the support of many kind people's contribution, the future of these families has now changed due to the new approach for this activity: business with social responsibility. This is the case of the family headed by Elmer and Natalia, who have assumed the commitment and the challenge of becoming a model goat-producing family.
Every day, when the sun comes up, 10 children under 5 years old come to Elmer's home to drink a glass of goat milk to improve their nutritional condition. This is possible owing to the implementation of a goat module that includes 5 goats producing enough milk to feed the children sponsored by the family.
However, Elmer's success required considerable dedication. He tells the story of how, six months ago, he started his goat-production business and how now, he is collecting the full benefits of the training he received from Save the Children technicians. He remembers his efforts to build his facilities and to prepare himself to raise goats.
These efforts have allowed him to improve the nutritional condition of children. In addition, Natalia transforms the surplus milk into cheese, which she sells in the community. Demand for her cheese has steadily increased and now she is making Q.50 per day. Goat kids are another benefit arising from goat production, since female kids will also become milk producers in the near future and male kids will be sold or eaten. Recently, the family sold three kids at Q400 each.
In addition to the income generated by goat production, Elmer, as do all El Pinal inhabitants, generates profits from growing corn and beans. However, unlike other farmers, he has been able to reduce his production costs by 75 percent by decreasing the use of chemical fertilizers. Instead, he is now using goat manure as an organic fertilizer and goat urine as a foliar fertilizer and as an insect repellent, a practice that has helped him to rely less on agro-chemical products, thus preventing environmental pollution.
His corn and bean yields have increased by 10 percent. This clearly shows how goat production improves household income.
Today, the family has become an example for their community, as a result of their efforts, dedication, and discipline. Today, they are considered a referent, especially by those who were once skeptical about goat production. They approach Elmer to observe the way in which he works in his farm and to learn about the benefits he has reaped from engaging in goat production.
The immediate future of Elmer's family looks very promising, since they are also part of the initiative to improve goat genetics being promoted by the project. To date, two of their female goats have mated with one of the imported studs. This will result in improved quantity and quality of the milk produced by their goats, which in turn will translate into increased financial income for the family.
This opportunity has changed the life of Elmer, who has seen his dreams come true. "I am very grateful for the opportunity and for the support provided to me by the project. It has changed my life and that of my family. I think I have helped my community, especially those boys and girls who, with their smiles and pranks, bring joy to me every morning when they come to drink their milk."
"Each day I learn a bit more about goats; not only through my daily experiences here at home, but also through the teachings of Save the Children technicians. Thank you so much."