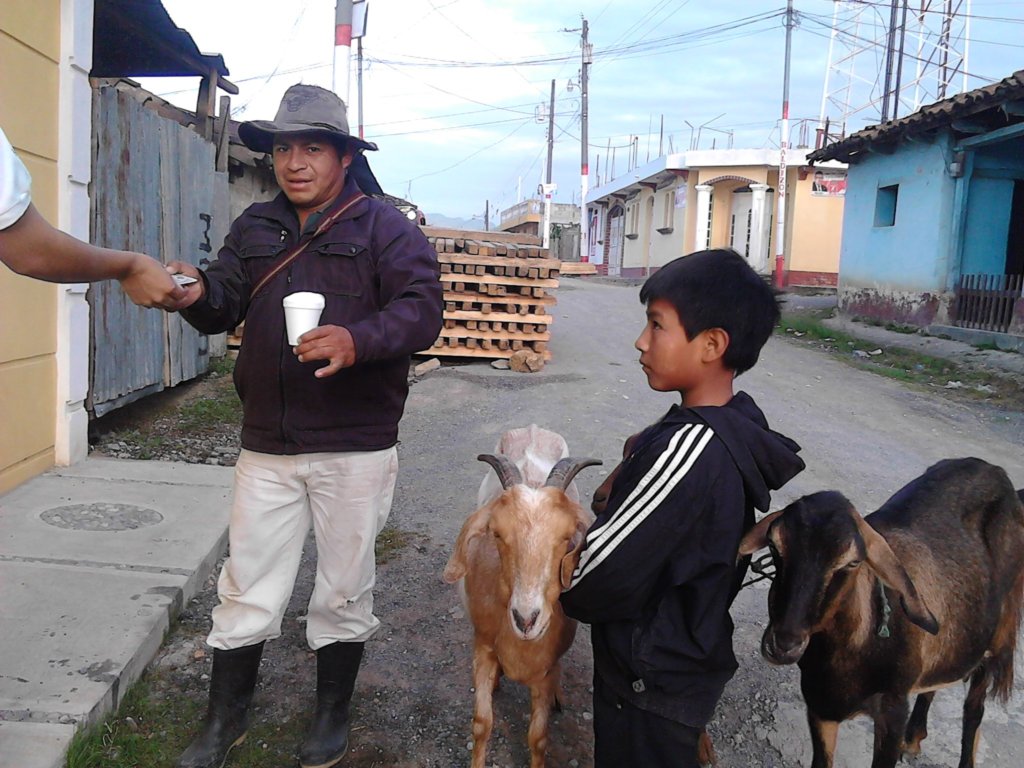 Every morning, Apolonio can be seen along the streets of San Miguel Uspantán selling the milk produced by his goats from house to house.
This story started several years ago when the program "Improving the Food Security and Health of Families Living in Guatemala's Coffee-Growing Areas" provided training on how to make goat cheese and other derivatives of goat milk. His wife, Juana , attended this training and became aware of the benefits generated by goat production.
She and her husband agreed to join the program as beneficiaries and to receive a goat from this program, executed by Save the Children, with support from Green Mountain Coffee Roasters and ABC News.
As soon as don Apolonio received the goat, he showed much interest and responsibility in adopting the practices for goat management, such as building and managing the goat module, and adopting proper goat-feeding, hoof-trimming, and vaccination practices, among others.
Months went by, and when the program saw his efforts and the quality of his goat management, it provided additional support with materials to implement two more modules. However, don Apolonio has set a goal for himself: to buy another goat with his own resources. This generated positive results, since this investment increased his goat production.
As time passed, he was able to raise the number of his goats to three, producing one liter per day, on average. When the program technician Miguel, visited him to provide technical consultancy, he proposed commercializing his goat milk in the municipal capital of Uspantán.
This project was accepted by don Apolonio, who decided to walk the streets and avenues of San Miguel Uspantán, along with his son Arturo, offering goat milk from house to house. As don Apolonio says: "At first I felt embarrassed and a little afraid, thinking that the milk would not be in demand, but I decided to come out with my three goats. I knocked on the door of families, offering milk."
"The first day I sold 8 glasses; the next day, I sold 10 more glasses, and this encouraged me even more. Now, people know me, and I only have to shout: "Milk, milk" and people come out with their glasses to receive it."
Some of the important anecdotes told by don Apolonio include the fact that people thank him for bringing goat milk to their homes, as it has helped them to cure some of their ailments, such as gastritis, and problems with their bones, among others. This has encouraged him to continue selling milk.
Don Apolonio starts his day very early in the morning. He is up at 5:00 in the morning, washing his goat's udders, and at 5:40 he goes out to the municipal capital to sell milk. He makes his rounds and returns home at 9:00 in the morning. The rest of the day he feeds the goats, cleans the modules, and collects urine and manure.
Implementation of the Western Program of Integrated Food and Nutrition Security Actions (PAISANO), supported by the United States Agency for International Development (USAID) and ABC News, has strengthened his agricultural/ livestock practices even more, and consequently, his income has increased even further
He has received training and technical advice on the prophylactic plan, goat feeding, and managing goat sub-products, such as fertilizer and goat urine, among others.
As a result of the training that he has received, he has been able to increase his production and the sale of milk, as well his sales of fertilizer by the quintal and urine by the liter, which fetch Q.35.00 and Q.3.00 respectively.
His knowledge and experience in the field have also helped him to be chosen as agricultural/ livestock promoter in his community, whose aim is to encourage and to set an example for other families.
However, don Apolonio's life was not at all like that before. He used to travel to the Pacific coast from November to April, during the sugar-harvest season. The rest of the time, he worked as a laborer, cleaning corn plants, and was paid only Q. 35 to Q. 40 per day. Even though he earned this income, it was not enough to pay his debts and to provide for his family.
At present, he is generating from Q. 130 to Q. 150 per day from milk sales, and Q. 5,000 per year from manure sales. Don Apolonio feels very fortunate and thankful for having been able to improve his family's living conditions. His children are growing up healthy, because they are drinking goat milk every day. Now he has the resources he needs to buy clothes and medicines, and he has improved his home's structure.
His efforts are evidenced by his buying 4 "cuerdas" (approximately 3.8 acres) of land in 2014 and 25 more "cuerdas" (approximately 24 acres) of land this year. There, he plans to plant trees and grow fodder for his goats. His greatest wish is to increase his goat production to 30 goats, in order to continue selling their milk.