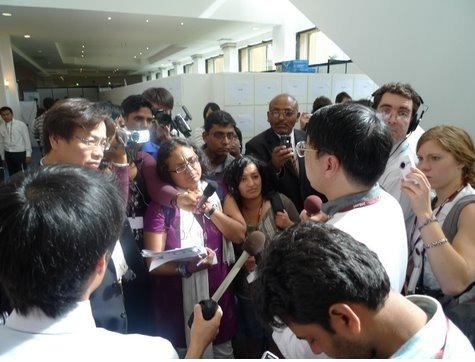 Thanks in part from your generous donation, Internews' Earth Journalism Network (EJN) brought a total of 45 journalists to the UNFCCC COP16 Climate Summit held in Cancun. As part of the Climate Change Media Partnership (CCMP) we once again had the largest media delegation at the annual summit. We also brought 11 US journalist Fellows to work alongside the developing country reporters we usually bring.
Our delegation included 31 CCMP Fellows (20 women and 11 men) from 26 developing countries, 11 US journalists – including reporters from such notable organizations as the New York Times, the LA Times and NPR – and a few other partners from various developing countries. Working with the 16 CCMP and EJN staff members from around the world who also joined the program in Cancun, we provided a varied and supportive training programme throughout the two week period:
Providing a range of capacity-building activities, including orientation, panel discussions, field trips, journalism seminars, individual mentoring and daily briefings for the Fellows (details below)
Arranging logistics and services (such as accommodation, visa support and media accreditation)
Organising a number of high profile events
Providing multimedia support materials including an interactive reporting website (http://www.climatemediapartnership.org/) that a large percentage of the Fellows continue to file to even after the summit has finished.
These measures enhanced the journalist's knowledge and skills and enabled them to focus on their work of reporting on the negotiations and events to their home media.
Impacts
Fellows
The impacts on the CCMP and EJN Fellows included the following:
Greatly increased understanding of and ability to report on climate change
Greatly increased quality and quantity of stories they were able to produce
Increased number of contacts around the world, among climate experts, trainers and journalists colleagues who can help them with their coverage of climate change in the future
Access to the crucial global negotiations on climate change, where the future of their communities, countries and planet are being decided. In many cases, the CCMP Fellows were the only journalists from their countries to cover the talks in person.
Increased prestige within their home media organization, leading to more prominence for their stories on climate change
The combination of these benefits will lead to greatly improved coverage of climate change by the participating journalists in the future
"[My editors] loved the stories I filed. And for the first time in a year, I got two front page stories on climate change." - Margot Roosevelt, Los Angeles Times, United States
Coverage from CCMP and EJN Fellows included:
- World Bank climate envoy takes on Jagdeo by Neil Marks. Kaieteur News, December 4, 2010
- At climate summit, they're feeling like deserted islands by Margot Roosevelt. LA Times, December 4, 2010
- Powerpoint Diplomacy in an Energy Push at Climate Talks by Andrew Revkin. New York Times, December 6, 2010
- Flood crisis highlighted at Cancun talks by Rina Saeed Khan. DAWN national daily, December 8, 2010
- In Cancun, protest breaks out against REDD by Meena Menon. The Hindu, December 9, 2010
- Jordan receives $200,000 grant from World Bank by Farah Atyyat. Al Ghad (Arabic), December 10, 2010
- Mexican state seeks to join California in carbon emissions effort by Margot Roosevelt. LA Times, December 10, 2010
- Two options for China's emission reductions by Yuan Ying. ifeng.com, December 10, 2010
- Last minute: optimism raises in Cancun summit by Martín De Ambrosio. Diario Perfil (Spanish),December 11, 2010
- Consensus Emerges On Common Climate Path by Andrew Revkin. New York Times, December 11, 2010
- U.N. pacts contain small steps but no broad accord on climate change by Margot Roosevelt. LA Times, December 12, 2010
- Google opens world's forests for all to see by Suzanne Bohan. Contra Costa Times, December 13, 2010
- Global warming protesters ramp up with climate talks' failure Slideshow by Mark Malijan, Story by Margot Roosevelt. LA Times, December 13, 2010
- California Plan May Affect Deforestation Abroad by Gretchen Weber. The California Report, December 13, 2010
- Cancun restores faith in the fight against climate change by Pablo Fonseca. La Nación (Spanish),December 13, 2010
- Read blog posts from the Fellows on the CCMP Website
Most gratifying of all was the way in which the journalists from the US and the developing world not only got along, but actively collaborated. They exchanged information and tips, provided each other with photos, sources and content, and found numerous other ways – both formal and informal – to help each other out. And the collaboration will continue, both online through our virtual networks in some cases through direct collaboration. Everyone remarked that this was an outstanding new feature of the program, and we hope to continue promoting this interaction in the future.
Audiences
The Fellows' audiences received approximately 475 stories with vital information on climate change and the UN climate change negotiations in their local languages and within a local context. The best of the developing country stories can be found at www.climatemediaparnership.org while the US stories can be found at http://earthjournalism.net/program/cop16-fellowship
By helping to create a more informed public and policy-makers who are more aware about climate change, and by serving as a watchdog on negotiators to make sure they deliberate in good faith, the CCMP Fellowships helped to make developing countries more resilient in the face of climate change impacts and more understanding of the potential benefits of addressing this challenge.
"Being in Cancún helped me to report back home on issues that Guyanese are interested in. I could not have done that were in not for the Climate Change Media Partnership. I was the only journalist from Guyana in Cancún." - Neil Marks, Kaieteur News, Guyana
Delegations
The Fellows' presence at COP16 created an incentive for the delegations to put their best foot forward – if there would be no one present to hold them accountable, it would be easier for country delegations to participate minimally, while telling the public otherwise. The watchdog role of the journalist, certainly a journalist from a country where the average media house cannot afford to send a media professional to an expensive UN conference, is not to be underestimated in this context. Often, certain developing countries do not have one single member of their national press present at the UN climate change summits. It must also be noted that some country delegations are not willing to talk to journalists from their own countries, possibly because of certain rules within their delegations.
Field Visit
At COP16, the possibility of an agreement on the UN programme REDD+ (Reducing Emissions from Deforestation and Forest Degradation) was one of the most high-profile topics on the table. The REDD+ programme is controversial at times, mainly because it could affect the rights of indigenous peoples that are dependent on forests for their livelihoods, and therefore be an unsustainable solution to climate change. The CCMP staff and Fellows split into three groups and visited three separate REDD+ pilot projects that are implemented by NGOs and indigenous communities in the Yucatan region.
Output
From the beginning of the Fellowship, it was clear that the COP16 summit would not be as high-profile, and therefore as newsworthy to editors, as the previous summit in Copenhagen. All Fellows were able to get stories published regardless and several informed their CCMP editors that their stories made it to the front page or homepage of their media house.
The 2010 CCMP Fellows produced an estimated total of 400 stories during the COP16 climate summit. This is a high story per journalist average, especially considering the fact that editorial demand for reports from the Cancun conference was much lower than during the 2009 COP15 conference in Copenhagen. The EJN Fellows from the US, meanwhile, produced approximately 75 stories.
As we have heard from this year's Fellows, and know from the previous CCMP Fellowships, the Fellows' experiences and the contacts they made during the two weeks they spent in Cancun have given them a wealth of information and story ideas for future reports.
The CCMP Fellows, and their reports from the conference, were able to reach a combined audience of millions. Not only were their reports published in their 26 home countries, they were often published online as well in international languages that have a wider-than-national reach. Their perspectives were able to reach audiences on other sides of the world, including those in the developing world. In addition, the journalists produced stories for the CCMP website. That said, stories produced in small, local languages are also able to have a significant impact in local communities.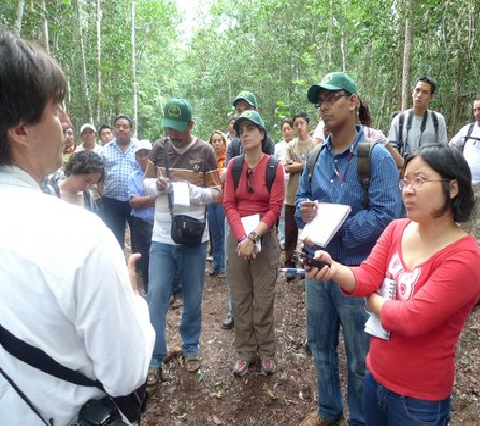 Links: