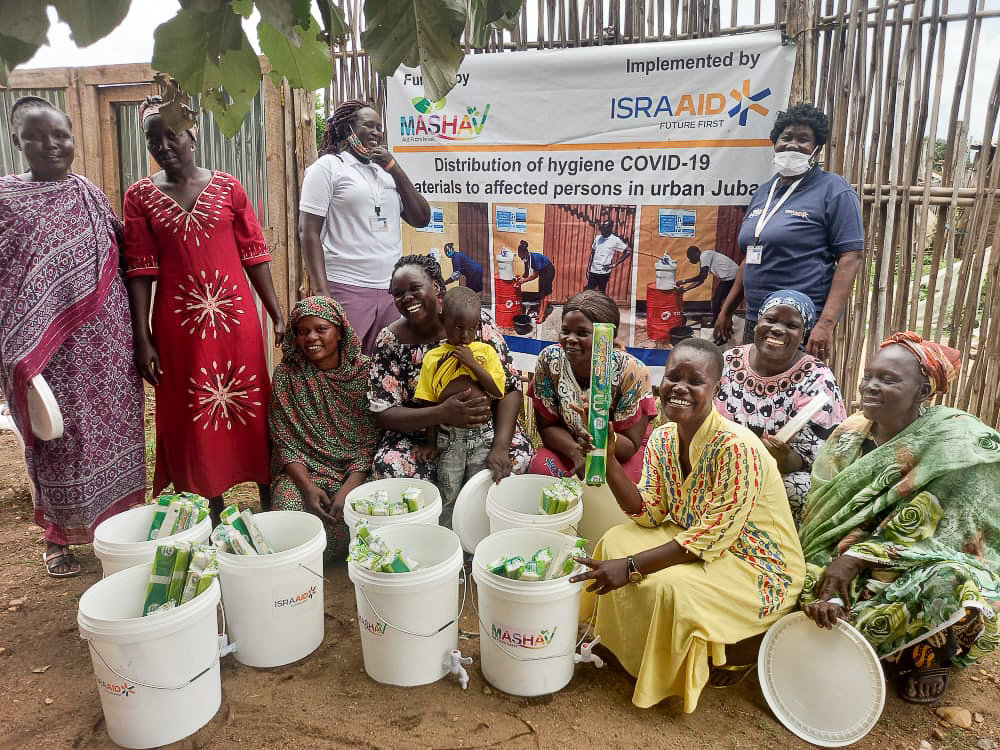 South Sudan remains in crisis. Conflict has continued on and off since July 2013, when heavy fighting claimed the lives of hundreds of civilians and displaced tens of thousands. Today, conditions in South Sudan are dire: 80% of the country's population lives on less than a dollar a day and 8.3 million people are in need of humanitarian aid. Over the last year, there have been more than 12,000 confirmed cases of COVID-19 in South Sudan, with major adverse implications on this already extremely vulnerable context amid the pandemic.
Communities are experiencing a triple crisis: the COVID-19 pandemic, intensified conflict and sub-national violence, and the second consecutive year of major flooding. Some 1.6 million people remained internally displaced and another 2.2 million as refugees in the region. The situation is exacerbated by an extremely unstable economy; meaningful work opportunities are difficult to find. IsraAID has worked in South Sudan since 2011 providing life-saving programming focusing on preventing Gender-Based Violence (GBV) - a human rights violation that while rampant, lacks the proper infrastructure for survivors to get the support they need and deserve.
IsraAID, in partnership with the Embassy of Israel in South Sudan, provided urgently needed support to 200 vulnerable families in need of hygiene kits to help keep them safe. In light of the extreme barriers to employment, many families are unable to purchase adequate hygiene items to prevent the spread of COVID-19 in their communities, leaving them even more vulnerable to contracting the virus. This is further exacerbated by a lack of clear and accurate information about the virus, and how it is transmitted.
Through this partnership, IsraAID and the Embassy of Israel in South Sudan distributed hygiene kits to 200 households in Juba, reaching some 1,190 people through the program. Hygiene kits included urgently needed items such as buckets with taps for handwashing, soap, hand sanitizer, and reusable masks. IsraAID prioritized the most vulnerable community members in this distribution including pregnant women, lactating mothers, women or child-headed households, the elderly, and people with disabilities.
Three communities in Urban Juba benefitted from this distribution: Juba Way Station, Gurei, and Jondoru. IsraAID has been working with these communities since 2016 and maintains close relationships with many leaders and individuals therein. These areas are populated by internally displaced people, who were forced to flee their homes over the past years due to war, violence, and civil strife. Women and girls from this community are at particularly high risk for sexual and gender-based violence. This is exacerbated by the extremely adverse implications of the pandemic because there is insufficient water infrastructure to wash hands, people live in tight quarters making it difficult to socially distance, and this community has extremely limited employment opportunities. Most of the targeted community live on one meal per day and are highly dependent on food distribution activities.
The need is overwhelming – thank you very much for your support.