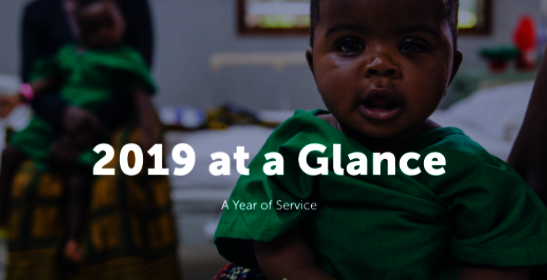 Dear Friend,
In 2019, you helped mobilize almost $1 million in financial and in-kind resources to change lives and support the sustainable growth of our work in Tanzania.

Thanks to your support, over 81,000 expectant mothers safely delivered their babies at partner facilities in Dar es Salaam. We treated 470 women and girls for obstetric fistula, and served 1,145 clients served at CCBRT's family planning clinic, Tim's Corner. Our partner CCBRT performed more than 8,000 surgeries, including over 6,100 sight restoring operations for the visually impaired.

For patients like Asha, a surgery to repair her obstetric fistula and restore her dignity means she has the potential to live in her community without fear of stigma and isolation.

Twenty-five years later, Asha is finally dry. "I had lost hope, and couldn't leave my house because of the shame I felt. Now, I am no longer leaking urine, and I thank God every day for the free treatment I received at CCBRT." You can read the rest of Asha's story, and other stories of lives changed by accessing the Annual Report here.
Thank you for supporting our work in 2019, and for your continued generosity as a passionate, robust force for good.
Are you feeling inspired? In partnership with Johnson and Johnson*, Kupona will receive $1 for every photo you upload on the Donate a Photo app from today until December 31st. Learn more and download the app, then choose Kupona Foundation's cause "One photo helps give a baby a strong start in life" from the list of causes.
One photo a day can change a life. In an especially challenging time for all of us, this is an easy way (it takes 10 seconds each day!) to support women, children, and people with disabilities in Tanzania. We hope you will join us as we make high quality, life changing healthcare available to mothers and newborns in Tanzania.
Warm regards,
Susana Oguntoye
Kupona Foundation, Executive Director
*Johnson & Johnson has curated a list of trusted causes, and you can donate a photo to one cause, once a day. Each cause will appear in the app until it reaches its goal, or the donation period ends. If the goal isn't reached, the cause will still get a minimum donation.
Links: