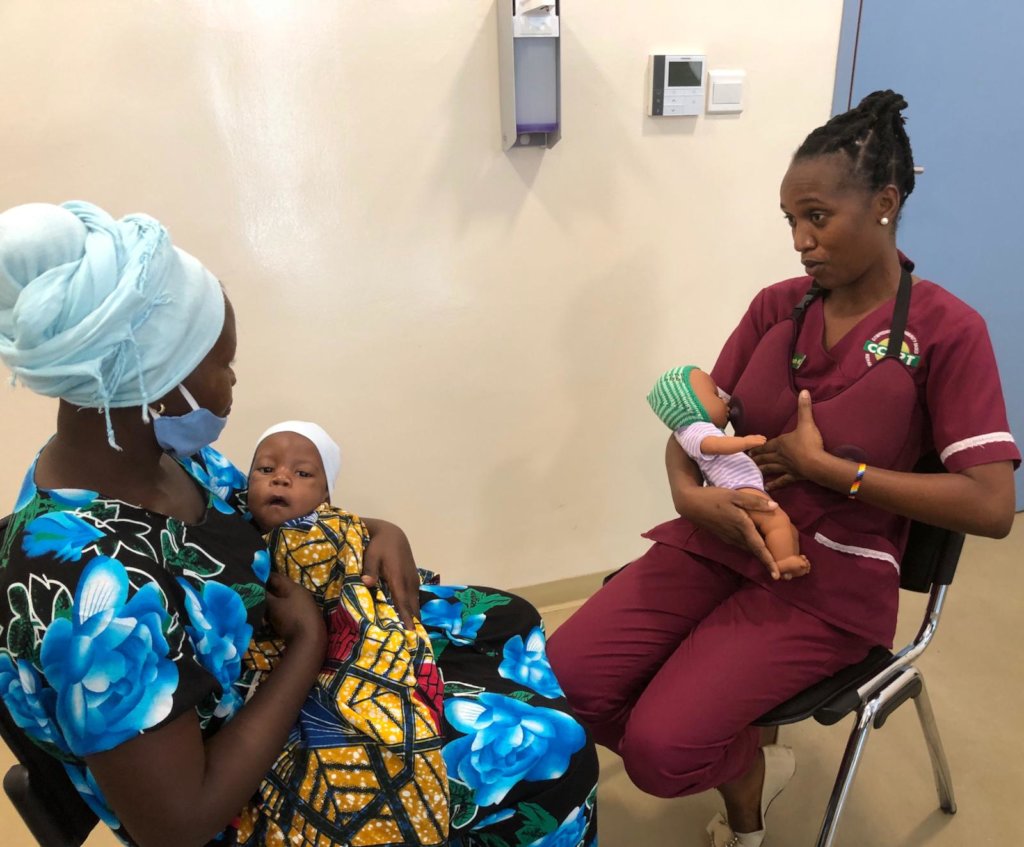 Dear Friend,
Kupona celebrated World Breastfeeding Week by raising awareness around the neonatal care work our colleagues at our sister organization in Tanzania, CCBRT, are doing.CCBRT discovered the start of breastfeeding for sick and preterm newborns admitted to the neonatal care units of Dar es Salaam is often very delayed, and responded with a project (funded by Laerdal Foundation) on early and exclusive breastfeeding, emphasizing how vital this is for low birthweight or premature newborns.
In celebration of World Breastfeeding Week, Dr. Antke Zuechner, CCBRT Neonatal Technical Advisor, and her colleagues trained over ten nurses and midwives through proper breastfeeding techniques over a week, so that they are prepared when premature or sick newborns are too weak to breastfeed. The nurses and midwives learned how to help mothers pump their breast milk so their newborn babies can drink by cup or tube feeding. Learn more about the breastfeeding training here.
After talking to our colleagues at CCBRT about the importance of immediate breastfeeding, we heard Neema's story:
Neema delivered her baby girl at home just a few weeks ago. She came to the hospital shortly after because her baby couldn't latch on for breastfeeding. When Neema arrived at the hospital, her baby was shivering, and something wasn't right. The doctors at Temeke Hospital, one of CCBRT's Maternal Health Capacity Building (MHCB) partners, took emergency action to keep Neema's baby warm, give her O2 therapy, and insert an IV line to keep her hydrated. The baby was diagnosed with neonatal sepsis, and the doctors at Temeke treated her immediately. She was in the hospital with varying symptoms, from a high temperature to a swollen abdomen, for over 5 days. The most consistent treatment? Neema's breastmilk.
The doctors at Temeke had been trained by CCBRT's Maternal Health Capacity Building team on proper breastfeeding techniques in these exact situations. By the 5th day Neema's baby had stabilized, and could breastfeed without any problem. Neema was very grateful that her baby was alive, and that her breastmilk helped her get better.
Doctor Victoria at Temeke said, "before attending CCBRT's breastfeeding training, we wouldn't have known how to administer Neema's breastmilk to her baby. CCBRT's training has helped many children in Tanzania get their mother's milk immediately, and get healthier regardless of their condition."
Thanks to the incredible doctors at Temeke, and CCBRT's MHCB team, Neema's child survived. It is this important work that keeps mothers and newborns safe.
Susana Oguntoye,
Executive Director, Kupona Foundation