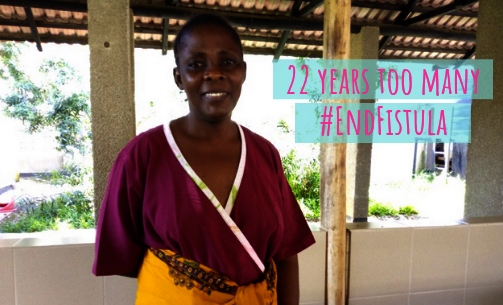 Dear Friends,
This Thursday, May 23rd is International Day to End Obstetric Fistula. While as many as 3,000 Tanzanian women develop fistula every year, many in Tanzania have never heard of it; the condition is still surrounded by lack of awareness, confusion and stigma.
Asha, now 44, developed fistula during the birth of her second child in 1996, when she was 23.
Without a skilled medical attendant present, Asha's second labor and delivery was long and painful. Afterwards, like many women living with fistula, Asha was unable to control her urine or feces.
It would be six years before Asha even learned the name of her condition, which continued worsening as she gave birth to four more children. Unable to afford fistula surgery at her district hospital with her income as a local farmer, 16 more years passed before Asha learned about our partner CCBRT's free fistula services.
In February 2019, after 22 years too many, Asha underwent a successful fistula repair surgery at CCBRT.
Realizing she could finally access treatment was "the beginning of a new life chapter," Asha said. Read Asha's full story here.
Obstetric fistula is preventable with access to timely, high-quality maternal health services. No woman should live with fistula for 22 years, or even two months.
Tomorrow, on International Day to End Obstetric Fistula, we're raising awareness about fistula and mobilizing support to eradicate fistula in Tanzania. Stay tuned to learn how you can help, and visit our website, Facebook or Instagram for more stories from women affected by fistula and the health workers working tirelessly to prevent it.
Sincerely,
The Kupona Foundation team