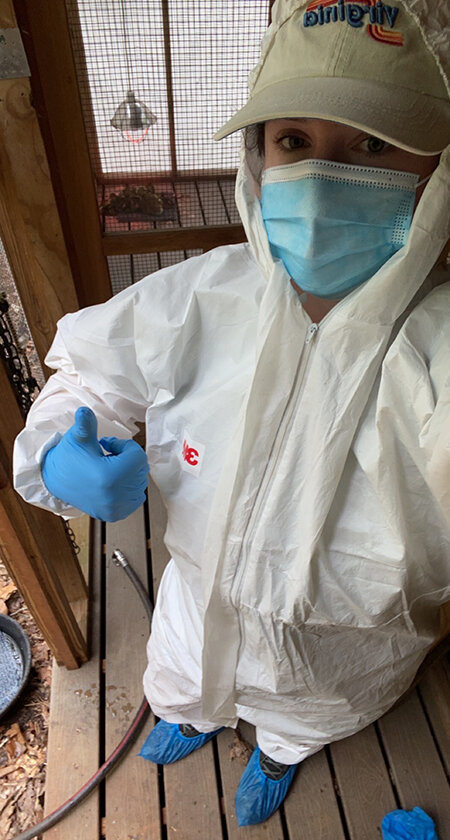 Each year at the sanctuary is vastly different, even though the majority of the animals that we deal with tend to remain the same. But the "firsts" each year always stand out, and this year is no different. This summer presented our rehabilitation team with two interesting "firsts" and two new learning experiences.
A not-so-great "first" was the North American outbreak of Highly Pathogenic Avian Influenza (HPAI). HPAI is a virus that occurs mainly in birds, is highly contagious among birds, and can be deadly, especially in domestic poultry. While most waterfowl are usually asymptomatic, not showing symptoms of the disease while infected, these species are the most likely to transmit the virus to other birds. The most susceptible are domestic poultry, raptors, avian scavengers (gulls, ravens, crows), and game birds (turkeys, grouse, quail). Most raptors and scavengers come in contact with this virus after eating one of the previously mentioned carriers of the virus. Due to the high concentration and proximity of birds in our sanctuary, we had to adopt protocols to lessen the risks of contagion to both the orphaned babies we take in and to our educational raptors. It was a stressful time, for should we have an outbreak the USDA could require us to euthanize our education raptors as a preventative measure.
Our biosecurity protocols included setting up a quarantine shed for all new waterfowl intakes, and isolating them to prevent cross-contamination with the songbirds in our nursery. Additionally, each staff member working in any waterfowl enclosure was required to wear a full Tyvek suit, gloves, masks, and foot coverings along with stepping in a bleach solution before entering the enclosure. In the ninety-degree weather of summer, this made for hot work! It was also an added strain on our PPE budget for the year. But, knock on wood, we have made it through the summer with no outbreaks.
Our much more heartwarming "first" was the arrival of a baby Northern Bobwhite quail! The baby bobwhite came to the wildlife rehabilitation facility after repeatedly approaching a couple camping in Powhatan County. The tiny quail ran out of the woods by their campsite and sat on their feet. With no mother bobwhite or siblings in sight, this lone hatchling came to RWS for rehabilitation. It weighed only 6 grams at intake. Now, the adorable baby bird topples scales at 80 grams and chows down on a tasty selection of mealworms, chick starter, and native browse.
Dubbed "the prince of game birds," the Northern Bobwhite has faced a steep decline across the South due to agricultural land use and the resulting loss of suitable nesting habitat. Their namesake "bob-white, bob-white" call is now hardly heard due to an estimated 70% population drop since the 1960s. Farmers and landowners interested in helping these unique birds make a comeback can implement practices that support bobwhite nesting, like creating field borders, hedgerows, filter strips, conservation cover, and carrying out prescribed burns where appropriate.
In the meantime, the wildlife rehabilitators at RWS have spoken with the Department of Wildlife Resources quail experts about the best rehabilitation plan for this patient.
"Caring for a bobwhite quail has been a great learning opportunity for our staff," says Sarah Cooperman, Interim Director at Rockfish Wildlife Sanctuary. "These unique birds are in peril in Virginia, so we're happy we can do our part to get this patient back to the wild where it belongs." RWS aims to release the quail back to the wild by the end of September.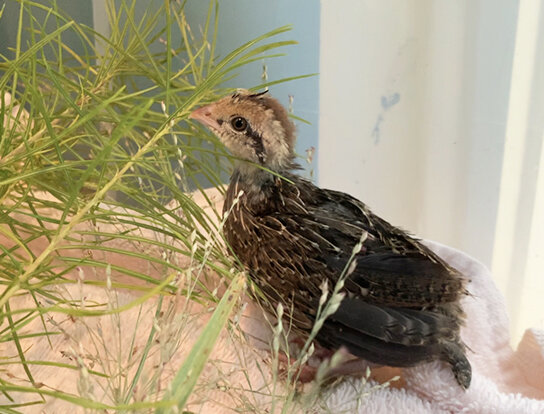 Links: