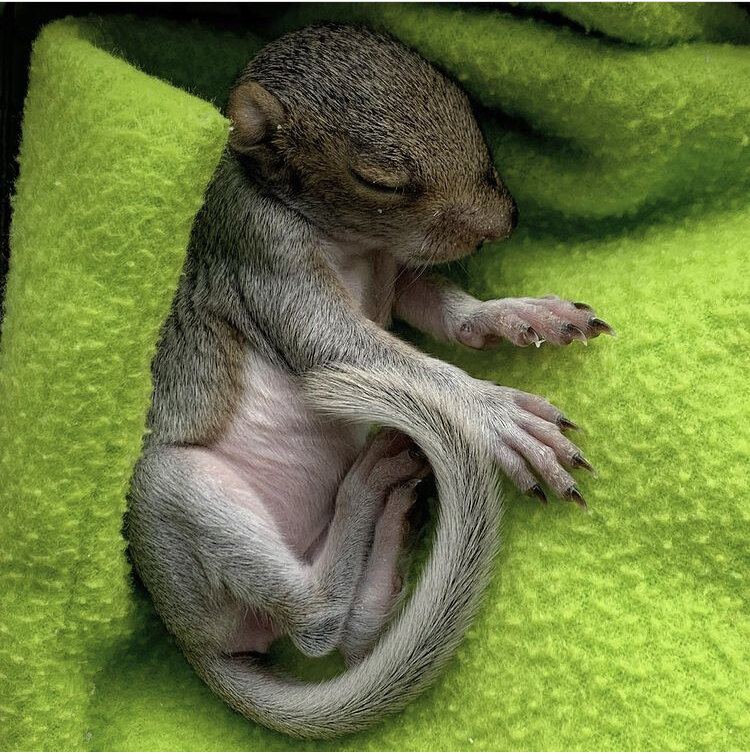 Gone are the quiet days of only having a nursery full of overwintering turtles to care for. Our nursery has been packed now for two months! While this years baby season has followed the consistent admissions pattern of squirrels, followed by opossums and everything else, this year's arrivals began earlier than usual and came in greater quantity.
Our first intake of the year was a big brown bat, captured during a house remodel in January. The bat was followed closely by a Great Horned Owl and flying squirrels which arrived in February. Early March brought our first eastern grey squirrel, the first of many, some of whom are still awaiting release! Our "squirrel season" keeps starting earlier and continuing longer, indicating the local impact of climate change. They continue to flow through the sanctuary like the Rockfish River (our namesake).
Since March, we've had the following mammals come through our door: eastern cottontails, striped skunks, a North American river otter, woodchucks, raccoons, Virginia opossums, red fox kits, and deer mice. Our wide variety of mammal patients keeps us on our toes, but we have had an even more diverse pool of avian patients! Bird intakes for the season so far include Carolina wrens, a Black Vulture, a Northern Flicker, Eastern Bluebirds, House Finches, Carolina Chickadees, Common Mergansers, Canada Geese, American Crow, Mallards, Common Grackles, American Robins, Eastern Phoebes, a White-eyed Vireo, Mourning Doves, Wild Turkey, and more! Most of these bird patients are songbirds that must eat every 30 minutes, so the days fly by.
This season has also brought a new obstacle we have to deal with: a nationwide outbreak of Highly Pathogenic Avian Influenza. Our waterfowl must quarantine, and it seems like we live in goofy-looking Tyvek suits and the accompanying Personal Protective Equipment to avoid spreading any illness between our patients or two staff. We've had to change our enclosure substrates to allow for the cleaning requirements and adjust waterfowl feeding schedules to avoid cross-contaminating enclosures. It's an ongoing process and we are consistently updating our biosecurity protocols. We hope that this wave of HPAI slows soon for the safety of our native birds, our ambassadors, and patients, and also for our budget - all of the PPE can become quite expensive.