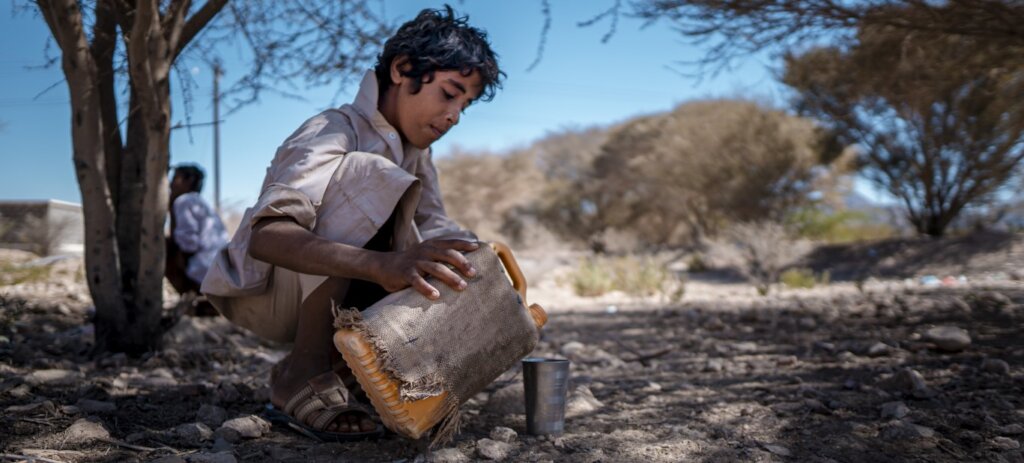 The war in Yemen has destroyed the livelihoods of the population, such as livestock and fishing. Due to a lack of income, millions of people are no longer able to cover their food needs adequately. Hunger and malnutrition have increased steadily in recent years. More than seven million people are now in need of food aid. The lives of the most vulnerable are particularly at risk: around 2 million children under the age of five are undernourished and therefore particularly susceptible to disease.
"It's not easy to admit that you can't feed your family"
Hassan is 66 years old, is married and has a total of eight children. Before the conflict began, he lived with his family in the Bajiil district of Al Hodaydah. Hassan was a cab driver there, and his income was enough for the family to live on. But with the war came suffering, fear and terror into the family's life. "So we decided to flee," he says. "We couldn't take anything of our belongings with us." First, they fled to Dhamar, where they survived for three months under the most difficult circumstances. In search of safety, they moved on to Bayhan in Shabwa County and found a tent, where they have lived ever since. "It's not easy to admit that you can't feed your family," Hassen says. He had to struggle to feed his family every day by working odd jobs.
The family's situation only improved when Hassan became part of the cash-for-work program of the partner organization Yemen Family Care Association (YFCA for short). He became part of the cleaning campaign that improved the living conditions of those in need and received cash assistance. "Through the program, I was finally able to meet my family's basic needs and buy food such as rice, flour, sugar, oil and vegetables. For that, I am very grateful."
With the Cash for Work program, beneficiaries like Hassan and his family can survive with dignity and decide their own purchasing priorities.
Nutritional aid through cash transfers and cash-for-work
An important component of the project is also nutritional assistance for more than 2,300 families. In Shabwa, 585 families receive cash assistance so they can buy urgently needed food.
1,150 other families are also taking part in a cash-for-work program lasting several months. In Marib, too, around 600 households are receiving support in the form of cash transfers to help them obtain basic foodstuffs.
Please support this and other projects which we provide in Yemen, so that we can create more and more sucess stories.
Thank's a lot
Yours
Michael Tuerk