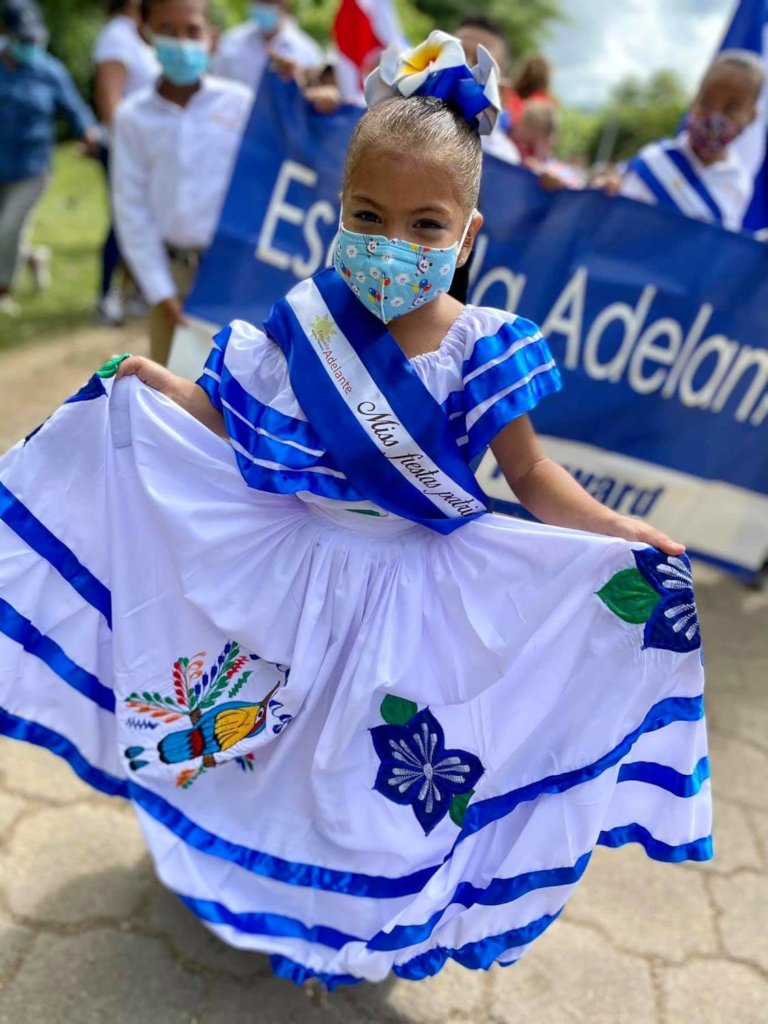 It has been such a great year so far! Even with challenges! Every year we celebrate the Independence of Central America in the month of September. This year, our celebrations looked a little different because of Covid-19. We want to share the beautiful photos with you as these events are very special to us! With events like these, we both celebrate history and make it! That is, every activity we do makes up the story of Escuela Adelante. This year has been one for the record books, with the launch of 4th grade, our Learning Kitchen, outdoor Rancho cafeteria, the relaunch of maternal or ages 18 months to 3 years old, plus new teachers, families, and directors of operations and academics! But, the most important thing that we have done this year is Give the Gift of Education, thanks to Donors like YOU! Did you know that over 50% of our student body receives some sort of financial assistance in the form of a scholarship to attend Escuela Adelante?
Of those students, less than half have an actual monthly sponsor who directly supports their education. Thanks to campaigns like these however, we have been able to match 19 students to a direct sponsor. These students are now the direct beneficiaries of your support and they flourish with this individualized, lifetime support. They know that they have a donor to whom they can depend on and they are deeply grateful. We feel having a sponsor and not just a scholarship provides greater sense of commitment. Other students, without a sponsor, continue to receive a scholarship through the school. However, it is difficult to sustain these students who are unable to pay tuition because our school relies on program income in order to continue to provide high-quality, bilingual education.
This GlobalGiving fundraising campaign was launched to support those students specifically. The students whose families struggle to put food on the table! The students whose families can't afford decent floor in their house! The families whose roofs need to be repaired, shoes are falling apart or clothes are too small! We are fundraising to support the families who need it most. Yes, our school is based on diversity. Yes, we have students who can afford to pay the full tuition. But, our school in order to be diverse relies on families of all backgrounds. As a non-profit organization, we are committed to providing as many scholarships as our model allows. In order for low-income families to assist however we must have financial support through donors like you. Not only that, but we need donors to consider making lifetime pledges to assist from preschool through secondary in order to support a student through their academic career.
We are going to continue to push for donations throughout 2021 and beyond to cover the cost of these students on scholarship who are still without a sponsor. We encourage you to: start small, give some, and make a big, lasting impact. We asre asking you to become a monthly recurring donor, if you haven't already. Your donation will receive a 100% one-time match from GlobalGiving! That means you can make an even bigger impact! Next year we are excited about launching 5th grade, moving forward with new constructions (funding pending), and welcoming new students - some of whom may also need our support as well!
Learn more about how we build diversity into our educational model by viewing our new video here. Thank you so much to everyone that continues to give and support. Remember, Education is the gift that keeps on giving!