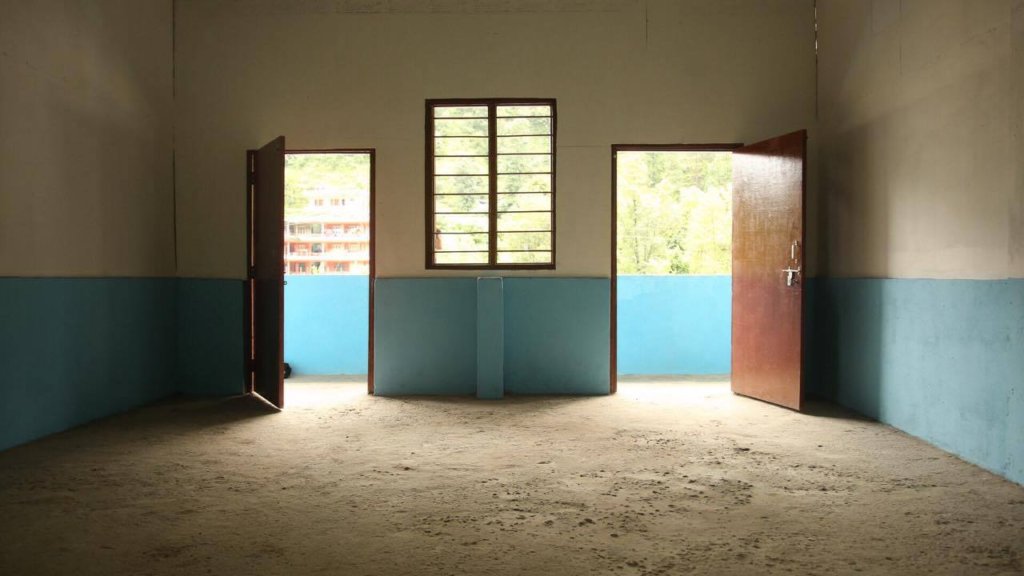 Thanks to your incredible generosity our work to Give the Gift of Education in Nepal is surging ahead.
So, although we only recently sent you a project report we wanted to send another now to keep you as updated as possible.
In our last report we described how we were about to complete five new permanent classrooms at the Shree Bal Shiksha school in Sindhupalchok. The climax of our work included a "paint party" and an official ceremony where the rooms were handed over to the school.
It was a great end to a great project, but while the new classrooms are complete our work at the school is far from over.
The Nepal earthquakes destroyed around 36,000 classrooms, and essential school furniture and school supplies were also lost as a result.
And, while rebuilding classrooms is important, it's also vital to properly equip them if kids are to receive an effective education.
So, we're now also working on forty new sets of desks and benches for the new classrooms. This additional support will allow the children to work in comfort, and more effectively learn the lessons they need to build secure futures.
Since our arrival in Nepal we've also helped provide school furniture and school supplies to many other schools and children.
For example, earlier this month we braved some of the worst roads imaginable to deliver twenty desk and bench sets for children at the Shree Dhuseni Lower Secondary school in Dhading district.
Over fifty children stopped attending school here after the earthquakes damaged their classrooms and furniture. For over a year students had been forced to work on tarpaulin sheets on the floor.
Our new desks and benches have dramatically improved the learning environment for these children, and will hopefully entice some of the lost students to return to the school.
Also, in May 2016 we provided twenty five desk and bench sets for children at the Shree Lal Kiran Primary School in Makawanpur district.
This remote school was badly damaged by the first earthquake and one of its two buildings completely collapsed in the disaster. The community was able to repair the school building but the earthquake also destroyed their school furniture, which they had been unable to replace.
Our support means that these classrooms are now properly equipped, and that the kids can learn effectively.
Finally, in 2015 we also supported schools in the communities of Pyrae and Balephi by providing school furniture for 96 children. We also provided school supplies to children in Hagam.
Overall, when the furniture for Shree Bal Shiksha is completed, we'll have provided school furniture for over 430 children, and school supplies for 1,400 more.
We think this is incredible, and none of it would have been possible without your fantastic support. Thank you so much!
We're ready to provide even more furniture, for even more schools, and starting right now there's an amazing opportunity for you to help us achieve this.
Donations made to this project via GlobalGiving.org are currently being matched at 30%. So, a donation of $58 can provide a school desk and bench set which costs us $75 to produce. This will allow four children to read and write comfortably and effectively.
There is a total of $30,000 in match funding being released at noon Eastern US time, and donations up to $1,000 are eligible while funds remain
As always if you ever have any questions about our work or how we use your donations please don't hesitate to email Andy@IDVolunteers.org. We would be delighted to hear from you.
For more updates about our work please like us on Facebook or follow IDVExec on Twitter. You can also email Andy is you would like to be added to our direct mailing list.
Note that IDV is now also fundraising on GlobalGiving to increase its overall capacity to help disaster survivors.