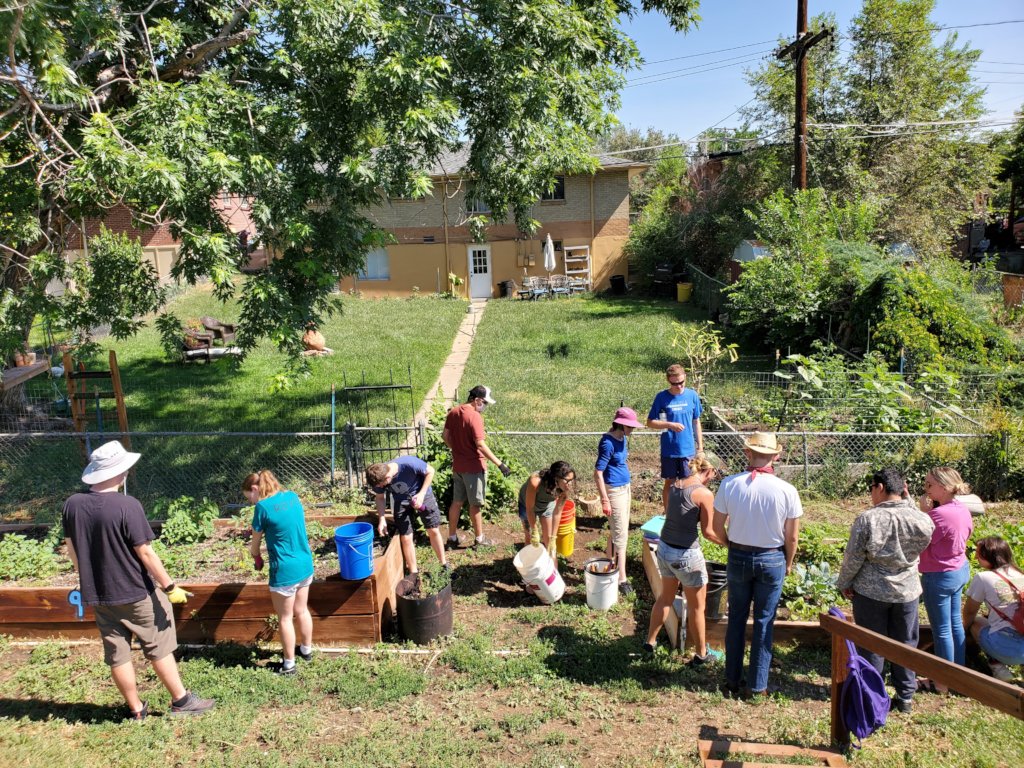 This report is for the third quarter for the Jovial Gardens Initiative with Jovial Concepts.
Dear Friends,
The number of community members we are able to serve continues to grow with your support. We have established gardens in Barnum, Edgewater, North and South Lakewood, and Wheat Ridge, and our Gardening with Disabilities program has continued to strengthen its partnerships with Revel, Laradon, and Activity Options. Combined, so far in this 3rd quarter, our harvest from the Jovial Gardens has totaled 2736 lbs. Thanks to your support, our community based gardening initiative was able to donate literally over a ton of fresh produce to local community members in need.
I want to share one experience this fall that has really stuck with me. On multiple weekends this fall, we had a young volunteer come out to help harvest and tend some of the gardens with us. We had the opportunity to introduce this volunteer to the world of fresh vine ripened tomatoes and garden grown produce. This was their first time trying a tomato from the vine and there was some uncertainty about the entire process and about the bugs which flit about the garden. During our outings, we observed and discussed bees and pollinators and were able to show them that bees will leave us alone if we leave them alone... and that nothing beats a vine ripened tomato! Our team provides an environment where volunteers and community members can have a hands-on gardening experience at a comfortable pace and with personal guidance. This is an engaging experience that we wish to bring to more residents in the metro area, and to people who may not have had the opportunity to garden in the past. We are able to do this and reach our community in this way and provide such engaging experiences due to your support.
This quarter we had a good deal of fun and incredible participation with our Wednesday and Thursday Gardening with Disabilities groups from Revel, Laradon, and Activity Options. It truly is a blast to work with such a fun group of kind and enthusiastic individuals. In this coming year, we are looking to expand our Gardening with Disabilities program to Mondays and Tuesdays so that we can invite a Public School's transition group to also garden with us.
I am excited to report that our community connections are growing rapidly. We have developed a Sustainability Committee that includes members of the public and which is focused on supporting community based gardening and conservation. We will soon be canvasing to encourage our community to compost leaves this fall and to raise awareness about using leaves as a great source of organic matter for gardens and landscapes.
With your continued support, we are looking forward to increasing the number of garden beds that we manage next season. We will be constructing a few additional beds this fall and will likely be growing our team next year as we bring on some new neighborhood gardening leaders. We have a wonderful team and despite challenges in these past two years, our connection with the community continues to thrive.

With warmth this fall and winter,
Your Jovial team.