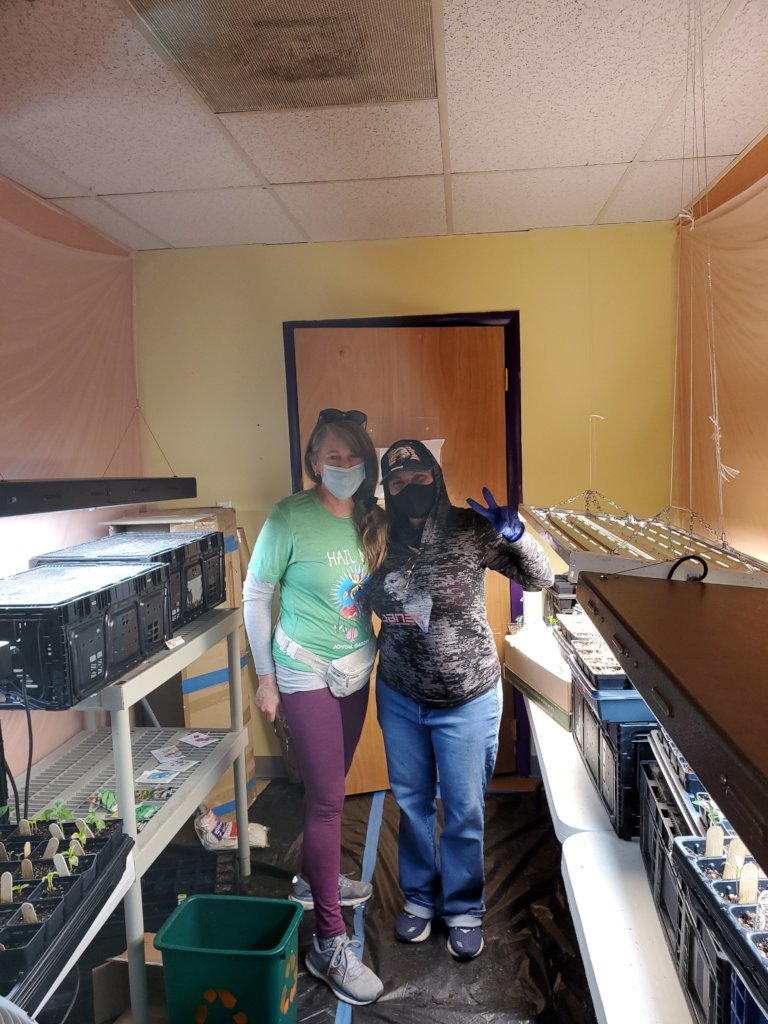 GlobalGiving Report June 16, 2021
This report is for the second quarter 2021 for Jovial Concepts Garden Initiative
What a crazy spring it has been! After weeks of delays due to weather, we finally got our season going. Thanks to the generosity of our donors, we were able to buy enough lumber to build 20 new beds including the soil. We found that lumber costs were up as much as 75% over last year.
We were able to use one of the practitioners' rooms at The Co-op at 1st, vacant due to the Covid pandemic, as our seeding room and managed to grow out about 600+ seedlings to install in our gardens as well as sell at our annual plant sale. We were able to nurture our seedlings in the greenhouse. This is our Sloan's Lake/Edgewater Leader Linda with a Project helping Volunteer in the seeding room and then more mature seedlings in the greenhouse.
The new SolarGem greenhouse is even better than we hoped. We loaded it up with some of the prettiest seedlings you would want to see. Soil and seed starter costs were up more than 10% over last year so again, the continued support of our donors helped us continue our mission despite increased costs. THANK YOU!!!
Our Gardening with Disabilities program has grown, last week we had 25 participants in 2 days. This year they aren't just planting and harvesting but they have learned how to install drip irrigation and about soil science. The 19 beds at The Co-op at 1st building are almost completely planted out and irrigated. We have been able to replace outdated and inefficient drip irrigation at our building.
We have started to harvest and donate spring herbs and greens. I can't wait to see how many pounds of food we are able to provide to our neighbors this season!
After months and months of covid delays, we completed the Project Pride Pollinator bed at Edgewater Elementary with a lot of help from Ewing Irrigation and their partners. The students were so thrilled to have their new beds, the teachers were happy with the plants selected and I think it looks great! If you are in the neighborhood, stop by and check it out. It runs down most of the west side of the building. Filled with perennials and a few self-seeding annuals, this bed will be helping Edgewater students learn about the importance of pollinators and our environment for years to come. Thanks to Little Valley Nursery for their assistance in plant selection and their generosity.
Lastly, with the assistance of our Vista Volunteer, Ava, we are cultivating some great group and corporate volunteer connections. Please consider gardening with Jovial Concepts as a great way to get together with friends and co-workers or even family reunion activities. Come and see for yourself how your contributions are building gardens, neighborhoods, and lifelong passions for gardening. We meet each Saturday at our building (10 am until June 26 when we shift to 9am due to weather)
"To plant a garden is to believe in tomorrow" Audrey Hepburn