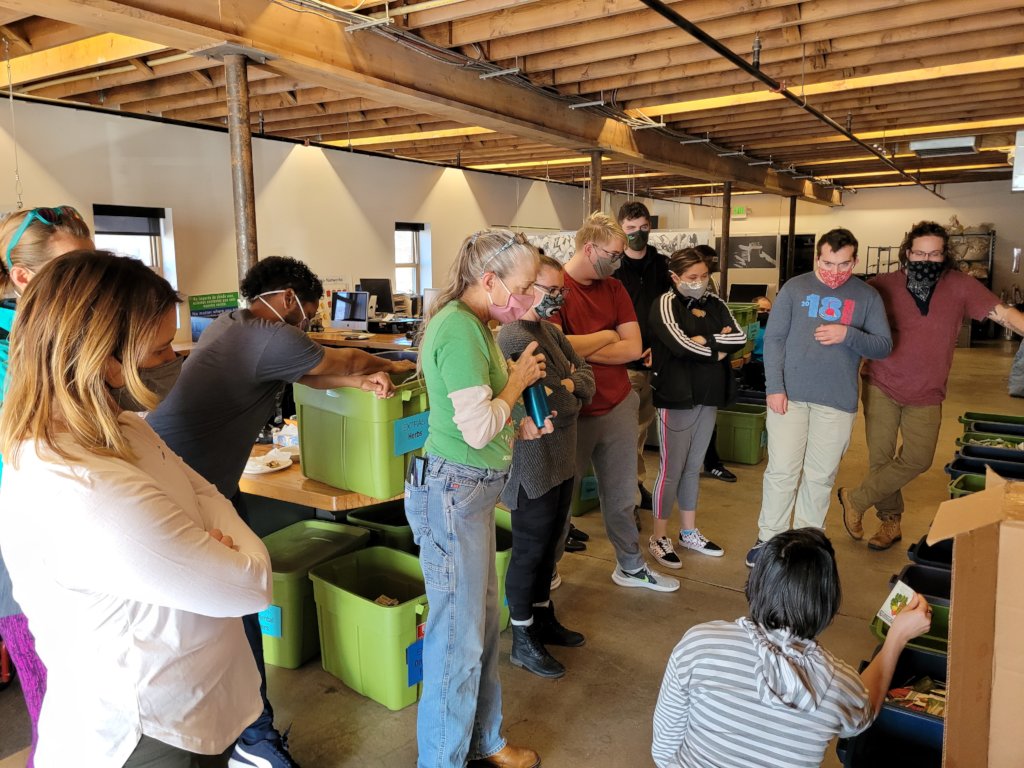 GlobalGiving Report February 16, 2021
This report for the first quarter of 2021 for the Jovial Concepts Garden Initiative
And people think you can't garden in January and February!
What an amazing partnership we have begun with REVEL in Life! Here (see pix 1) we are learning how Denver Urban Gardens wants us to sort the seed packets for their Grow A Garden pay what you can program. We will be back there later in February to fill the orders DUG has received for this program. Jovial Concepts/The Co-op at 1st Family Market will be one of DUG's distribution points for seeds, seedlings,
We don't have any yields to report for this quarter but look at this!!! (see pix 2)
Our new SolarGem greenhouse – no more panels flying off to Kansas! We have been fortunate with a grant that enabled us to upgrade our greenhouse to this beauty. We can even attach it to another SolarGem as our funding and programs expand even more! There are so many cool features of this system including the hydraulics on the roof vents are made of honey. When the honey gets hot, it expands and the vents open, as it cools, it contracts and the vent closes. It's a honey of a thing! We will irrigate the greenhouse with mist and drip irrigation as soon as the temps allow.
With your continued support, we have grown our gardens in Wheat Ridge, North Lakewood, and Sloan's Lake/LoHi. We have graduated 5 hosts, 2 have moved, and expanded into 15 new locations. We are looking for a volunteer for our I/DD Gardening with Disabilities program 3 hours 1 day/week to accommodate our Laradon partnership. If we had 2 volunteers, we could serve our neighbors with special needs that we have recently become aware of that would LOVE to have a Jovial Day in the garden (many don't have the resources to join programs like REVEL in Life). Jovial is looking for ways to increase our salary budget to eventually make these paid positions. Any suggestions for funding or potential volunteers can be made to Kristina or Di and will be GREATLY appreciated.
We have invested in GrowVeg garden planner subscriptions for this season. (see pix 3) This will aid our Neighborhood Leaders to plan and document their gardens, learn about the varieties they select and therefore share their new knowledge with their hosts, increase production through succession and companion planting, and crop rotation to keep their beds and soil healthy and alive.
We set up a seeding room (see pix 4) in The Co-op at 1st, flats of Calabrese Broccoli, Snowball Cauliflower, and Red Acre Cabbage have all germinated and we are planting more flats this weekend.
We are continuing to work with DPS, Barnum Elementary, and our irrigation consultant to get those beds ready for their teachers and students to get planting this spring. We are still hopeful that we will able to complete the Pride Pollinator Bed project with Edgewater Elementary and Ewing Landscape and Irrigation Supply.
We recently had a great meeting with the Financial Health Institute representative re. Build a Raised Bed digital project and have a tentative date set for building 2 additional beds here at our building. We will be filming this construction and honing our digital presentation so that the MOST inexperienced person can build their own bed and start to grow their own healthy, organically grown food with our digital instructions. Not only will they eat better, but they will also add some physical movement to their daily routine, possibly improve their uptake of the happy hormone, Serotonin, and by using our techniques, they will help to sequester carbon in their soil and reduce their carbon footprint by walking to their supper not shipping it thousands of miles to their grocery store a couple of miles away at best.
Thank you for matching our donations at the end of 2020. Our hosts were excited to learn that their contributions could be doubled through your generosity!!! There is a lot ahead for this next quarter with bed building, seed starting, and solidifying our relationship with corporate volunteer groups to knock out some of the garden bed builds. We are exploring the possibilities of aiding Grow Local Colorado in starting some perennials as they do not have a greenhouse. As you can see, even if things aren't growing above the surface right now, Jovial Gardens continues to grow and find more ways we can serve our community. Thank you again for your continued support!
"The love of gardening is a seed that once sown, never dies" Gertrude Jekyll