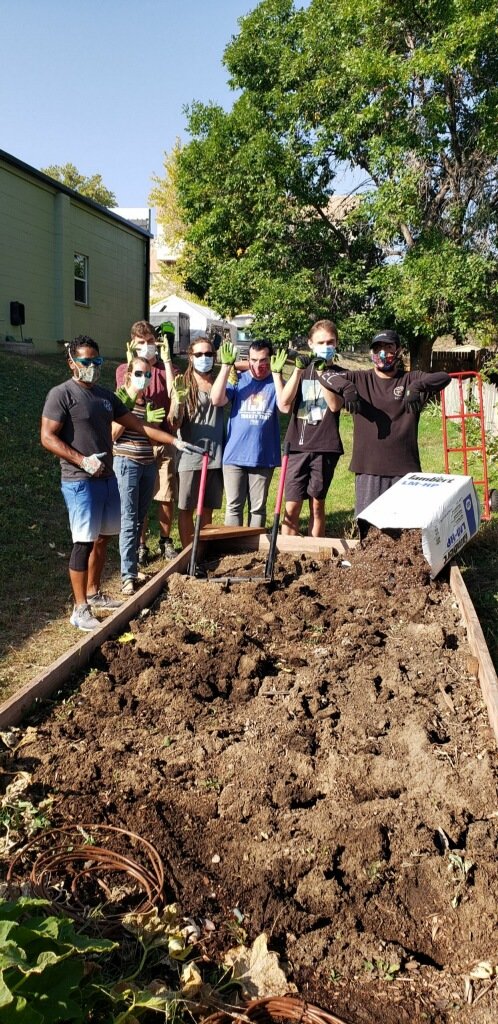 This report for the third quarter of 2020 for Jovial Concepts Garden Initiative
Again, you will notice that we are experiencing even more growth in this quarter.
Growing friends and leaders. This is our amazing group of volunteers from Revel in Life. Revel is a new group to join us in our Gardening with Disabilities program. Since they have joined our program as the Thursday regulars so many wonderful things have occurred in our gardens. They consistently bring 5 or more clients and 2 or 3 caregivers/therapists. They are always enthusiastic and love doing physical work, so we have scratched a bunch of chores off our to-do list. You see they are showing off the gloves that were donated by Hestra Gloves which has a location right up in Arvada! All these young people have fun while learning about gardening, focusing, and staying positive. The Revel leaders have told us that Jovial Gardens are their group's favorite activity of the week! I know the program is here for our IDD participants, but I do believe we at Jovial have benefited as much as they have. It is very hard to be grumpy when the Revel group is in "in the house"! Katy, the Jovial IDD leader has grown so much in her lesson planning and teaching our participants with disabilities. There is so much more growing here at Jovial than vegetables!
Growing vegetables. 3rd quarter harvest yield was 3101.76 pounds! Jovial Gardens faced down that September snow harvesting over 500# in September after the snowstorm! We taught our hosts how to protect their gardens from frost and came back to harvest a whole lot more produce. The USDA Emergency Food Boxes Jovial Concepts is distributing have once again been supplemented by our fresh, organically raised produce. That is personally one of my greatest joys, watching the actual families select the food we have grown for them. Single week harvest from our first ever hoop house host's site (averaging over 20# per week tomatoes from this location!)
Growing volunteer numbers. Volunteerism is up. Thank goodness with all that poundage to harvest last quarter! In June, we were feeling fortunate to log 30 volunteer hours a week after less than 10 hours per week on average in April and May. This quarter the numbers are coming in at just under 50 hours per week. If my "old school math" is correct that's an over 60% increase in 1 quarter. We partner with Project Helping and thanks to their effort, we logged 96 volunteer hours in one week! Whether it is from the fact we are all getting a bit 'wiggy' from staying home from covid, people are realizing that there are a lot of people out of work or have reduced income that need help feeding their families, or the word is getting out about how much you can learn while volunteering with Jovial, Jovial Gardens seem to be filling the need of many more people in the 3rd quarter. What I am most proud of is that we have not had one case of covid-19 due to our gardening efforts.
With your continued support, we are looking forward to growing the number of garden beds next season with 6 new beds on the slate and 5 more prospects to interview so far. It looks like we will be bringing on some more neighborhood leaders in 2021 to maintain our quality of education and production. We have grown some great volunteers into prospective neighborhood leaders for next season.