Project Report

| Feb 8, 2018
Updates from Current SAGE Scholars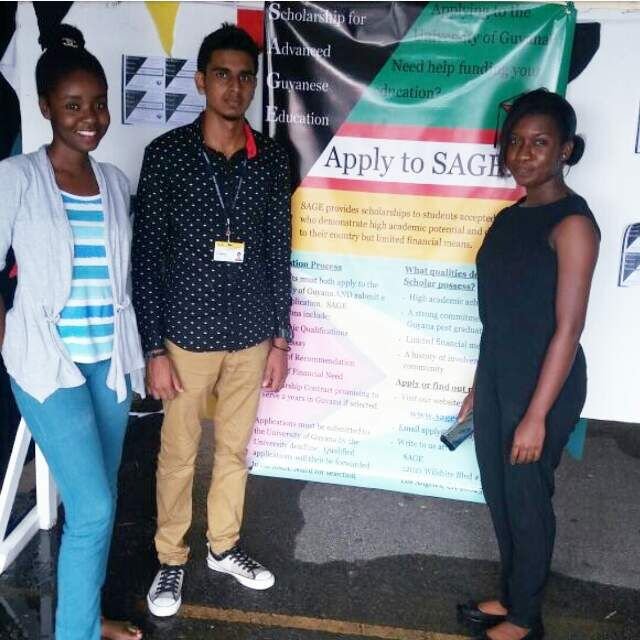 We recently surveyed current scholars to learn how the first semester of the school year went and what is keeping them inspired and busy on campus. Check out some excerpts of those responses below!
What was your favorite course of the past term and why?
"Structural Design. Great appreciation for it's nature of being less theoretical and highly practicable." ~Andy
"Surgery and Internal Medicine because it gives me more opportunities to be apart of practical procedures and be involved in actually saving lives" ~Gina
"My favourite course has to be Internet Computing II because it was challenging, I learnt a ton, plus I got some practical experience building websites while focusing the server-side or backend aspect that does all the database queries and processing." ~Kerrie
"Descriptive Anatomy. My interest in becoming a Sports Doctor was sharpened even more as I became au fait with the anatomy of the human body, both inside and outside." ~Hilton
What have you been doing outside of classes this term?
"I joined Potluck. An organisation headed by my Physiology lecturer that gears at feeding the homeless." ~Natifa
"I recently joined the cybersecurity club within my Computer Science department. My interest in cybersecurity has grown since I was a member of the club. We had an activity during CS week and made small takeaways like brochures and book markers to inform other students in the university about our club and how to practise cybersafety on the internet and about the many cyberthreats that can occur." ~Kerrie
"I continued training with the National Hockey team and represented Guyana at two competitions "Pan American Indoor Hockey Championships 2017 which was hosted in Guyana (October 14-23) and "CAC Games Qualifiers 2017 which was hosted in Jamaica (November 5-12)" ~Hilton
"I am the secretary of my faculty, Agriculture Club. I am a member of a NGO, called R.E.A.C.H. We serve the less fortunate citizens in our society." ~Tatyana
What does being a SAGE scholar mean to you?
I am offered a once in a lifetime opportunity to make my dream of becoming a doctor a reality. Everyday, I reflect and appreciate the fact that I definitely would not have made it this far without SAGE and for that I am forever grateful. ~Louise
It means I can accomplish my dream of helping Guyana and by extension help the world become a better place. ~Lisa
SAGE has made my dreams reality and motivates me towards a better life for myself and family. ~Reuel
We look forward to sharing more upates with you as our scholars progress through University!
Links: