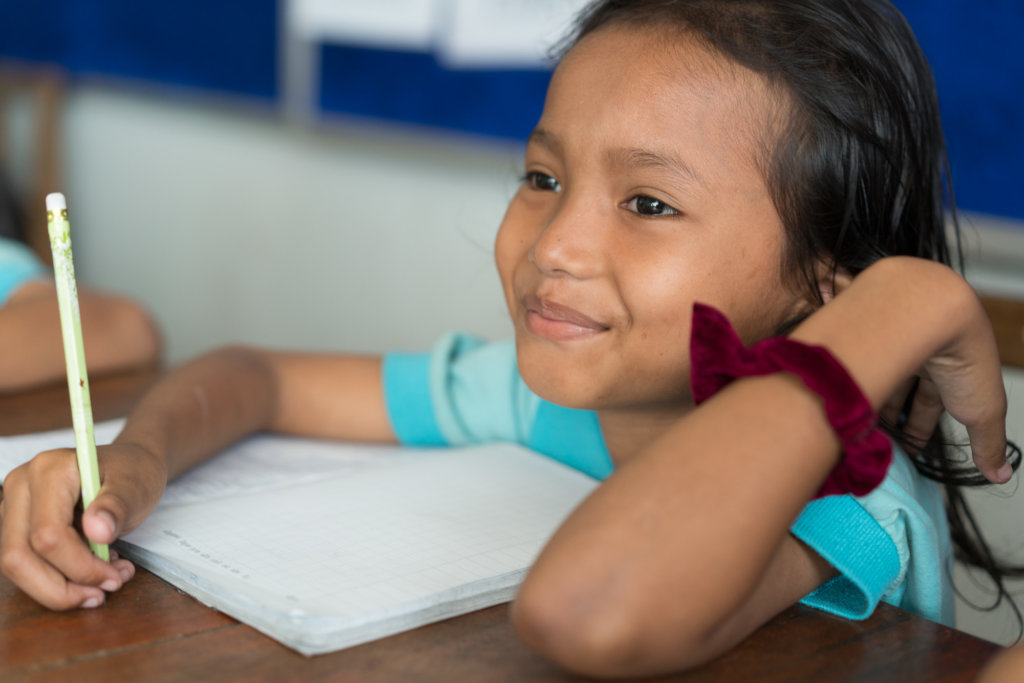 It has been a season of change at ISF over the last couple of months as we have welcomed new staff members and set things in motion in line with our new strategic plan. As part of a wider Education Programme review in 2017, the organisation undertook thorough reviews of the English and Employment Programmes and developed strategies to further increase impact.
The revamp of the English Programme is now well underway and we opened our dedicated English Language Training Centre at ISF's Stung Meanchey school in Phnom Penh earlier this month. This centre will act as a resource hub for all of our English teachers, providing access to materials for more interactive and engaging teaching methods.
Since its inception in 2006, our English Programme has grown from providing basic lessons to 15 children to offering English at various levels to almost 500 students. We currently employ eight English teachers and a Head of Programme who oversees the academic activities and curriculum across both of ISF's schools.
At ISF, we know what a positive difference quality education and healthcare can make and 11-year-old Makara*, pictured below, has lovely things to say about our Catch-up Education and Healthcare Programmes.
Born in Poy Pet, a city in Northern Cambodia, bordering Thailand, Makara only attended school for three years and spent the rest of his time helping his parents, who worked as labourers, to earn a small income. From the age of 6, Makara would lend a hand with tasks such as mixing cement. When he did attend school, lessons were taught in Thai and then translated into Khmer by a translator, making the process of learning that little bit more difficult and time consuming.
Makara's parents worked hard but for little reward and their employers often paid them the bare minimum if they paid them at all. Because of this, Makara and his family relocated to Phnom Penh in search of a better life with better job opportunities. Makara's mother and older sister now work in a factory producing jelly and his father still works in construction. Makara entered ISF's Catch-up Education Programme in grade 2 in November 2016 and has been making great progress in his studies since. Before ISF, Makara had never seen a doctor because his family just couldn't afford it. Now, ISF's healthcare provides him with regular check-ups and he has already benefited from dental care.
Makara has visited the dentist six times since enrolling and has had several rotten teeth removed. Before ISF, he had never brushed his teeth because he did not have a toothbrush. ISF's nurses taught him the importance of basic healthcare practices such as how to brush his teeth and provided him with toothpaste and toothbrushes. The benefit of this is also reaching his siblings as Makara has passed on his newfound knowledge to the rest of his family. Makara's favourite subject in school is Khmer literature and he hopes to become a police officer when he grows up.
We currently provide 218 disadvantaged Cambodian children (48% of whom are female) with a comprehensive fast-track education, allowing them to catch-up to the correct grade for their age, join government-run schools and, ultimately, find stable employment. Most catch-up students attend school regularly and 199 out of 212 students (91%) passed their mid-term tests in March 2017 with 55% of them achieving excellence. We expect the majority of our catch-up students to progress to the next grade in May 2018.
A further 363 students (49% of whom are female), are supported to study at state schools in Phnom Penh. Although most students score above average in their monthy tests, 18 students are failing as they do not regularly attend classes at state school. Absenteeism has been one of our main concerns. ISF's social workers are working closely with state school teachers to monitor student attendance and progress, and provide support to students who are struggling academically. Furthermore, they have conducted home visits to discuss reasons and encourage parents to monitor children's attendance more closely. ISF is also running extra classes for students who need further support to improve their academic performance.
As part of our ongoing commitment to enabling our students to find gainful and fulfilling employment when they complete school, ISF's Employment Programme has been reviewed to ensure that it is up-to-date and that our programme meets the needs of the students we support. ISF's new Head of Employment Programme started working with ISF in March 2018 and is tasked with building a robust internal soft-skills programme, developing effective and sustainable partnerships with NGOs focused on vocational training and building strong relationships with employers across a range of industries, ensuring that all students completing ISF's Education Programme will find suitable, sustainable employment that will provide them with the means to support themselves and their families.
Here at ISF, we're committed to the development of the individual and we're so pleased to see the success of this approach with our recent graduates. In August 2017, ISF student Bunleng passed his grade 12 exam, completing his high school education together with two other ISF's students. Growing up in an impoverished area, university was never considered an option for Bunleng. But, his hard work and determination to succeed have provided him with surprising opportunities. Just last month, Bunleung relocated to Taiwan to pursue his studies on a scholarship.
As he boarded his flight to Taiwan, his first ever flight, the young student described feeling a mix of emotions; excited and nervous but also a little sad as he had never spent any time away from his family before. But now, speaking to ISF just a few weeks after the move, he tells us that he is settling in well in Taiwan and is delighted to have the chance to study there. He is attending classes for eight hours a day, six days a week and feels confident that his English and Chinese language skills are improving all the time. Bunleng aspires to settle in Taiwan after his degree and make a better living there so he can support his family.
Thanks to your ongoing support, our programmes are continuing to make an impact in the lives of our students and the wider community.
*Names of children under 18 years old have been changed.
Links: