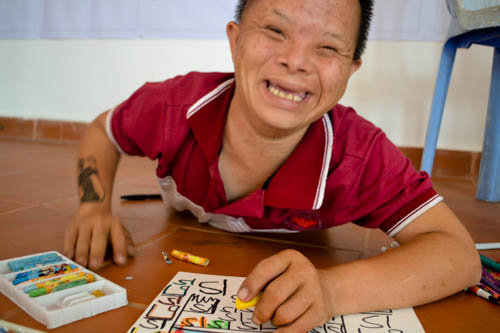 This month our Special Education Project was awarded national recognition from the Ministry of Education, for the work we're doing with children and young adults with learning disabilities.
"It's amazing that the government have recognized our work at a national level because the work we do is not just inclusive education, it's inclusive education through the creative arts.
Inclusive Education through creative arts is a unique concept in Cambodia and Epic Arts are pioneering the way forward.
I believe that the arts are the key to making inclusive education move forward and help even more children with learning disabilities access education .
The arts are a great way for children with disabilities to forget about the discrimination they face, to express themselves and to bring them happiness." - Co-Director, Onn Sokny
We currently run three classes for children from age 3 to 27 with learning disabilities. Each and every child in our classes has a individual learning plan and personal targets to help them progress and develop. We have 33 students and our classes are small so that teachers can give attention to every student.
In Kampot, we're the only organisation offering education for children with learning disabilities. Children with down's syndrome or autism aren't accepted into the public school system and there is limited knowledge about inclusive education.
Our Special Education Project couldn't run without your donations. Why not set up a monthly donation this year to help us continue our work.
As little as £10 a month can help pay for the tuk-tuk to bring children to our centre, buy fresh fruit and snacks for the children or buy the materials and resources which the teachers need for their classes.