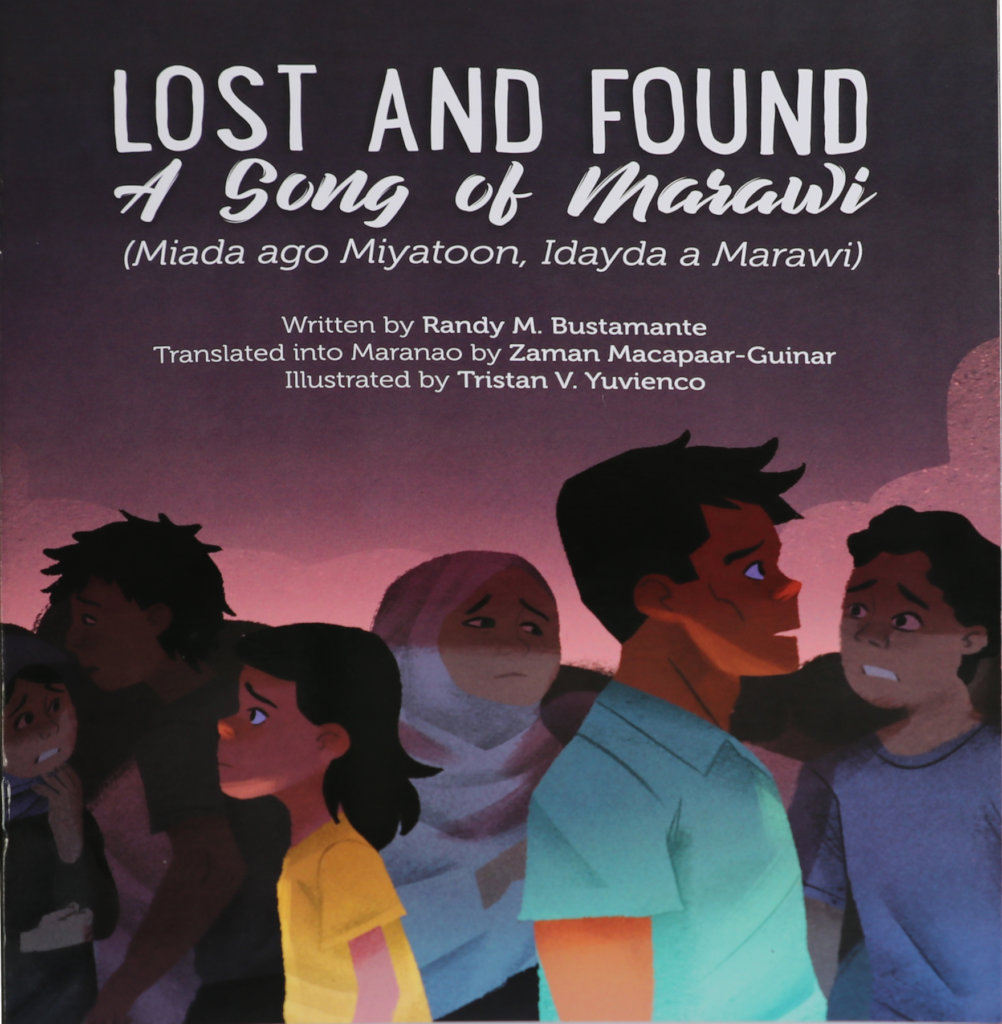 Finding hope and strength in the family
A storybook highlights the kindness of strangers during the Marawi siege
Books can change the way people see the world and help in developing one's resiliency. For the children in Marawi who lost everything because of the siege, books can save lives. These are not just education materials but also serve as a reminder that they can derive hope and strength from their families.
This is the message that author Randy M. Bustamante wants to convey in his book, "Lost and Found, A Song of Marawi" (Miada ago Miyatoon, Idayda a Marawi). The storybook, translated into Maranao by Zaman Macapaar, and illustrated by Tristan V. Yuvienco, is one of four children's storybooks written for"iRead4Peace," a special initiative of PBSP's Give a Gift of Reading Campaign that aims to improve the reading skills and instill in children a love for reading.
PBSP aims to provide every child in Marawi with a set of storybooks to help in trauma healing and peace education.
FAMILIAL TIES AND KINDNESS
Lost and Found, A Song of Marawi is a narrative poem about falling back on family through the kindness of strangers during the siege. The poem has two personae or voices who are telling two parallel stories that meet at the end. One persona is Ana, a six-year-old girl stranded in Marawi with her pregnant mother while the other persona is Amin, a husband and father who is trying to get into Marawi to rescue his elderly father. Their stories complete each other and reveal the power of kindness to help find what is lost.
"I was under a lot of pressure when I was writing this story since it is not only historical, it's also for kids. It was a bit of a challenge because I had a mental block at the beginning. I watched the video interviews of the survivors of the Marawi siege and I was moved by their stories. But after, the big question was how to translate it into a children's story," shared Bustamante who is a writer, editor, and literary translator.
One of his most recent works is the English translation of Francisco Balagtas' Florante at Laura.
In the book, Bustamante chose to delve on the Maranao's high regard for the family.
"This book has two stories and the challenge was combining the stories. But what really struck me the most is that the notion of family is so strong. That these characters are connected somehow, every child is everyone's child and every old man is everyone's father," Bustamante said.
For the illustrations, Yuvienco found it an emotional challenge.
"Seeing what the people of Marawi had to deal with reminded me how bad it was. This is why I am thankful to be part of the project and I hope that this book will help the children who read the story to cope with the experience."
ABOUT iRead4Peace
Rebuilding the city of Marawi, especially the most affected area or ground zero that was reduced to rubble during the May 2017 siege may take years or even decades. Starting over for thousands of Internally Displaced Persons (IDPs) who are still in evacuation centers, transitional shelters and host communities may take even longer as their future remains uncertain.
But the horrible and traumatic experience of the survivors, especially the children, may last forever and affect their process of moving on.
To help children cope, heal from the wounds of war and adjust to their new lives, PBSP, together with The Bookmark, Inc., developed the Marawi Storybook Series which is part of PBSP's Give a Gift of Reading Campaign. For this special initiative dubbed "iRead4Peace," four children's storybooks were produced, highlighting the culture, identity, values and resilience of the Maranaos.
The storybooks were based on actual experiences of survivors of the 2017 Marawi conflict and were translated into fiction to make them more age-appropriate for children.
Prior to its publication, the storybooks underwent numerous rounds of rigorous reviews by the academe, religious leaders and scholars, psychologists and public groups in Marawi on content, accuracy, psychological sensitivities, and conformity to Islamic beliefs and traditions.
Written in both English and Maranao, the books will be given to every child in Marawi and will also be donated to the Department of Education-Marawi to improve the reading skills of children and serve as tools for peace education and trauma healing.
PBSP's Give a Gift of Reading Campaign aims to improve the reading skills of children and instill in them a love for reading. It is part of PBSP's Education Program and supports the Sa Pagbasa, May Pag-asa (SPMP) Consortium where PBSP is also the secretariat.