Project Report

| Sep 5, 2023
Give an Orphan a Teddy Bear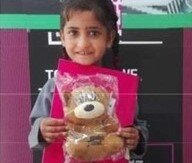 Project Report: "Give an Orphan a Teddy Bear" - Pakistan
Project Overview: In the heart of Pakistan, orphanages and schools work diligently to provide children with essential needs such as food and education. However, there exists a fundamental need that often goes unaddressed—the need for love and physical comfort. In response to this, the Dawood Global Foundation initiated the "Give an Orphan a Teddy Bear" project, recognizing the invaluable comfort and self-esteem boost that teddy bears can bring to children, particularly those with special needs.
Project Purpose: The primary purpose of the "Give an Orphan a Teddy Bear" project is to provide orphaned and underprivileged children with a source of comfort and companionship in the form of teddy bears. These cuddly companions offer solace and emotional support to children who may lack the affectionate touch, hugs, and cuddling that are essential for their emotional well-being.
Why Teddy Bears Matter: Teddy bears hold a special place in the hearts of children worldwide. They offer a sense of security, comfort, and companionship, especially to those facing challenging circumstances. For children with special needs, teddy bears can play a vital role in improving self-esteem, reducing anxiety, and providing a reassuring presence during difficult times.
Our Initiative: The Dawood Global Foundation has taken a proactive step by gifting teddy bears to both regular and special needs children. We recognize that these soft and huggable bears can make a significant difference in the lives of children who may not have access to such toys.
Impact and Benefits: The "Give an Orphan a Teddy Bear" project has already started making a positive impact by offering emotional support and comfort to the children in our care. The benefits include:
Emotional Comfort: Teddy bears provide a sense of emotional comfort, helping children feel secure and loved.
Improved Self-Esteem: For children with special needs, these teddy bears can boost self-esteem and confidence.
Cuddling and Hugging: The tactile experience of cuddling and hugging a teddy bear helps children develop emotional connections and provides a source of physical comfort.
Call to Action: We invite individuals, organizations, and compassionate individuals to join us in our mission to provide comfort and emotional support to orphaned and underprivileged children. Your support can help us expand the reach of this heartwarming initiative.
Conclusion: The "Give an Orphan a Teddy Bear" project by the Dawood Global Foundation is a testament to our commitment to providing love, comfort, and emotional support to children in need. Through the simple act of gifting teddy bears, we aim to make a positive difference in their lives, reminding them that they are cherished and cared for.
We express our heartfelt gratitude to all those who support this project, as your contributions help bring smiles and comfort to the faces of these children.