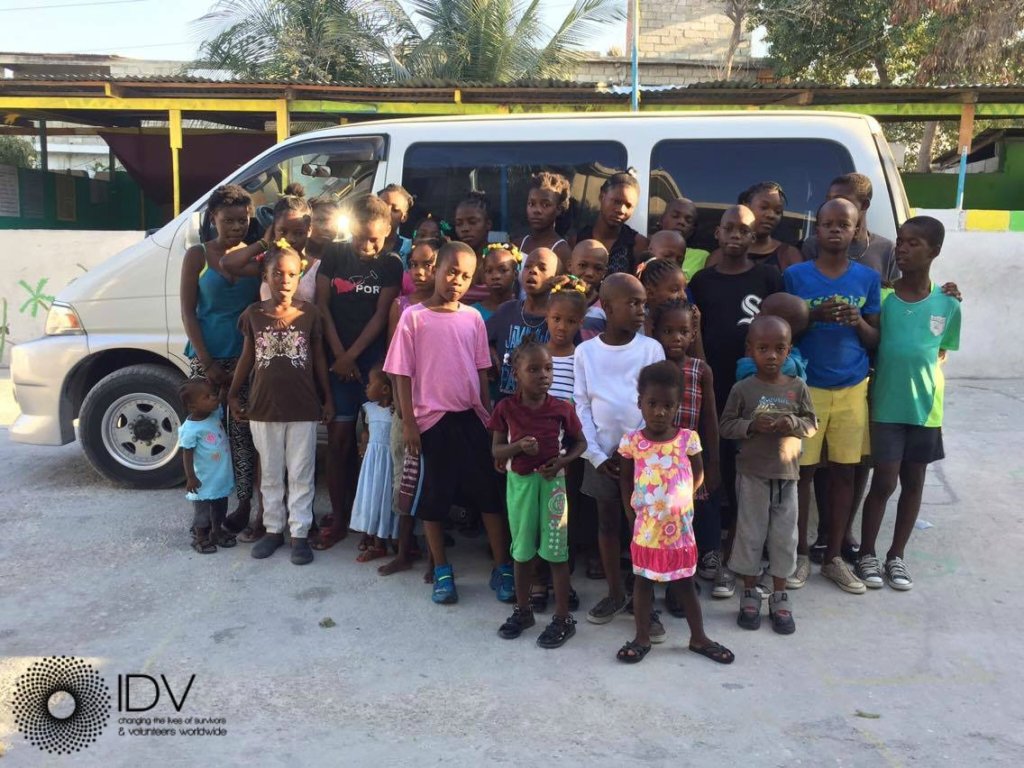 Thanks to your incredible generosity the HTDC orphanage now has its own bus!
In our last project report we explained how, by pooling resources with another of the orphanage's partners - a French organisation called Cassiopee Pour l'Orphenalit SMDT, we had secured enough funding to purchase the bus.
At the time the orphanage director, Carlo, had found a bus he was happy with, but he was also still waiting for Cassiopee's funds to arrive in Haiti. While waiting the first bus was sold, but happily - after a few more weeks searching, another suitable vehicle was found.
This new bus was paid for, and arrived at the orphanage, just over a week ago.
So, as promised in our last report, we're now delighted to send you some photos of the vehicle your amazing support has enabled us to purchase.
This really is an incredible achievement, and one that we're also incredibly grateful for. We first launched this project on GlobalGiving over three and a half years ago. And in the time since, you've patiently and persistently supported us to make our plans a reality. Thank you so much!
Now that the orphanage has its own vehicle they're wasting no time renting out its services to earn a vital income for the kids. For example, a group arriving in Haiti this coming weekend will be hiring the bus, with Carlo driving, for a whole week. This trip alone will generate $150 to help meet the children's basic needs this month.
This will reduce the orphanage's reliance on donations to buy food and send the children to school. What's more, because your patience has enabled us to invest in a really high quality vehicle, we're confident that this will continue long into the future.
The orphanage are planning to save some of the money earned each month, by creating a bus maintenance fund. Any donations made to this GlobalGiving project since the bus was purchased will also be added to this fund.
So, the bus will keep providing the children with a sustainable income for years to come. Once again, thank you so much.
Moving forward, we'll now be closing this project on GlobalGiving. However, we'll keep sending general updates about the orphanage through our GlobalGiving project to provide the children a safe home.
But before we go, we want to leave you with a few words from Carlo. The orphanage are also using the bus to give the children some fun days out. Here's what Carlo had to say about the first one:
"Last week we had our first activity with the kids on the bus, the kids had a lot of fun.
We went to a new park called Mache Mirak. It is close to the border of Haiti with the Dominican Republic, about two hours drive away. It was the first time the kids have been so far - so they were really excited!
At the park there is a big, safe compound. We cooked some food for the kids to take, but we also buy them some snacks there too. The kids really enjoyed it and the next trip will be soon.
Thank you again IDV and Cassiopee for the bus. Now we can do many things with it, we can earn some money, and also make sure the kids have fun".
Once final time, and from the bottom of our hearts, thank you so much for your generosity and patience in supporting this project. None of this would have been possible with you.
As always, if you ever have any questions, please don't hesitate to email Andy@IDVolunteers.org. I would be delighted to hear from you.
For more updates about our work please like us on Facebook or follow IDVExec on Twitter. You can also email Andy if you would like to be added to our direct mailing list. Note that IDV is also fundraising on GlobalGiving to increase its overall capacity to help disaster survivors.