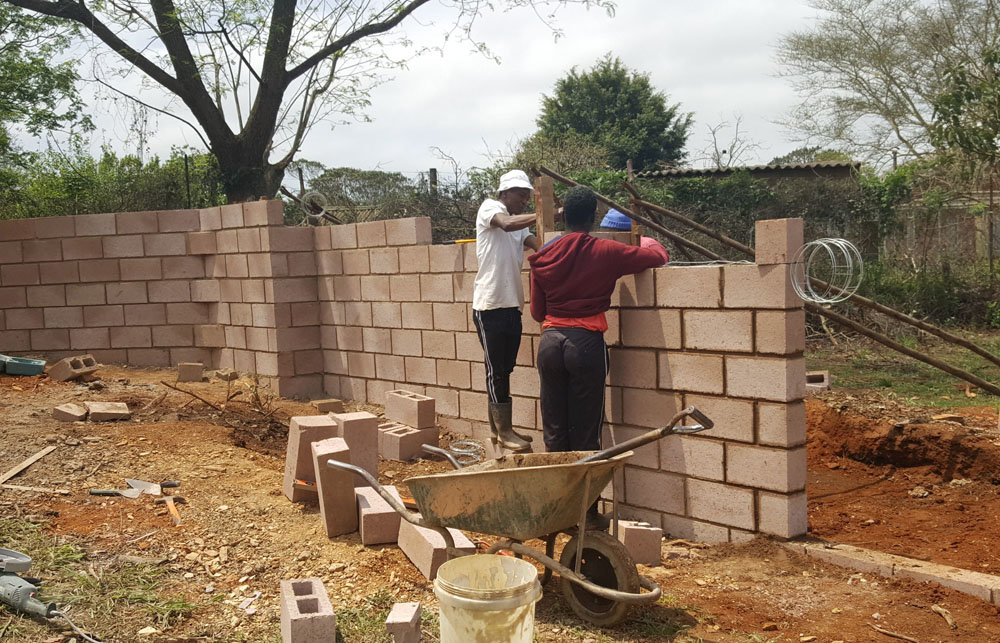 At long last, after many months of Covid related lockdown and delays caused by the lockdown, I am happy to report that the security wall around the village is going up! Building work started in early August and good progress is being made. One long side and one short side are already completed and we are almost half way there. We have had to go rather slowly as our limited funds have only allowed us the use of one bricklayer. Our driver, Themba, and some of our post school and senior boys have chipped in to help with mixing cement, pointing and even the occasional laying of blocks on days when they were not attending school or doing other work. This has been an enormous help and the boys are learning some great skills at the same time.
Your generous donations are giving our children the hope of a safer living environment and this is so important. Here's what some of them had to say recently about the wall:
Nondumiso said, "It's a good thing, because it will prevent burglaries."
Wezi said, "Thank you so much for helping us with the wall. We have been so scared because of the burglaries. They stole our soccer uniforms. They even stole the soccer goal posts."
Mhlengi also had a positive reaction, "It's good because at the moment anybody can just walk through here."
2019 and 2020 have highlighted the need for improved security, with a number of burglaries, the theft of our school bus and other attempted burglaries having taken place on the property. Recently, our computer lab, which had only just been installed was the target of an attempted break in.
So thank you dear donors for making it possible for us to get a good start on the wall. Your generosity is going to make a tremendous difference to our children and also to future generations of children who will grow up at Kenosis. We still need some funds to complete the wall, so if you would like to ensure that our children have a safe and secure home to grow up in, please consider making another donation using this link. God bless you for your kind generosity.