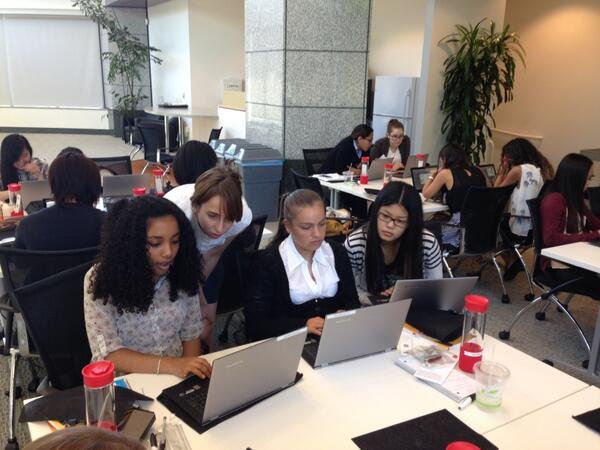 On June 16, Sophia, a 15 year old girl from San Jose began our Girls Who Code Summer Immersion Program at eBay. Though she had never taken a computer science class and hadn't been exposed to programming languages before, just a few days later Sophia said, "I think I have finally fallen in love with computer science and Silicon Valley. Thanks to Girls Who Code for making this possible."
This summer, from coast to coast, 380 high school girls like Sophia will walk the halls of the world's leading technology companies. These outstanding young women will learn to think like computer scientists, network with female mentors working in the industry, and visit start-ups to see developers in action. Most importantly, they'll join a powerful sisterhood of Girls Who Code who will support each other this summer, into college, and beyond.

When you empower girls in technology, there's no limit to what they will accomplish. That's why this summer Girls Who Code has expanded to launch 19 Summer Immersion Programs at leading tech companies in New York City, Boston, Miami, Seattle, and the Bay Area. This year, our programs are supported and hosted by Adobe, Amazon, AppNexus, AT&T, eBay, Facebook, GE, Goldman Sachs, Google, Knight Foundation, IAC, Intel, Intuit, Microsoft, Square, Twitter, and Verizon.
Thank you to all our supporters for making our work possible. Together we will reach girls like Sophia all across the country and close the gender gap in technology!