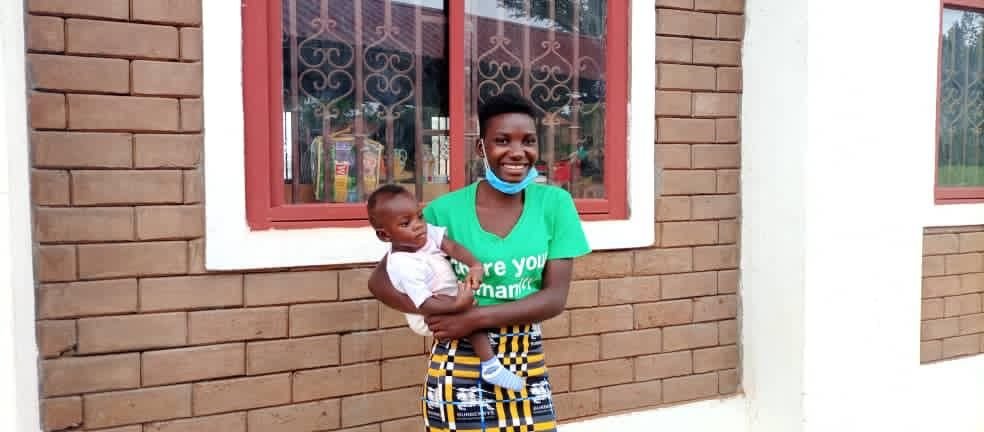 Thanks to the generous donations from our GlobalGiving supporters and others, over the past four months Act4Africa's dedicated local team has provided holistic support to 100 vulnerable young mothers, and reached out to their families and wider community in Mayuge District, Uganda, even during the most difficult of times. Covid19 is once again hitting Uganda hard, causing hospitals to overflow, oxygen supplies to run out, and normal life to grind to a halt.
Starting in April, our team took every precaution to ensure that the young mothers in our program could attend sessions at our center in a Covid-safe way. In total, 100 young mothers met outdoors with their babies in the grounds Kathy's Centre (Act4Africa's base) in groups of 20 per day, taking part in uplifting mental health and wellbeing sessions, as well as empowering sexual and reproductive health lessons. Many of these young mothers are survivors of sexual abuse and trauma, and we are blessed to be in a position to speak life-affirming messages of love and hope into their lives. For these young women who have been isolated and sidelined due to the stigma of unintended pregnancy, finding a new group of friends has been deeply healing. True and lasting friendships between the young women are forming as they encourage one another to reach the goals they have set in their own lives, and support one another to heal from past wounds.
At Act4Africa we understand that community is everything, so in addition to empowering the young mothers themselves, our team also reached out to each of their families. In May, through honest and at times emotionally charged conversations, our team gently began a process of reconciliation between young mothers and their parents and partners, mending broken relationships and ensuring everyone in their family group understood how and why we were intervening in their lives.
Relationships of mutual respect are being formed and reinforced between the Act4Africa team and the community in Mayuge. In June, growing speculation of a new national lock-down spurred our team to act quickly to inform the community of the particular dangers girls and women face during lock-down conditions, hoping to prevent the compound tragedy of crisis pregnancy during a time of societal upheaval. On 10th June, the Act4Africa team held a one-hour radio program on Mayuge FM, the most popular local station, reaching 5,000 listeners, compelling parents to look out for their adolescent daughters to prevent another spike in unintended pregnancy as was seen during the first lock-down in 2020. During the final 15 minutes of the program, 15 eager listeners called into the show, thanking our team for the care and support we are providing for vulnerable young mothers, and imploring us to expand our work to neighboring districts.
The very next day, a second national lock-down was announced. The strict stay-at-home order began on Friday 11th June, scheduled to last for 42 days. During these 6 long weeks families who were already living hand to mouth at the edge of extreme poverty were plunged into destitution, unable to earn and income or access food. Families who grow crops on small plots outside of their own communities were not able to travel to harvest their crops - so they stayed at home starving while the food rotted in their fields. Starvation and malnutrition is widespread as a result. Now that the travel restrictions have finally eased, our team are busy preparing emergency food and hygiene supply parcels for each of the 100 young mothers and their families - helping to rebuild their physical strength after a terrible period of hunger.
Our team are eagerly awaiting the day in mid-August when the young mothers once again return to our center to start building their future plans with our love and support. Thank you for helping us to changes the lives of these precious young women and their families. We couldn't do it without you!
Quotes from 3 of the young mothers in our program:
Maureen says "This program defines a new beginning in my life with my two children."
Nubuwati's dreams had been shattered by the cruel actions of others but she said after attending Act4Africa empowering sessions "I must become the woman I desire to be and nothing can stop me".
Mariam rejoices and celebrates by saying "I have found the people that have been missing in my life, my pieces are being gathered and my future is assured."
Links: