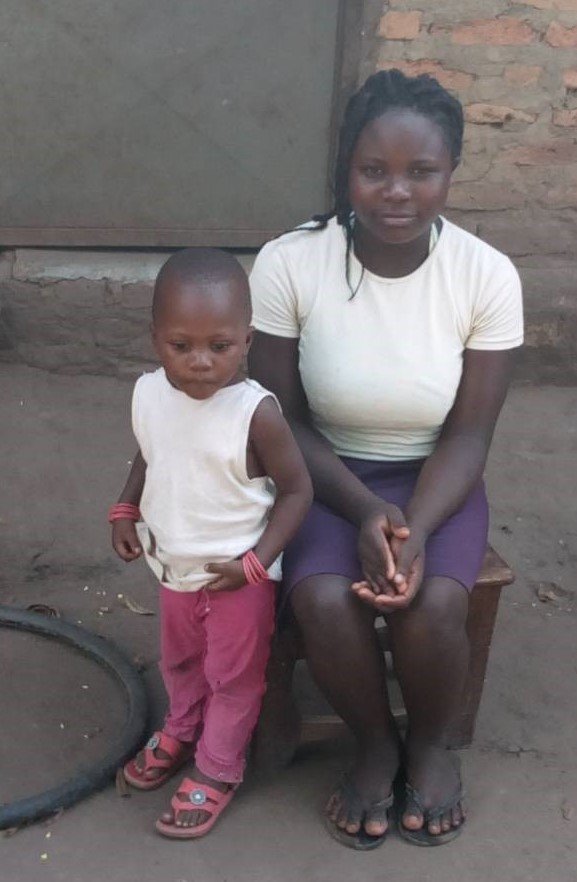 Annet, a young mother aged 17years, lost her father when she was 12years old. Her peasant mother brought her up alone with her 3 younger brothers. Annet tells us,
"I dropped out of school at the age of 14 to help my mother to grow food for us to eat and care for my 3 brothers."
Annet's mother could not afford her school fees and she missed school most days, which affected her performance in class. Annet recalls the moment she was at school and her menstrual periods came,
"I had no sanitary pads to help me and was so embarrassed before my fellows with lots of blood spots on my uniform. Such embarrassments were one of the factors that forced me to drop out school before completing my primary level education."
Life at home was hard for Annet and she felt fortunate to get a job as a house maid where she worked for a year before her male boss fell in love with her secretly and forced her into sex which resulted in her becoming pregant.
"The man didn't accept responsibility but chased me out immediately I told him that I was pregnant. Helpless, I returned to my mother's home with the pregnancy and gave birth to a child of 2 years now."
Last year Annet, together with her friends, were mobilized and selected to be trained and empowered with knowledge and skills under the Act4Africa program for Adolescent Mothers. Annet tells us of the success this brought her.
"As part of a Saving Group, I have been adding the little money I get from providing labour in people's fields and the sale of small bags and necklaces made from beads. In April I was able to get a loan of 100,000 shillings (about £20) which I used to rent a small plot of land and my mother gave me seeds to grow. I worked entirely alone in my garden and, the season being good, I managed to harvest one sack of beans and six sacks of ground nuts. These have brought me an income of around 800,000 shillings (£160) and I have paid back my loan and started to save again."
With smiles on her face, Annet told us,
"I am using some of the money to start my own food vending enterprise next month; I hope that the business will change my miserable life. Although I will be busy working entirely alone, I hope that, if all goes well, small basic needs at home will never be a problem again and I will be able to look after my child more easily."
Annet is so grateful for the Global Giving program that has greatly changed her life, she praises Act4Africa for having socially and economically empowered her. In her life she never thought anyone would help her because even her friends and relatives thought she was a prostitute. "My Savings Group was so supportive and helped me challenge the stigma I felt at first. The beadmaking skills and knowledge of enterprise I gained helped me a lot, also the knowledge in sexual reproductive health.
"I have opened my mind in a way that I can now take rational decisions in an assertive way. I hope never to be a victim of sexual harassment again."
Anne,t just like any other beneficiary with a positive change in her life, thanked Act4Africa for the program that has changed lives of many in her group and community at large and requested for continued support for other hopeless young mothers.
Your donation will help Act4Africa reach more vulnerable adolescent mothers like Annet and help provide continued support to existing Savings Groups through workshops, training and support in opening group bank accounts.
GLOBAL GIVING BONUS DAY!
Make a donation on Wednesday 18th July (from 2pm [BST] onwards) and Act4Africa will receive 50% match funding on your donation (whilst Bonus Funds allow)!
Don't delay - set your reminder now!
Links: