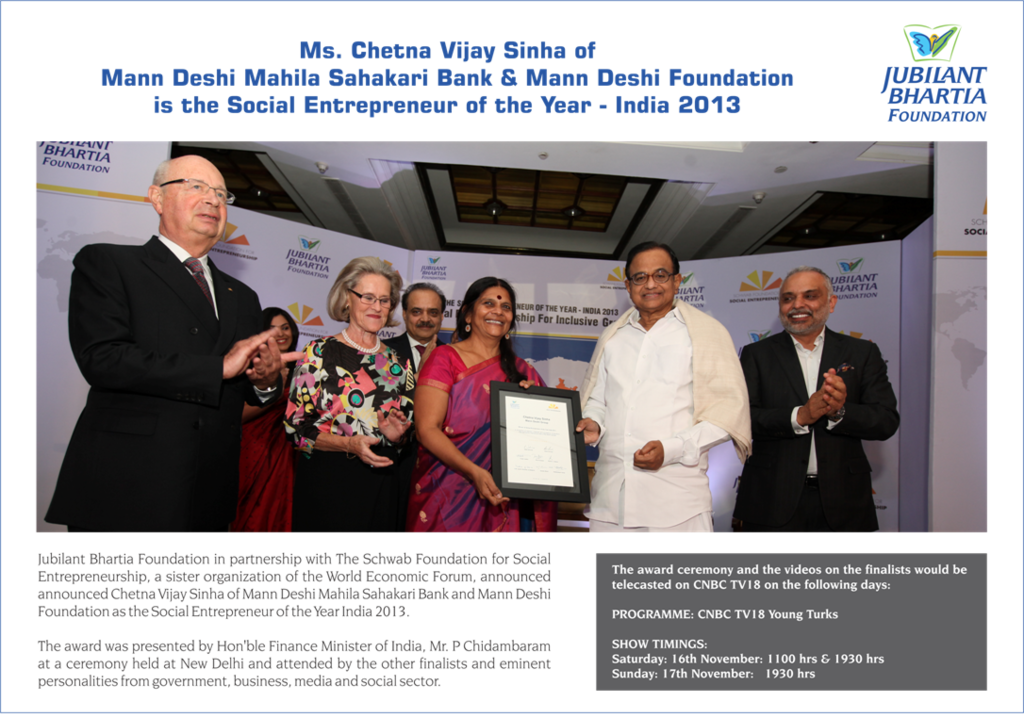 Chetna Sinha, the winner of the 2013 Social Entrepreneur of the Year (SEOY)-India award
On 11 November, the Schwab Foundation for Social Entrepreneurship, a sister organization of the World Economic Forum, in partnership with the Jubilant Bhartia Foundation announced Chetna Sinha, founder Mann Deshi Mahila Sahakari Bank and Mann Deshi Foundation, as the winner of the 2013 Social Entrepreneur of the Year (SEOY)-India award.
"Having a bicycle allows me to be AMBITIOUS", says Nisha from Satara village.
On Saturday, 15th February, 50 bicycles were gifted from Mann Deshi to girls who would otherwise be forced to drop out of school for lack of transportation. The chief guests at the event were Stuart P. Milne, Group General Manager and Chief Executive Officer, HSBC India, Manas Mohanti, Chief General Manager, Reserve Bank of India, Anami Roy, former Police Commissioner of Mumbai and Chetna Sinha, Founder of Mann Deshi.

In rural communities, young girls are often unable to continue their education once they reach adolescence because their families cannot afford transportation and it is dangerous to walk the
long distance alone. As a solution, the Mann Deshi Foundation created a program that donates bicycles to schoolgirls so that they can continue to get to school safely, changing the course of their future for the better. This year, Mann Deshi distributed 50 bicycles and led a bicycle rally from Satara City to celebrate.

Nisha was one of the 50 girls who benefited from the program. Her father is a farmer who doesn't earn sufficient money to support his family of five. Nisha never asked her father for a bike because she knew he couldn't afford it. She walks five kilometres every day to get to school and never complains, even though it is hot, dusty, and tiring. She says, "My new bicycle helps me to reach school in time and to study hard. I am ambitious and can dream and get higher marks."
Thank you very much for the support of Global Giving Donors !!
Most Sincerely,
Vanita Shinde
Links: