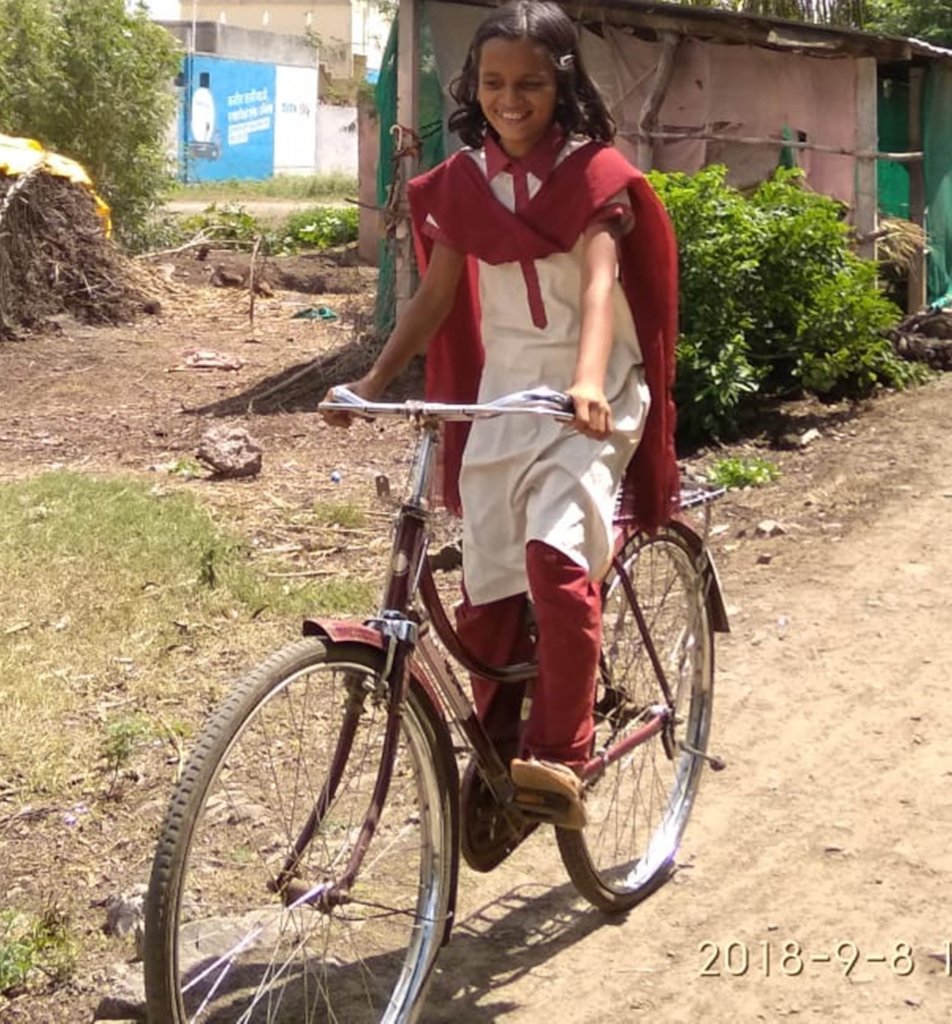 Dear Mann Deshi Supporters,
"The cycle given to me by Mann Deshi has allowed me to reach school on time. And since I have started saving time on my daily commute to school, I utilize it to study. Earlier I was able to score 60 percent marks in my exams, but now I am scoring 75 percent" says Jyoti.
Jyoti is a student in the 5th standard. Her family situation is very financially insecure. She lives in a small house, with a thatched roof, along with her parents, her four sisters and her younger brother. Her family does not own any land of their own to cultivate, and therefore, Jyoti's mother, Shantabai, works as a wage labourer. They barely manage their household expenses with her income.
Jyoti and her family's everyday existence became even more difficult when her father started drinking. The entire responsibility of running the household and taking care of the children had to be borne by her mother alone, and she became depressed. However, to manage expenses, Shantabai began to work on their neighbour's field, from which she earns around 3000/- a month. On holidays, Jyoti and her four sisters go the fields to help their mother.
Shantabai dreams of giving her children a good education and making them independent. Jyoti mentions that, without Mann Deshi's timely help, her mother's dream could not have had a chance to come true. Mann Deshi, under its Young Girls' Initiative, gifted Jyoti and many other school-going girls like her bicycles, to make it easier for them to go to school. Jyoti says that they barely manage to eat two meals in a day, so purchasing a bicycle would have been out of the question for them. Jyoti and her four sisters used to go walking to school before, from Gundevadi to Chetavali. Now, at least two of her sisters can use the cycle to go to school, in much less time. They use the extra time productively, to study.
Since she received the cycle, Jyoti's hopes have risen and she has become inspired to learn more. She now goes to school on time every day, and gets more time to study. She is determined to achieve her goal of becoming a police officer one day.
Quote from Jyoti's mother:
"Since my husband and me are both engaged in daily labour, both our daughters used to commute on foot everyday. Even the younger one used to walk long distances. We are grateful to Mann Deshi Foundation for giving bicycles to our daughters. Since my husband is an alcoholic and I am a daily wage earner, we live a hand to mouth existence. Under these circumstances, we would never have been able to afford bicycles for our daughters."
Thank you for all support received from GlobalGiving.