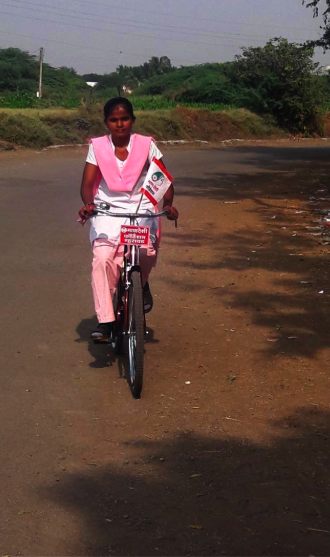 Hear from, Rajani, a bicycle recipient in the 9th grade to understand a bit more about your donation's impact.
"My name is Rajani. I am from Dhuldev village. Beffore getting a bicycle, I always used to travel by bus to go to school.
My family's situation is not that great when it comes to money. My dad is a wage laborer. My mom is also a wage laborer. And because my parents are wage laborers, there's awlays a shortage of money in my house. Even if I want to buy a small piece of candy, I have to think ten times. I feel sad when I see my mom wake up at 5 AM working on other people's fields. It's hard labor.
I believe that money is everything for humans. My mom always says it because she is going through it. She believes that we should all work hard and that is when our situation will be better.
Even though we are poor, they still want me to go to school. In total, we are 4 siblings. I have 2 older sisters and one younger brother. My older sister is in 12th grade so she requires some extra money, which my uncle helps us with even though he doesn't have that much money either.
Though my mom has never been to school, she still wants me and my siblings to go to school and do something different - not be wage laborers.
From home, my school is 7 km away. Because it is 7 km away, I used to not get home until 6 PM. I always dreamt about my bicycle but because of my family's situation I never thought I could get it.
Since Mann Deshi has give me a bicycle, it's like my dream came true.
I also enjoy the breeze while riding the bicycle. I love to ride my bicycle. Now, everyday I go to school on my bicycle. Even though sometimes I'm scared while riding alone on my bicycle, I still want to do it because I enjoy it and my parents want me to study.
I want to study a lot and make my family name proud. I'm really thankful for Mann Deshi for giving me this bicycle."
We plan to give out ten more bicycles next week to girls like Rajani. On their behalf, thank you.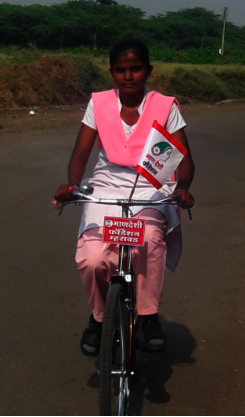 Attachments: