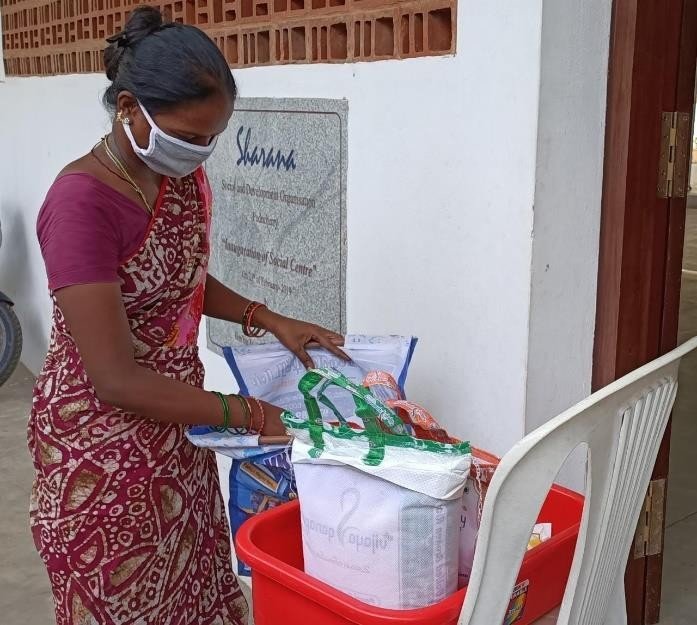 Report from India: Four months after the first lockdown in March, and the Coronavirus Pandemic remains a time of hugeeconomic,social,and psychological difficulty for the vulnerable sections of the communities.Our partner, Sharana NGO; has distributed provision items to over 1050 families till date, and also distributed over 300 packets of cooked food in the vulnerable communities we work with. InJuly, we disbursed support kits once again to over 250 families. This kit comprises an Essential Provisionskit,aHygieneHit(includingtwokindsofsoapandmasks)aswellasanActivityKitfor all the women under the Social Entrepreneurship program.
Our social workers have started making regular outreach visits into slums and communities. The team maintains all proper all safe practices and hygiene protocol including wearing a mask as well as a face shield during these visits. These visits are especially important because in Sharana's field of intervention, the human connection is essential and cannot be replaced with the phone or other devices. Last week, one of Sharana's Back to School child was tested COVID Positive along with her sister and parents who tested positive as well. They are all undergoing treatment at the hospital and responding positively to the medication. Our team, very concerned about this news, is following up with the family every day. Their situation is improving daily and they should all be back home in the next 3-4 days. most of the Vulnerable communities and Back to School beneficiaries do not yet have a stable job because they are daily wage workers. The owners are afraid of the Corona situation and of a possible outbreak on their site- they are only calling the minimumnumberofneededlabouronanalternatebasis.Mostbeneficiariesgettoworkonlytwo daysinaweekonaverage-decreasingtheirincomedrastically;theyarenotabletomanagetheir household expenses in this amount and once again the vicious cycle of small loans with a high- interest rate hasbegun.
Women, who mostly work as housemaids are going to work but some people continue to ask maids not to come for work fearing infection through them- so many women are fearing that they may lose their jobs or be asked not to come. Also unfortunately not everyone paid them for the time they were not able to come for work. Competition is high as there area limited number of work opportunities and many women who aredesperatetodoanykindofworktobringhomeanincome to run the household expenses and pay for their children's needs.Sometimesthechildren'sfathers,mostoften alcoholics, get tensed and angry, even depressed and take it all out of their wives and children. Fights are frequent and quite animated. Alcohol was not available for two months, is now available but at very high rates-and even those husbands that do go forwork-spendmostofthemoneyandeven take small loans to be able to drink every day. Sharana is continuously striving to ensure safety of women during this timeand the social workers are supporting women with alcoholic husbands via regular 1-1 counselling. In worst case scenarios, the social workers also encouraging the women to complain at the nearest women police station and seek support.
Another problem is that when the parents go out to work, earlier the children used to be at Sharana or in school; but now they are left aloneorinthepresenceofanolder sibling, or a neighbour "uncle or cousin"- not always the safest option.
No dates of government schools reopening have been shared as yet- this decision will only be reviewed in the coming weeks; however, the social workers have been following up with the students through regular outreach and phone counselling sessions.On a positive note, the results of the 12th standard exams are out and several of the students from Sharana have fared well in spite of the tough circumstances in their homes and communities.
In Angalakuppam the creche and dispensary remain closed; the staff however continue to come and do outreach as well as administrative work. Like the students in the city, the dates for schools to reopen will only be looked at in the month of August; the social workers and the staff of Angalakuppam have been following up with the students through regular phone counseling sessions and/or visits. Most girls continue to help their mothers to cook and clean the home; and the boys help out with the cattle and learn to catch fish. Agriculture work like planting of vegetables and flowers and other crops in the field like paddy,ragi, gingelly etc., have also restarted and people go regularly for work and social distance ismaintained where possible. Also, the cattle and fishing businessescontinue,howeverthepriceofthecattle feed remains high and the fishing is very lesssince the water level in the backwater is now very low given peak summer. Also, those men and women workinginconstructionsitesandsmall-scalevillage industries, had begun to go for work by foot.
Story of hope
After the father deserted the family, the mother was solely responsible for Saisajitha our preschool child) and cared for her with the support of her mother (maternal grandmother). She worked in a shop and was the breadwinner of the family; however, she lost her job during the Pandemic. They managed somehow with borrowed provisions and those distributed by Sharana andthegovernment.Afterthelockdownwascalledoff,shetriedtogetajob butnonewjobsare available the market as the number of people looking for jobs is much higher than the number of jobs available (given the reduced activities running); also new people are not taken in easily as there is always a fear of infection as the number of cases are rising day afterday.
Unfortunately the family began depending on the dole for survival- this was when the mother decided to start a small business of her own. The grandmother would help her buy some vegetables and she would in turn so sell them from door to door. She was able to invest some money for purchasing vegetables by taking up small loans with private money-lenders; she has now been paying the loans off a little by little every week. While she is not earning a big income from this enterprise, she is able to pay back the loans as well as manage the weekly household expenses.
She is courageous and plans to continue this business till she is able to secure a steady well- paying job.