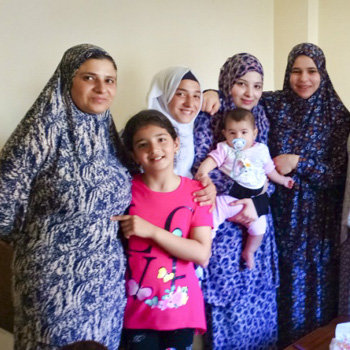 English Class


Now that summer camp is over, Yohanna is teaching the English class where she has 14 students. Two of the students were coming to the class because their parents made them, not just because they wanted to. But Yohanna has a wonderful way of connecting with the children and making the lessons fun so those two boys began to enjoy the class and learned a lot. Yohanna began to see progress in the boys. First, they started to show up in the class because they wanted to and not just because their parents said so. They started sharing a lot in class, too, to the point that they wanted to answer every question.
Sewing Class


Manal is doing well teaching the ladies how to sew. She tries to be their friend and build a good friendship with them. Manal feels they are more like a family, not just a teacher and her students.
Five Syrian ladies attended the two-month class, which ended in August. The ladies learned the basic principles of sewing, including taking measurements, applying designs on canvas and repairing clothes. They also learned how to use, maintain, and repair the sewing machine. The ladies were so happy and thankful for the course, for the fact it's free and they didn't have to pay anything, and for learning a new craft they can make to generate income and support their families.
Computer Class

Four students graduated the computer class in August. In September, we began a new class and we have very good students. They are so excited to use the computer and are eager to practice what they've learned as they go home and tell their parents about the class.
New Clinic


We treated five Syrian patients in August. They were all from Damascus and fled their city because of the war. They came to our clinic for the first time. The clinic does not just give diagnoses and therapy. It also encourages refugees to not give up or lose hope. One Syrian family we helped left Syria because of the unending and cruel war that rained bombs and rockets on their village. They came to Amman but it's not easier here. It is safer, and they are thankful, but it is still very hard for them.
Links: