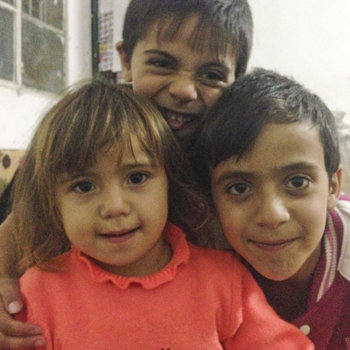 GHNI-Jordan is directly involved in the crisis of the Iraqi refugees. We have reached out and helped a tremendous number of Iraqi refugee families and we continue to reach out to more families. We not only provide food, clothing, and financial help with rent/bills, we also provide support and companionship. GHNI helps individuals see beyond their current situation and by simply being there when refugee families need us, we provide help and hope to them.
*Samer and his wife, *Sacha, have a son. They are from Damascus and were living in Al-Sham before leaving Syria. When Samer was nine years old, he started to watch his neighbor who was a tailor. Samer would sneak into that man's workshop to play with the dying colors and the fabric.
One time, the man saw Samer sneaking and from that day on he started to teach Samer how to sew. Samer loved sewing as he was growing up and learning from that man. Samer's ambition was to have a tailor workshop just like this man. Samer went to the army for a year and a half, and when he returned, the man had left Syria for the Gulf and didn't return. The man called Samer and told him to take the workshop for himself. Samer now had his own workshop. His business grew, and he was exporting goods outside Syria.
Samer had to leave it all because of the war. He lost his house, car and his workshop. He and his family moved to Lebanon and stayed three months. They thought they would go back home at some point, but their situation was so bad that they were forced to change course and move to Jordan. Sami and his family have been in Jordan for five years now. He found a job and started to work as a tailor again. Recently, he had a serious accident. Samer was walking in the street when a car struck him and another vehicle, dragging Samer across the road. The people who are responsible haven't been nice to him and haven't covered his medical treatment. Samer presented a complaint to the court because of the harm he suffered. He hopes the court will rule in his favor, so his surgeries and other medical costs are covered by those responsible. Samer now has plates and screws in his body but still can't walk properly. His knees have been harmed.
Sacha, his wife, is very overwhelmed. She is feeling low because she and Samer are not appreciated, valued or taken care of. She was holding her tears back, but not for so long. She is concerned as her husband wanted to go back, which means that she might lose him. Both of Samer and Sacha miss Syria. They know they can't go back but they love it. They talked about the old days back in Syria and their life in Syria. As they were talking, their eyes were tearing. We encouraged them and tried to give them hope for the future.
Links: