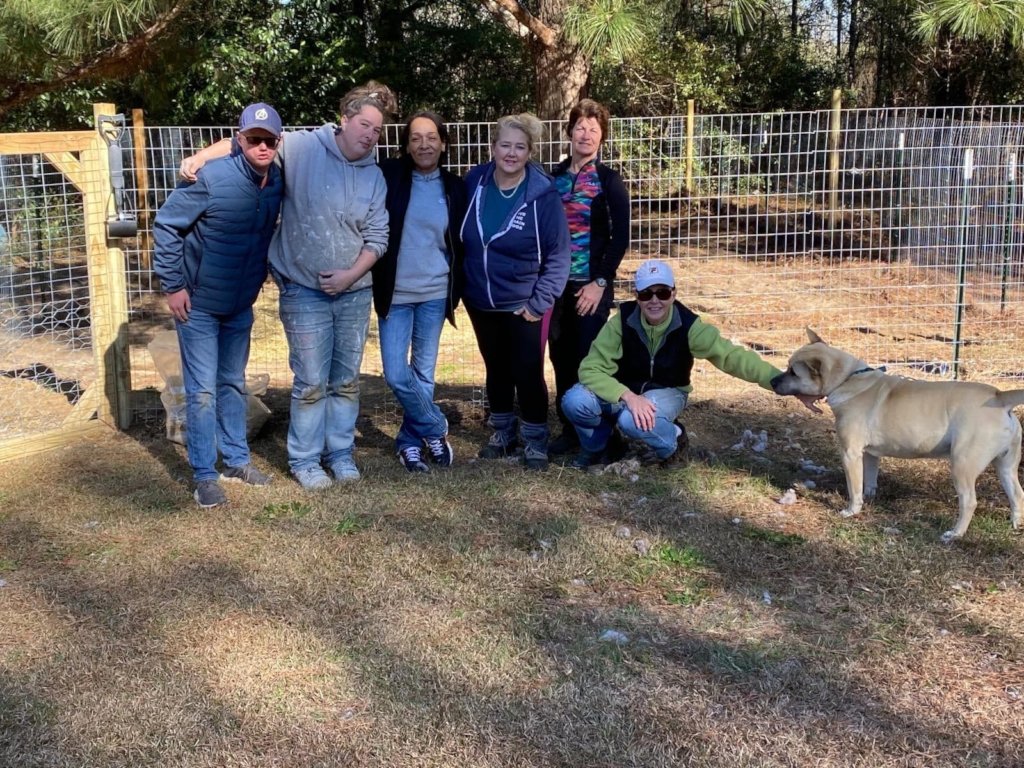 Dear GlobalGiving Friends,
Getting dogs off chains is a never-ending project for Guardians of Rescue. Our phone rings evey day with caring people concerned about a tethered dog they've seen in their neighborhood or their daily rounds, or who someone else has seen or heard of and passed on the report.
Often, we go into dangerous neighborhoods, where people are not that happy to be told what to do or how to care for their dog. We have learned how to be diplomatic and persuasive, and our goal is to do as much for the dog as their caretakers allow. As we've mentioned before, if we can get the person to bring the dog inside to live as a true family member, we do that. If we can get the "owner" to surrender the dog to us so that we can find him or her a new great home, we aim for that. If those options are not possible, we get permission to build a nice run or kennel which allows the dog freedom from the chain, and a secure area to wander, sniff and run a bit. We also build them a sturdy, warm insulated doghouse, and if permitted, we install a special heating pad to ensure cozy nights in the cold weather.
When you have so little, the relief of shedding the weight of the unforgiving metal imprisonment means so much. A warm shelter in which to sleep and get in out of all kinds of weather conditions is heaven for these neglected, forgotten innocent dogs. This is the kind of life-changing—even life-saving—changes you help bring to these dogs as a donor here to our work.
In the past few months, we have been busy as usual—
Horse was stuck, chained to a tree, at the rear of a property. He sometimes could not even reach the battered blue industrial container that was his only escape from all weather extremes, or even just to seek a small space to call his own.
When Guardians found out about Horse's situation, we got permission to build Horse a nice yard with a warm doghouse. To have that little bit of freedom and independence wthout dragging a cold metal chain made all the difference in Horse's outlook on life.
Then we got a call about Snow, who was stuck in a small littered area, out of sight, out of mind. Guardian members went into action to build Snow a nice fenced yard with an insulated doghouse that will provide protection and comfort as the weather begins to grow colder. This is not everything we'd like to see done for Snow, but this is a major improvement, and we monitor the dogs we help to see if we can do more as time goes on.
Horse and Snow are just two dogs out of dozens we've helped since last we updated you, and they keep on coming. None of them would get the break we are able to give without the help of many caring people like you.
In a very important sense, you are present as these neglected dogs get their first taste of freedom and happiness in a long time—maybe for the first time..
We never forget what we owe you,
Together we save them,
All of us at Guardians of Rescue