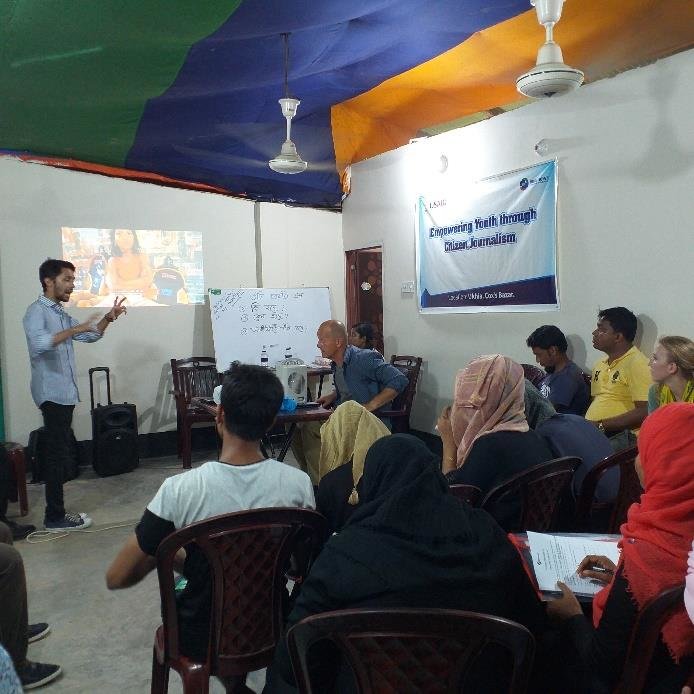 First, thank you again for your generous support of this project! The Internews team was deeply moved by the amazing support we received on World Refugee Day from donors like you! Thanks to your contributions, we received thousands of dollars in additional matching funds from GlobalGiving.
Earlier this month Internews held two mobile citizen journalism workshops for 40 young people (ages 18-30). The participants came from both the Cox's Bazar host community and the Rohingya community, and half of them were young women. The workshop was designed to give voice and agency to young people through the tools of mobile journalism. The workshop encouraged the participants to explore their world in and around the camps using mobile storytelling techniques and emphasized the role of citizen journalists. They learned about storytelling, digital news creation, social media usage and authenticating news credibility so that they can voice their stories by themselves. Here is some of the feedback we received from the newly trained citizen journalists:
Sadek, 21, who is a Rohingya refugee said, "Thanks to Internews for training us on citizen journalism so easily. We live in a remote area and no journalists come here to listen to us. Now, with the training, we can speak for ourselves, we can be our own journalists."
Keya, 20, who is from the host community said, "Now I have learned many techniques to make news stories and I am happy that I can do it with the phone I have in my hand; now I am going to practice more and more and reach out to local media with my stories."
In addition to this training, there are plans to continue the workshops for women in the coming weeks.
2019 Information Needs Assessment
Back in 2017, Internews conducted an information needs assessment that informed the design of this project. This past spring, a new assessment was done to measure the success of the work, and understand the current information needs and gaps in the Rohingya and host communities. The biggest finding is that 92% of refugees say they now have enough information to make decisions in their lives. In the 2017 assessment this number was only 23%.
You can read the full report in the attached file or at our GlobalGiving page.
Thank you again for your support--this work would not be possible without donors like you.
Attachments: