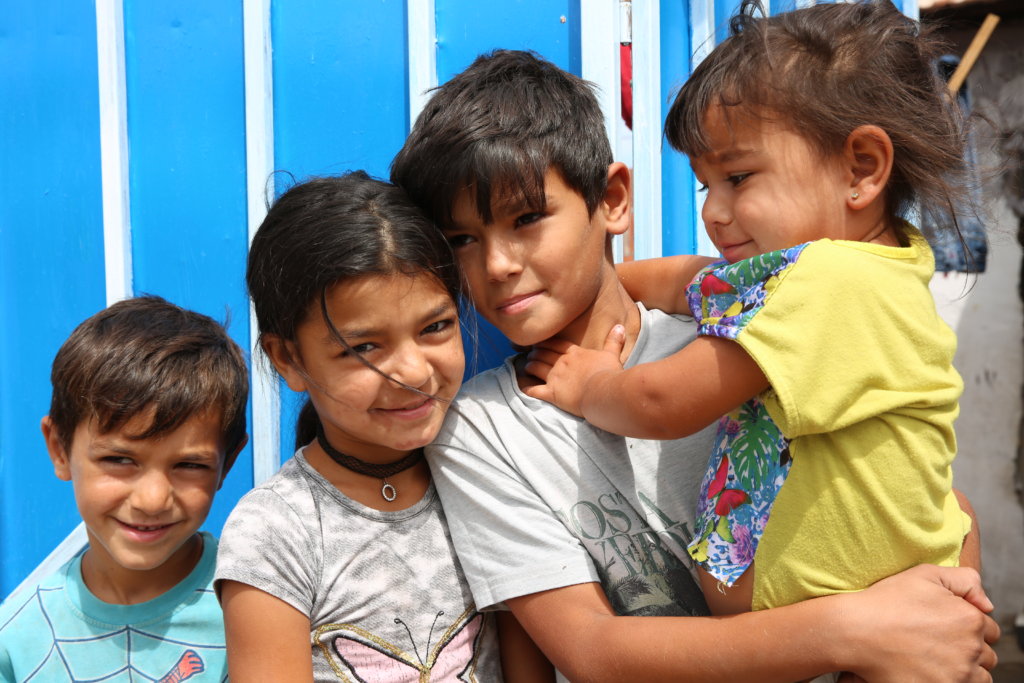 Walking across the small yard towards the front door of Naim's house involves picking our way through the excited, boisterous antics of young boys. Just as they begin to calm down from swinging on the gate and sprinting around exuberantly in order to lead us into their house, a young girl no more than three years old comes flying out of the door to see what the excitement is all about. Unfortunately she misjudges her footing, skids across some freshly mopped linoleum and comes to a halt missing some skin from one knee. She cries in anguish as her older brothers laugh at her, before her father comes to her rescue, sweeping her into his arms and reassuring her that she is fine. He gives her a big cuddle as she wraps herself around his torso sobbing.
By the time we have removed our shoes and entered the bare but clean living room, order has been restored. The family's bedding is rolled up one sofa, we are offered the other one. The boys are perched one behind the other next to the bedding, inquisitive eyes wide. Naim, the father is now cross legged on the floor with his young, (now recovered) little daughter sat comfortably in his lap, a slightly older daughter is nestled into his side. The love these girls feel for their father is palpable. Suzane, the mother stands calmly in the doorway, unfazed by the initial chaos our visit has wreaked upon the household.
The smallest daughter, Mejreme is just three years old, next comes Muhamer, a boisterous five year old boy. Medina, currently nestled into her father's side is eight and the charismatic Mendo is eleven years old. The family doesn't call Mendo by his real name, instead preferring to call him 'Egzon' – loosely translated as 'something that gives joy'. In September, little Muhamer who recently finished kindergarten at the Ideas Partnership community centre will be registered in the first grade of government school. Medina will enter the third grade and Egzon the sixth. The love and pride Naim and Suzane feel for their children runs deep. Suzane attended kindergarten, but her parents would not let her pursue education after that, although she proudly informs us that she can read and write. Naim had to leave school in the eighth grade due to the war. He tells us how the Serb forces used to beat him if they caught him trying to sneak to school. When the war got really bad, his family fled to Macedonia as refugees. Naim returned to Kosovo in 1999 but could never finish his schooling.
Naim's experiences have resulted in him taking nothing for granted. A soft faced, gentle parent, he tells his children sternly every day "you have the freedom to do whatever you want" and encourages them not to be lazy in their studies. Because Naim wasn't able to finish high school he has been unable to get a job, despite speaking five languages. Without support from the Ideas partnership he and Suzane wouldn't be able to afford to send any of their children to school. When I ask how he feels knowing that all of his children will attend school, he replies passionately that he is "super proud" because they can achieve a much higher level of education than he did. As his daughters nestle into him and the boys listen intently, he tells us that his mantra to his children is that "freedom is everything", he drills the importance of education into them regularly, reminding them that "without education they'll be nothing."
Naim becomes animated as he presses the point that without The Ideas Partnership he wouldn't be able to pay for the bus to school, buy bags, books, or provide them with shoes and clothes suitable for school. "The Ideas Partnership doesn't just help a little, it helps a lot" he explains, and we can sense exactly how much the opportunity to education his children means to him. He is acutely aware of the opportunities that in turn, education will provide for his children.
When I ask if Naim has a message for donors, without having to think, he gives a simple but extremely heartfelt and passionate "thank you so much". Thank you for the support, for the help getting his kids to school, and also for the organized excursions which give his kids the opportunity to leave Fushe Kosove and explore their country.
When I ask if Naim has a message for potential donors, he takes a minute to think. A smart and intuitive man, he states "it's hard for people to understand the living conditions and the obstacles we face in our community unless you see it with your own eyes. If you see it, you will feel moved to help us."
So what do the children want to do with their education we wonder? Well, typical of young boys everywhere, Egzon would like to be professional footballer. Medina would like to be a singer, and Muhamer… with a worldly shrug of his little shoulders which indicates the stupidity of my question when directed toward somebody of his age, he replies that he is only five. How should he know? Fair enough! I ask Naim and Suzane if they have any particular aspirations for their children. Their united reply: "we will support them in whatever they chose to do – we will never interrupt their dreams."
Thank you for supporting The Ideas Partnership and ensuring that through education, children like these can have dreams, big ones, with plenty of opportunities as well. The recipients of support from the 'Get a Kosovan Kid to School' project are extremely grateful and do not take a penny of it for granted.