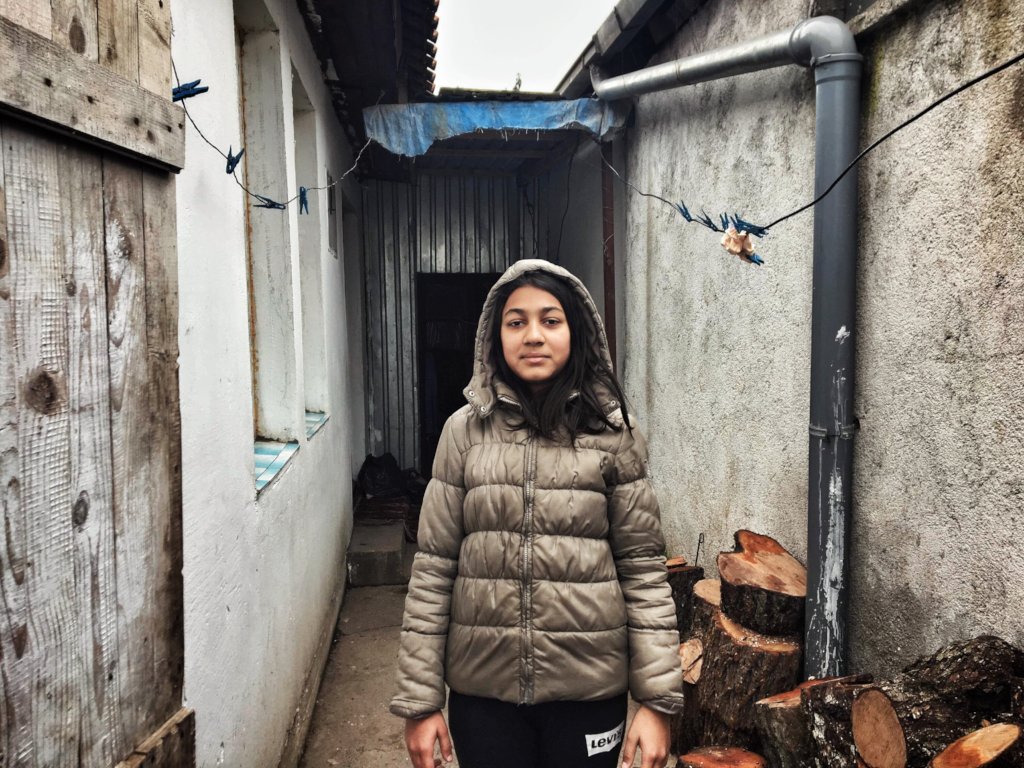 The light blue colored door lined with white walls can be seen instantly as you first enter the neighborhood. It is a cold bloomy day this February morning, but Muhamet, the only boy of the Buzolli family, is playing in the small yard of his house together with the daughter of his older sister. She is only 6 months old and they call her Ariana. He is a lively 10-year-old boy taller than the majority of his peers. Welcoming us wholeheartedly, he invites us to meet his mother, Vahide, and his two sisters, Nerxhivane and Shkurte. Xhejlane, the second daughter of the family, is at school.
Vahide is a 42-year-old woman, beaten by life. I notice her kindheartedness and love for her children from the first moments of encountering with her. She encourages Shkurta to talk to us while staying out in the cold without a coat on. "I'm Shkurta and I am 13 years old. Along with my brother, Muhamet, we attend the 5th grade in the elementary school", explains Shkurta, resembling her mother in the warm and positive way of talking. "I like Math, calculations ... But when I grow up, I want to be a pediatrician." "Why a pediatrician?", I ask her. "Because I would love to work and take care of children." Shkurta's motive for becoming a doctor in the future is related to the great desire of helping others, perhaps driven by the fact that her father passed away four years ago by not being able to receive the medical cure. His absence in the family is felt in each aspect of their lives.
At the Girls Club in our center in Fushe Kosove, Shkurta learns about the possibilities of education, lessons on health, hygiene, and sexual education. Mother Vahide highlights the contribution of The Ideas Partnership to her children's education. School transport, school materials, Saturday's Activities, various tours, greatly affect the educational development of her children, who did not have the equal financial opportunities as other children. I tell them that all these opportunities offered by TIP are made possible by many generous people around the world who make donations so children like hers get educated and have a better future. Their eyes shine. They know that there is someone out there who will not abandon them. And they do not know how to best express their gratitude to you who help them.
We greet each other warmly. The smile of the three gives me assurance that they will be fine. I very much hope so.
Their blue door closes behind us. And the rain begins to fall...