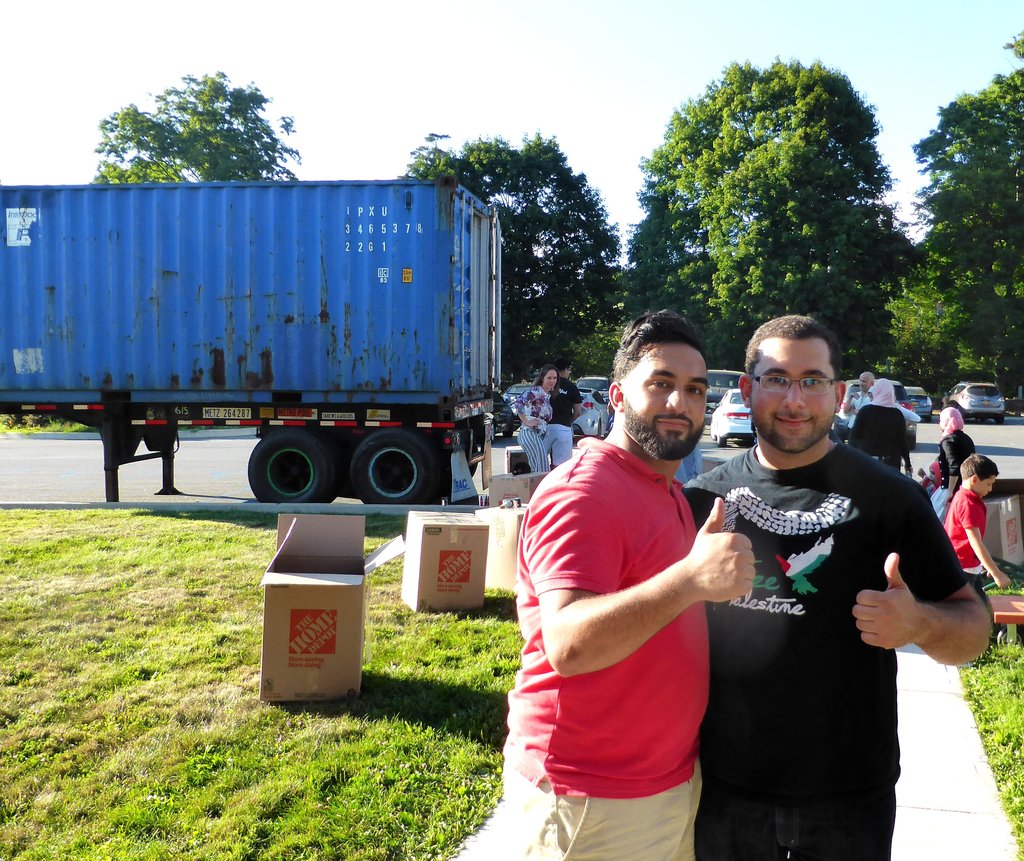 Wow, so much has happened in one short month.
On July 22, we received formal pre-clearance approval from Israeli Customs, meaning our shipment of Backpack Kits and children's books has security clearance for entry into Israel and into Gaza. Congresswoman Anna Eshoo's office and Senator Dianne Feinstein's offices both made inquiries to the Israeli Consulate and the Israeli Consul General weighed-in on our behalf. It is good to have such broad support for this important project!
This was the good news we had been waiting for all summer, and it kicked us into action. The 3,888 backpack kits were shipped from BluSource in Oklahoma to Mohegan Lake, New York just two weeks ago, and on Sunday, August 9, over one hundred volunteers gathered at the Hudson Valley Islamic Center in the town of Mohegan Lake to load our first shipping container and send it on its way!
The volunteers all put in one kit of school supplies, one book, and one letter of encouragement. The books, which came from from author Leila al-Haddad's Baltimore, Maryland book drive, remind all of us of the joy of reading and its important role in inspiring the imagination - what a blessing to have the chance to send such a simple and meaningful gift to children cut off from the outside world.
On Sunday morning, the busses started arriving - one from Patterson, New Jersey, one from the Bronx, and a multitude of private cars from the surrounding area - and dozens of volunteers spilled out into the large gym where the backpacks were displayed in all different colors.
What an amazing job everyone did - putting in the school supplies, then the books, then letters of encouragement, repacking the boxes and then loading them into the 20 ft. shipping container… it was truly a sight to behold!
The day ended with a campfire, s'mores, live music, and a moving speech by the New York chapter president of the Council on American Islamic Relations, Ms. Afaf Nasher, highlighting the importance of education in our work and in providing a future for Gaza's children and their families. She also mentioned compassion and spoke about Rachel Corrie. The chair of the Hudson Valley Islamic Center, Zead Ramadan, thanked everyone for joining us. Rebuilding Alliance's Executive Director, Donna Baransk-Walker, spoke too, describing how Khaled Nasrallah, part of the family whom Rachel Corrie stood to protect, had suggested this project as a public and positive way for Americans to help the children who are most in need in Gaza.
From Adam Ramadan, our New Jersey Coordinator:
"The Backpacks for Gaza Container Kickoff event was one of the most memorable events ever! I can just remember looking at the backpack-o-meter in the early stages of the project and thinking to myself, how am I going to reach our goal? From that moment on, I made sure to give in my all for this project. Fast forward a few months, the generosity of family, friends, and community members made this project a great success. Seeing over one hundred people come together to pack backpacks for the neediest children of Gaza was such a remarkable scene. A true image of unity and selflessness. It wasn't only about the backpacks, even though supporting the education of children in Palestine is critical, but this project gave an opportunity to show the world that unity can uplift the siege on Gaza. We are one step closer to ending the siege on Gaza." - Adam Ramadan
Rebuilding Alliance and its partners want to thank you wholeheartedly for your support throughout this process - whether it be with your donations or with your good thoughts, and for your patience as we navigate the complexities of security clearance and customs requirements. We'll keep you posted as we work through the details of distribution.
As the container now makes its way across the Atlantic to the Port of Ashdod, we are excited to continue this project and prepare for the next shipment.
Would you like to host the next container in your community? Send us an email and let us know. Still want to give? A donation now will help us pay for Patriot Act compliance as well as for transportation costs on this final leg of this journey to ensure this shipment reaches the children who need it most.
With great thanks,
Kelly Leilani Main
Gaza Project Coordinator