Dear Friend,
On December 5th in Gaza, 8,600 children, families, and the elderly began receiving Little Sun solar lights, delivered by Rebuilding Alliance's four NGO partners. The lights, the children, all of our partners, and you are truly Nur al-Amal — Lights of Hope. None of this would have been possible without your help — thank you!
With this shipment, Rebuilding Alliance has sent a total of 35,600 solar lights through the blockade to children and families in need in Gaza. Nearly half of Gaza's population are children under the age of 15 — that means there are 750,000 children in the Gaza Strip. I hope we'll find a way to send each child a solar light of their own and press to open the blockade.
To reach the children, Rebuilding Alliance works in partnership with four Palestinian Non-Governmental Organizations (NGO's) to identify the children in greatest need and deliver the solar lights to them at their home or school. We began this distribution in Rafah, Gaza on December 5th, starting at the El Amal Rehabilitation Society. The children in their school are deaf. Next our team went to the Women's Program Center — Rafah where children and moms had gathered to receive Little Sun solar lights.

After the wonderful morning in Rafah, we brought the film crew and our team of writers to Gaza City to distribute at night with the Youth Vision Society visiting families in the refugee camp called, Beach Camp. The next day, the ABCD, brought children with disabilities in their community together to receive the solar lights.
Why these lights?

You may remember that we were shipping Luci lights but now we've switched over to Little Suns. The Little Suns charge in the sun for 7 hours, and can then run for 50 hours. They were designed by an artist and an engineer at the Little Sun company in Germany - and everyone especially likes the brightness of the light, as well as the ability to change out the battery when it wears out, some five years from now. Also, Little Sun arranged for a matching grant from the Bloomberg Foundation, so for every one that we are able to purchase, they send a 2nd one as well!

The children use the Little Suns to study and read and play. They are a nightlight. Parents, especially moms, use them to see in the kitchen while cooking. Everyone uses them if they have to go out in the utter darkness.
But do they still need solar lights?

Yes, very much so. Recently, for most neighborhoods, electricity increased to 12 hours per day - which still means that half of each day is without power. Our team interviewed a dad who explained the energy independence that this little light offered. "In our neighborhood, electricity is still on only four hours each day on a rotating basis. This may be increased soon — but for my family, it won't matter. We just can't afford the prepaid billing system. Even 20 Shekels right now is not possible because I have no job. Your little lights are such a blessing to my family."
Everyone keeps asking how we send them through the blockade.
Basically, the key is pre-clearance. These pallets shipped from Hamburg, Germany, through Israel's port of Ashdod, to our Palestinian Non-Governmental Org partners and we made a little film to show you (see link below). The pre-clearance paperwork is harder to show. We apply well before the shipment moves. Approval by the Palestinian National Authority takes only a day while Israeli Customs' and Israeli Civil Administration approval takes months (— and a lot of phone calls).
Telling their stories

When we began this project, I hadn't realized that each light would bring light to each family's story and show my team, and the world, what we otherwise might never see. If you'd like to read a few of those stories, click here to read our latest blog post. I hope you'll continue to support our work so that we can bring you these children's stories and together, find better ways to do more, and keep them safe, warm, fed, and healthy.
Thank you again, for making this work possible. In this season of Light, may the way open to brighten the future of Gaza's children.

If you can donate, to send more please do.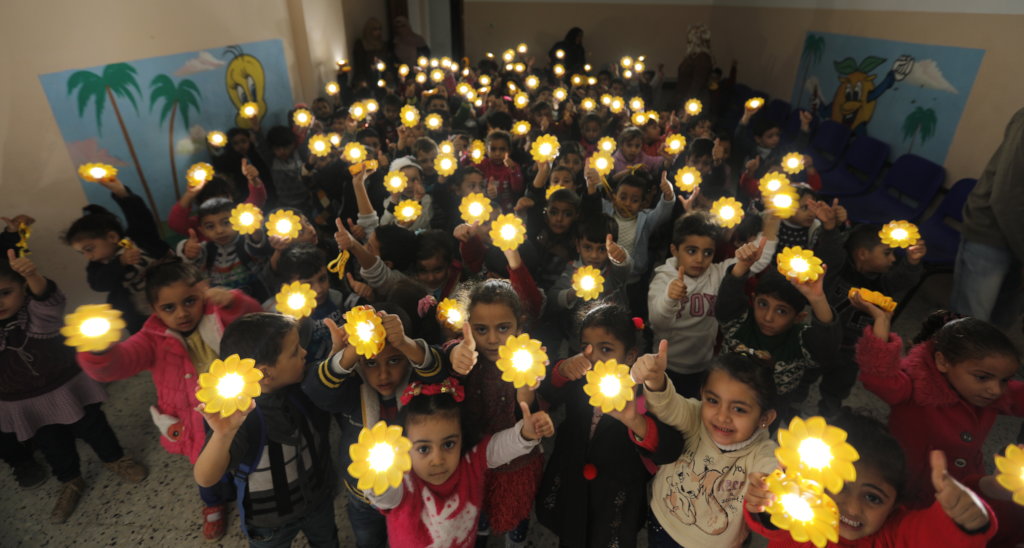 Links: